This article is more than 5 years old.
Have you ever thrown together a regional mini-conference in the short window between final grades and the holiday break? ZSR just did, and let me tell you, it was awesome.
NC-LITe, a semi-annual meeting of NC instructional-techy librarians, meets twice a year to talk about current happenings in instructional technology and libraries. This time we had about 35 folks from around the state, including representation from, I think, nine different campuses. This time we made some significant changes to the format, wanting to make the best use of everyone's time. Feedback on the changes was really positive!
Campus sharing
Per tradition, we started with some informal campus sharing. This usually drags on (instruction librarians can be …wordy), but we cut this portion to 30 minutes and gave each campus 3 minutes. After that, they got the hook. Some highlights I was able to scribble down:
Breakout sessions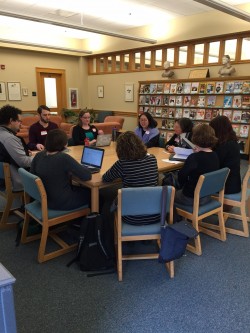 The next change we made was to the format of the breakout sessions, which have traditionally been interest-based and participant-driven. This sometimes worked, but every so often a room of people interested in makerspaces would realize that no one in the room had any experience with makerspaces. We wanted to change that, so we had dedicated facilitators at four different tables, and a different discussion prompt at each table. They were:
Blue sky: imagine everyone in your group is a member of your library's instruction team. You have an unlimited budget. What roles do you assign to your ten-member library instruction dream team? What about positions that don't exist anywhere yet?
Fill in the blank: _________ will be the most important instructional technology in the next 5 years. Discuss.
Everyone can agree that there are a lot of really bad online instruction videos. First, create a list of the undesirable qualities these videos have in common, then create a list of best practices for creating online tutorials.
You have an unlimited budget to design the library classroom of your dreams. What do you put in it? How is the room set up? What kinds of technology does it have, and what kinds of learning does that technology facilitate?
We had some great discussion, and everyone was able to contribute something to each conversation. It worked really well! When I get a chance to compile the notes from these discussions, I'll link to them here.
Lightning talks
We wrapped things up with four awesome lightning talks.
Our own Amanda Foster talked about her experience using Google Glass in the LIB100 classroom
Dre Orphanides and Anne Burke from NCSU shared their process for creating the amazing new "Teach Yourself" platform of library instruction videos.
Karen Grigg at UNCG talked about an ongoing research study she and her colleagues are conducting to identify transfer students and evaluate their information skills so they can be more effective in reaching them.
Megan Johnson at ASU demonstrated their online linked library meta course–essentially a way for faculty in the disciplines to select online library instruction modules for their classes.
The whole day went off without a hitch, and no small thanks to all the help from Joy, Hu, Amanda, and Kaeley, who helped with planning and wrangled, coffee, snacks, signage, and the logistics of taking 20 people to Shorty's over break, and to Sarah, for volunteering to facilitate a breakout session.