I recently attended our third and final iteration of the Archives Leadership Institute (ALI), located in Decorah, Iowa. Funded by the National Historical Publications & Records Commission (NHPRC), the goal for the Institute is to "bring to tomorrow's leaders the insights and understanding necessary for increasing public use and appreciation of archives." However, while we won't be coming back to Decorah, we were recently notified ALI has been funded for another three-year run, and our new location will be Berea College in Berea, KY, where the Project Director resides. I will continue as part of the Steering Committee: (Rachel Vagts, ALI Director) from Berea College as well as representatives from New York (Geof Huth), Massachusetts (Beth Myers), Ohio (Dan Noonan), Oregon (Terry Baxter), Texas (Brenda Gunn), and of course, North Carolina (Tanya). For our third year, we worked with the faculty to revise the schedule and again reviewed applications (there were nearly 100 for 25 slots). The Committee conducted daily evaluations of the curriculum, and monitored the overall process by serving as facilitators for small groups in the cohort. Again, we had a wonderful week and built many new relationships.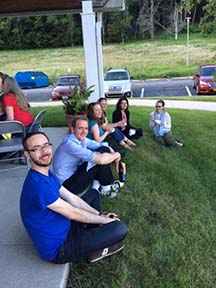 The core curriculum remained the same, the first day focused on New Leadership Thinking and Methods (faculty and facilitator, Luther Snow). Our second day brought Dr. David Gracy (retired from the archives faculty at UT-Austin) who spoke on Advocacy. Day three brought Dan Noonan from Ohio State who presented on Strategies for Born Digital Resources. Sharon Leon (Director of Public Projects, Roy Rosenzweig Center for History and Media, George Mason) who oversees OMEKA and Scripto, focused on project management for day four. Christopher Barth, from West Point, spoke on Strategic Visioning and Team Development.
The week again ended with a special celebratory dinner (which included heartfelt stories from the participants as well as inside jokes). The group is scheduled to meet again at the annual meeting for the Society of American Archivists, being held in Cleveland in August. There will be a dinner (including ALI alumni from past years) as well as a workshop to discuss potential service activities.
The ALI Team was also recently notified we have been awarded the Society of American Archivists' Distinguished Service Award! ALI has had a tremendous impact on the archival profession by developing the potential leadership skills in a wide range of archival professionals throughout the country. I am glad I am able to continue my participation in this important program.