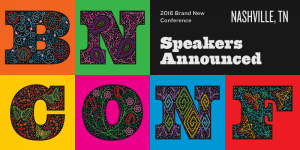 On September 15th and 16th, I attended the Brand New Conference in Nashville, Tennessee. This was a lecture style conference hosted at the Schermerhorn Symphony Center. The special topic of the conference was logo and the overall theme was brand identity.
Speakers from a myriad of industries spoke, including:
Mackey Saturday, responsible for Instagram, Oculus, and Luxe
Beth Sachan, Director of Marketing for Goo Goo Cluster
Jim Sherraden, Hatch Show Print
Theresa Fitzgerald, Sesame Street
Ashley Strauss, Tennessee Titans
Since external marketing makes up much of my work for the ZSR, a lot of what I do includes design. Attending this conference was very educational. The speaker I enjoyed hearing from the most was Matias Duarte from Google. He was on the team that created the new Google logo last fall. His speech focused on the importance of collaboration and designing for your audience. Turns out, even people at Google need to build consensus and try many many versions of things before they settle on "the" answer.
In general, a thread that ran from speech to speech was that when designing for an audience, you must design for the purpose. That is the difference between art and design. Design must be attractive, but also serve a purpose.
Creating graphics for Instagram is my favorite job because it needs to be eye-catching and original, but I can experiment with the ZSR tone; social media graphics are a chance to be playful. However, any graphics that ZSR posts must still retain the brand. Since this conference, I have wondered, "What is the ZSR Brand?" We are professional and accessible, service oriented, but we also are naturally a little bit quirky.
This was a great professional opportunity for me. Seeing the work of different designers at this conference inspired me to try new styles and gave my creative drive a boost. I will put what I learned to use for the library!