This article is more than 5 years old.
The National Diversity in Libraries Conference 2016
The National Diversity in Libraries Conference (NDLC '16), co-sponsored by the UCLA Library and the Association of Research Libraries (ARL), was held on the UCLA campus on August 10 – 13, 2016. This was the second NDLC, the first occurred in 2010, and in 2013, the UCLA Library agreed to host this event with the theme "Bridges to Inclusion". Monesha and I are hopeful that the success of this NDLC will encourage ARL to hold another one soon!
For this Professional Development blog post on the conference, Monesha and I have decided to collaborate rather than post twice. Additionally, the ZSR Staff Development Committee has arranged for Monesha and I to host a discussion about the conference on Wednesday, September 28th from 10-11am in ZSR Library room 204. Please join us if you are interested!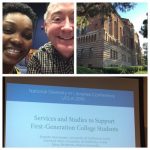 NDLC from Monesha
The National Diversity in Libraries conference at UCLA was everything I expected and much more. Never had I experienced such passion about any topic at any conference ever! From the beginning our opening keynote speaker Lakota Harden had attendees in tears as she spoke from her heart not her head. Lakota's experiences with injustices pertaining to her family's homeland opened my mind and made me think how this relates to me and ZSR. The answer was easy. It's everything. Every individual has a story and somehow we have to find a way to make our stories co-exist and we have to be open to listen to someone else's story. My personal experiences and the things happening in my community are passionate to me and as Lakota said, "Don't take it personal when I'm raging." We have to have those uncomfortable conversations and create dialogue in order to bring forward awareness and create change. Diversity is not just the color of your skin. Privilege is not just man versus woman. It is much deeper and there are so many layers that we as a community have to be willing to get uncomfortable and start to build those bridges to inclusion which was the theme of this year's conference. I attended sessions on Thursday and Friday on multiple topics including "Being the bridge", "Recruiting and retaining a diverse workforce," and "Do we walk the walk, or just talk the talk?" Every session was interesting and made me think about what we are doing at ZSR and what we think we're doing. It was a shock to me to find so many libraries and schools that don't support diversity training.There are many schools that have a diversity committee only as a check box and don't take the committee seriously at all. On many occasions I was proud to be a member of the ZSR family and was able to offer suggestions to staff members struggling just to get acknowledgement that there was a problem. Hu and I will be having a more in depth conversation about our takeaways from the conference at our talk on September 28th at 10am in room 204.
NDLC from Hu
After the challenges of getting from LAX to UCLA, I was happy to settle into a residence hall room and head to the Wednesday night opening reception at the Powell Library. After seeing people I knew, like Mary Horton, and meeting new people, I was ready to head back the residence hall, grab dinner in the cafeteria and get a good night's sleep. I mention the accommodations, because UCLA was an amazing place, and with all the conference participants in such close proximity, we had many informal opportunities to gather and talk in places like the cafeteria and the wonderful outdoor gathering spots.
Thursday began with an excellent keynote by Lakota Harden, orator, activist, community organizer, workshop facilitator, radio host and poet. She led off with the fact that while she was happy to be there with us, she really wanted to be protesting at construction site for the Dakota Access Pipeline. She closed her keynote with this powerful video addressing the effects of historical trauma in tribal communities. Thursday and Friday were packed with sessions, ranging from "Making the Invisible Visible: Diversity, Dialogue and Multicultural Awareness Through Digital Projects" with Erin White, Norda Majekodunmi, Yemisi Dina, and Alice Campbell, to "Recruiting and Retaining a Diverse Workforce: Challenges and Opportunities" with Jade Alburo, Cheryl Beredo, Tessa Dover, April Hathcock, and Mark A. Puente.
Wanda and I had prepared a presentation entitled "Scaling Up: The Next Level of Diversity and Inclusion Training" in which we talked about ZSR's New Student Assistant bootcamp, and the module on "Serving Diverse Populations" within that training. Commitments at WSSU prevented Wanda from attending, and I was sorry she didn't get to experience the positive reaction to our presentation.
I'll stop here because April Hathcock does a much better job than I can do of summarizing the conference! Monesha and I are looking forward to our presentation on September 28th where we can further discuss this amazing experience!