This article is more than 5 years old.
Following quickly upon the heels of an item from ZSR's Special Collections & Archives appearing on the cover of Archival Outlook, the January 2015 issue of Library Resources & Technical Services (LRTS) features an image from our digital collections.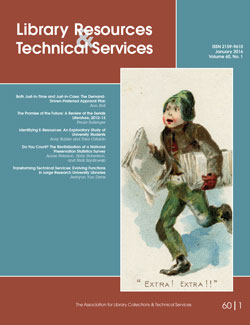 LRTS (pronounced "lerts") is the official journal of the Association for Library Collections & Technical Services, a division of the American Library Association. The image selected for this month's cover, EXTRA! EXTRA!!, appears in one of our earliest digital collections, the Duke Tobacco Company Cigarette Cards, which was created in 2004.