For me the central happening of ALA Midwinter 2016 was kicking off my participation in ALA's Emerging Leaders program. As part of this program, I'll glimpse the sizable architecture of ALA, network with awesome people, and work together with members of a small team to solve a problem framed by one of ALA's divisions or round tables.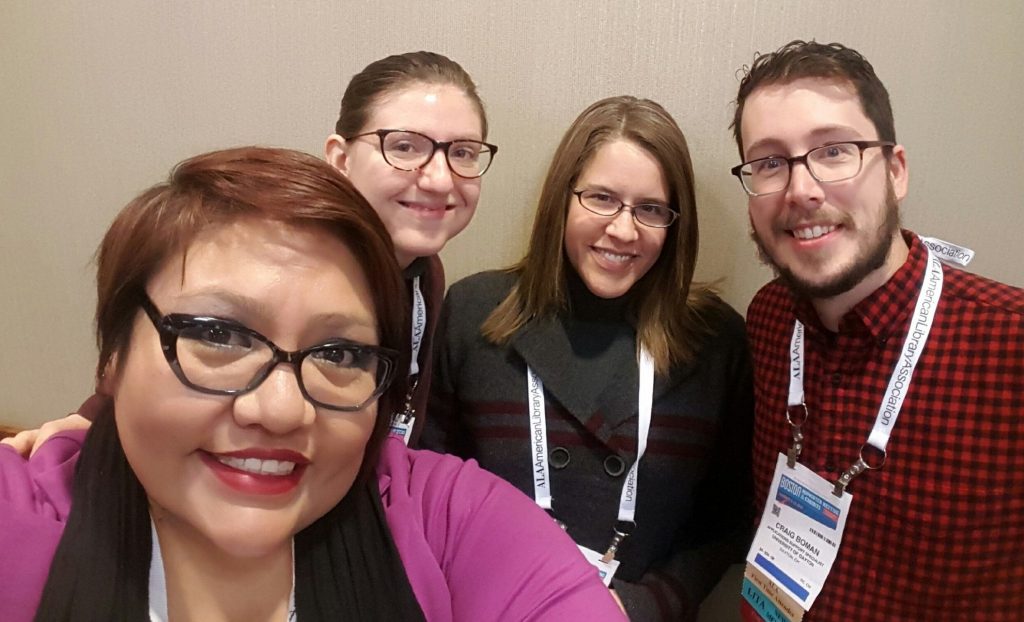 My team is AWESOME. We are tasked with developing an archiving policy for the Maps & Geospatial Information Round Table to deposit their materials with ALA's Institutional Repository. (Sidebar — did you know that ALA has an institutional repository? We didn't either!) We'll figure out things such as roles & responsibilities (whose job it is to deposit materials), selection criteria, descriptive practices, documentation, and instructional materials for the deposit process. It's an achievable and interesting project, and I look forward to working with my team members between now and ALA Annual in Orlando.
This Midwinter Meeting also offered strong programming on digital scholarship topics, notably the meetings of ACRL's Digital Scholarship Centers Interest Group and Digital Humanities Interest Group. The meeting of the Digital Scholarship Centers Interest Group (newly formed under the leadership of Merinda Kaye Hensley and Steven Bell) centered around the research done by Alix Keener, Digital Scholarship Librarian at the University of Michigan, on collaborative research relationships between librarians and (digital) humanists. You can learn more about her findings in her article in Digital Humanities Quarterly, The Arrival Fallacy: Collaborative Research Relationships in the Digital Humanities. Even if digital scholarship isn't your bag, I highly recommend Alix's article because it speaks to many tensions and opportunities librarians and scholars are embracing as the collaborative structures of the research process are re-negotiated. It's an especially good companion read to Digital Humanities in the Library: Challenges and Opportunities for Subject Specialists, now an open access monograph.
The meeting of the Digital Humanities Interest Group brought together a panel to discuss their experiences building DH communities of practice within their institutions (Amherst, Northeastern, and Boston University) and their region (the greater Boston area). I find the Five Colleges Digital Humanities model particularly intriguing for us here at Wake Forest because of its focus on undergraduate learning & research. Among other initiatives, they offer digital humanities micro-grants to undergraduate students and hire undergraduate fellows and post-bacs in digital humanities.
Some excellent programs, plus opportunities to catch up with some favorite colleagues and friends and compare notes about our work — my 2016 ALA Midwinter Meeting in Boston was everything you could ask of a conference.