This article is more than 5 years old.
The 2017 edition of the American Theological Library Conference was held in Atlanta, June 14-17.  In addition to attending conference sessions and reconnecting with colleagues from across the US, I had two official roles this year.  I ended my term as Secretary of the Public Services Interest Group by taking minutes of our panel session, "The (Virtual) Human Touch: Promoting the Spirit of Inquiry Through (Distance) Research."  I also presented a poster on the collaboration it took to create the Biblical Studies Reference and Commentary Shelves location in the Reference Department, "Making Space for Research."  I had some great discussions with several librarians who are interested in trying something similar in their own Reference areas.  After I returned from the conference, I was contacted by an ATLA staff member who saw my poster and wants to feature it when she attends a sister conference for Australian and New Zealand theological libraries in a few months!  A big thanks to Meghan, Sarah, and Craig for help in designing and formatting the poster, and to everyone who was involved with a project that has helped our Divinity students do their work more effectively and efficiently!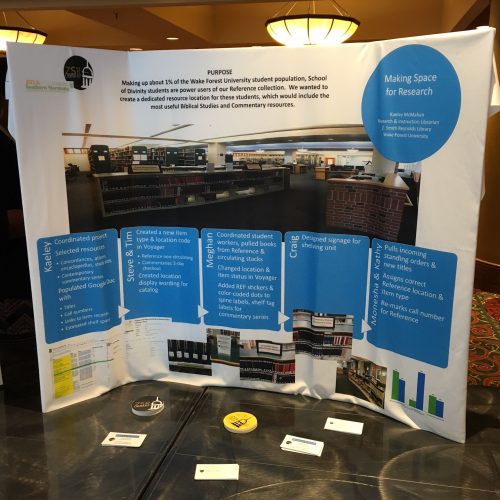 ATLA always has great plenary session speakers, and this year was no exception:
Thursday: Innovation in Theological Education: Something Old, Something New, by Rev. Dr. Christian Scharen, who co-authored a recent report, Bright Spots in Theological Education: Hopeful Stories in a Time of Crisis and Change, which highlighted the work of the WFU School of Divinity and their Food, Faith, and Religious Leadership Initiative.
Friday: Leading in a Learning Environment, by Loretta Parham, who received the ACRL Academic/Research Librarian of the Year Award in January for her work in turning around the Woodruff Library at the Atlanta University Center, which won the ACRL Excellence in Academic Libraries Award in 2016.
Saturday: What's Next in the Move Towards "Open"?, by Heather Joseph, the Executive Director of SPARC (Scholarly Publishing and Academic Resources Coalition).  A few bullet points from her presentation:

STEM publishing makes a $10 billion/year profit, comparable to the NFL or Apple
We are operating in a system that regularly forces workarounds or compromises-use what we have access to rather than what we might actually need
Open Access Scholarly Publishers Association: there are over 10,000 open access journals, still only about 20% of scholarly journals are open access
For change to happen, we need scholars to push back against the current tenure and promotion system and the role of the impact factor
Should be asking different questions: "Does publication in a closed/limited access publication further your institutional goals?"
Earlier this spring, ITHAKA S+R published one of their discipline-focused scholar surveys, this one looking at the research habits of religious studies scholars.  As you can imagine, this survey was of great interest to ATLA members, so there were several sessions that covered the results of the survey, and many of the other sessions I attended echoed some of the findings that had been discussed.  The report named three major themes that came out of their discussions with researchers, and they gave specific recommendations for each of these areas:
Discovering and Accessing Information: support endangered archives, improve collections for areas of religion study and geographic regions, train researchers on digital tools, provide personalized discovery tools
Information Management: train graduate students on information management; improve usability of citation management software; develop centralized policies, mechanisms, and guidance for storing and preserving information collected and produced by scholars throughout their research lifecycle
Audience, Output, and Credit: advocate for and create rewards that encourage more widespread adoption of innovative approaches to research dissemination, offer services that promote scholarly engagement with the public, improve institutional repositories' aims and functions
The conference also included several sessions that touched on the ACRL Information Literacy Framework, as I expect there will be for a long time as instruction librarians learn to incorporate the concepts into our instruction and course design.  The session that I found to be most useful to my own instruction work was Out with the Old, In with the New: Practical Strategies for Using the New ACRL Framework.  One of the presenters described how he used the threshold concept "Scholarship as a Conversation" as the primary frame around which he structured his course.  He incorporated the other frames as well, but this one was the focus.  In thinking about the structure of my course, I tend to emphasize this frame anyway, so I was glad to get a better vocabulary with which to articulate this idea to students.