It was great to have the 62nd NCLA Biennial Conference back in Winston-Salem last week!  For this conference, I served behind the scenes on the conference's Planning Committee, specifically with the Local Arrangements Committee.  There were several ZSR connections on this committee as well:  one of the co-chairs was one of my former student assistants, and both Wanda Brown and Steve Cramer (husband of our own Carol Cramer) were a part of the committee as well.  The Committee handled the food and room requests within the Benton Convention Center as well as staffing the information booth, planning the entertainment for the Endowment Dinner, signage, and various other duties.  It was a busy week, but it went smoothly overall.
Still, I managed to make it around the conference.  I made it to several sessions, including "Library Systems at the Crossroads," an update on the State Library, and the Ogilvie lecture featuring Dr. Jon Gant, Winston-Salem native and Dean of North Carolina Central's Department of Library and Information Science.  Most of all, the Conference was an excellent opportunity to reconnect with colleagues and classmates while forming new connections.  On the Exhibits floor, for instance, all of North Carolina's library schools were represented, and UNC Greensboro's booth became a nice center of activity for graduates and current students alike.  (UNC Greensboro also had very good swag, as pictured below.)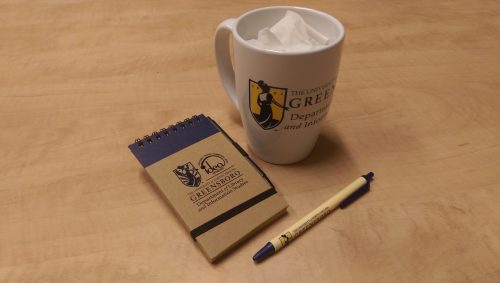 The new Central Library and renovated Convention Center were both showstoppers for attendees, and they secured Winston-Salem as a worthy hub for future conferences.  In fact, the 63rd Biennial Conference will be back in the Twin City, so we'll see what 2019 brings!