On Wednesday, Oct. 18th I attended the NCLA biennial meeting at the newly renovated Benton Convention Center. It was great to see colleagues from across the state as well as a great group from ZSR present. I enjoyed the opening keynote, which focused on how we tell the story of our library and its programs, and toured the exhibits. In the afternoon I was on a panel with Susan Smith and Chris Garris of Perkins+Will. We gave a presentation on creating a master plan for your library. Despite being in the room the furtherest away from the Registration Desk and competing against what seemed like a dozen sessions, we had 25+ attend. We chose to use a conversation-style presentation with the three of us responding to set questions and allowing the audience to ask questions as we went along. This format worked well with at least a half dozen folks engaging us during the presentation.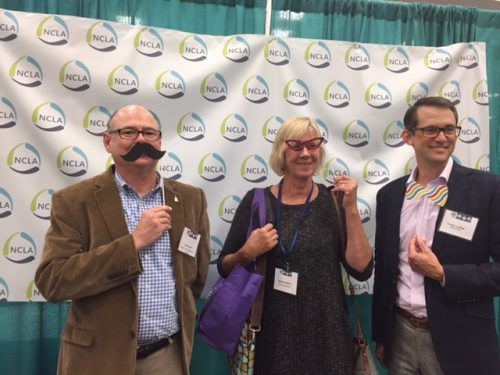 Our Distinguished Panel
We started with a basic question — "What is a master plan and why do I need one?" The remaining questions explored these three key areas as well as current trends in libraries:
Assessment (understanding what is needed based on data)
Community Building – all constituents, including library staff
Programming — the collaborative process of identifying the program needs for the Library
One of the things about having a design expert on your panel is that our slides were fantastic! If you would like to see the presentation, it is available on the conference website.