Many scholcomm librarians, me included, have relied on their liaison librarian colleagues to help connect faculty to their areas of expertise, and amplify their advocacy efforts around open access and author rights. Many scholcomm librarians, again me included, have relied on their reference and instruction librarian colleagues to introduce scholarly communication issues to the undergraduate classroom. Without explicitly calling attention, we have been acting on this tenet, infusing our scholcomm knowledge in our work with our colleagues for years. During those years, there were increasing intersections between scholcomm and other areas of librarianship, from collaborations around data management to digital humanities to collection development decisions. Now, some of the first to hold dedicated scholcomm positions are moving into administrative positions, and the informal infusion of scholcomm is beginning to be formalized. Regrettably, though, many LIS programs still do not formally address scholcomm in the curriculum. Only a handful of programs offer courses that address scholcomm, and most give only a class session or two to the topic. While all professional education programs have their failings, and you never learn everything you need to know during graduate school, there is growing consensus that LIS programs need to be teaching soon-to-be librarians about scholarly communication. And who better than we to help determine what they need to know? Oh, and whaddayaknow, we happen to have expertise in all things open, hence OER+ScholComm. This project is at the early stages, but I am optimistic that it will rock.
Coming back to my first point about how my move into an administrative role has shifted my thinking about scholcomm, this has been a gradual, evolving shift that predated my promotion to a director-level position, although it has certainly expanded since. But what really brought it home to me at last week's ACRL Intersections Road Show was being asked to move to the "admins' table" for the workshop. I was one of five admins in the room to make the move, and physically moving across the room, away from Kathy and Kaeley, to join my fellow admins was a mark of distinction that framed the day in a different way for us. We found that the workshop exercises were not necessarily appropriate for our work (e.g., we don't write learning outcomes for meetings with university administrators when advocating for scholcomm initiatives on campus…although perhaps we should!).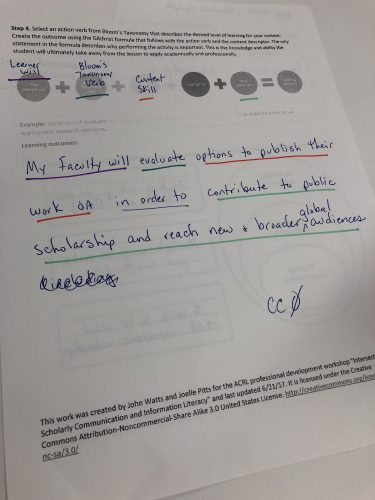 Yet it was helpful to spend the day with admins from other libraries, both public and private, to hear their perspectives, to share my own experiences, and to continue to cultivate my broadening concept of scholarly communication at a campus level. It reaffirmed what I know to be true: it's not just me, or the Digital Initiatives & Scholarly Communication team, or even all of us at ZSR who are the future of scholcomm at Wake Forest; it's in the intersections, where we come together with our campus community and our profession at large, to advocate and advance the tenets of scholarly communication that are the future. And that's mighty exciting to me!