This article is more than 5 years old.
This past June, NASIG held its 33rd Annual Conference in Atlanta, Georgia.  I was a "road dog" with Steve for the weekend conference, which as always offered unique programming as it pertained to continuing resources.  The takeaways from the conference were numerous, and I grouped them into the following categories.
Vision Sessions.  The Vision Sessions encourage participants to either think differently about a variety of concepts or to consider the cutting-edge ideas that may impact the profession.  This year, we were fortunate to have three speakers address three topics with far-reaching implications:
Sören Auer of the German National Library of Science and Technology gave his talk about "Towards and Open Research Knowledge Graph." He spoke about how a knowledge graph, along with linked data principles, can be used advance the areas of scholarly communications in the library community as well as the wider knowledge engineering communities as well.
"Communities of Praxis: Transforming Access to Information for Equity" was presented by Dr. Lauren Smith of the Institute for Research and Innovation in Social Services (Iriss) in Glasgow. Smith spoke about how the democratization of the access to information can be used for the greater aims of achieving better representation in librarianship and leveraging power collective for achievable goals such as the digital privacy and security of patrons.
The final speaker was Lisa Mackin, Director of Research, Engagement, and Scholarly Communications of the Robert H. Woodruff Library at Emory University. Her session was entitled "Open Access: How Accessible Is It?", and she took a deeper look at the considerations of open access, considering social viewpoints such as culture, language, and universal design as well as factors related to "findability" such as search engine optimization and metadata schema.
Programs.  This year, I served on the Program Planning Committee for the first time and saw the results of the committee's work from a deeper perspective.  There was a mixture of standard sessions, snapshot sessions, vendor lightning talks, and the Great Ideas Showcase.  However, one of the most popular sessions of all was the Student Spotlight Session.  For the last few years, NASIG has offered free memberships for library school students, and this year many attended the conference and presented during this session.  These were interesting to watch as students gained experience by presenting at a conference as well as bringing a variety of topics to the attendees.
Moments.  I serve as a NASIG Ambassador to the Library and Information Studies program at UNC Greensboro, sharing information with students currently enrolled in the program.  I was happy to encounter LaQuanda Onyemeh again, whom I had met at the North Carolina Serials Conference earlier this year.  She had been finishing up her MLIS at UNCG the last time I saw her, and now she was attending the NASIG Conference after attaining her first professional position.  Moreover, she could attend the conference with a John Riddick Student Grant awarded by NASIG.  She also presented during the Student Spotlight Session and has volunteered to serve on a NASIG committee!  It was great to watch this new professional at the beginning of her career.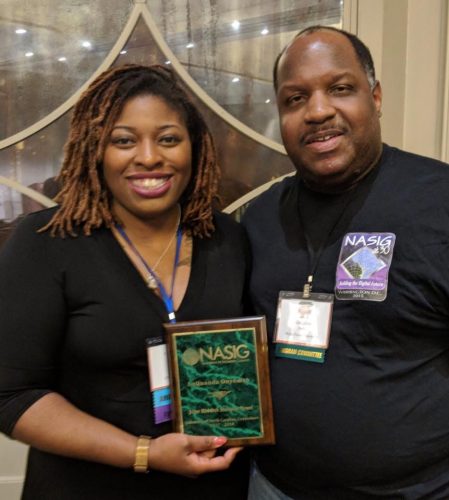 So, this year's conference in Atlanta came to a successful end. Next stop: Pittsburgh in 2019!