This article is more than 5 years old.
The OCLC Resources Sharing Conference 2018 "Bridging Communities"
It is pretty safe to say this was the largest stand alone interlibrary loan (aka resources sharing) conference ever held.  I know because I have been to many. Up to now, the only yearly, national conference we had focused on one software package (ILLiad) used to manage interlibrary loan and it was hosted by the creator, Atlas Systems.  
"Bridging Communities"  was the first one hosted by OCLC and in a larger venue.  Broadening the focus broadened the pool of interest. We had 420 participants from all over the US and as far away as South Africa.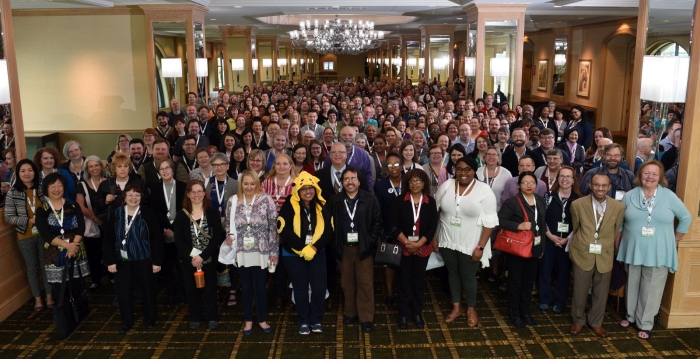 Most of the conference sessions were very specific and probably not of interest to most. However,  this was the first resource sharing conference I've been to that had a really good keynoter, Celeste Headlee.  My post will focus on her talk.
I was familiar Ms. Headlee's voice, but not her face.  She is an award-winning journalist that worked as both a reporter and host on NPR.  At the bottom of the report I'll put in some links (no peeking, take your and away from the scroll bar.)
Keynote – Celeste Headlee "Conversations that Matter"
Ms. Headlee's talk focused on communication – how to do it better and how technology is ruining it.  She also has a TED talk and a book (see links below)
Some takeaways/interesting tidbits
Studies show we vastly overestimate our conversational skills and listening skills

We aren't born knowing how to listen – we come out of the womb knowing only how to scream.

Talking about yourself activates the exact same pleasure center in the brain as sex or heroin.

We are the worst version of ourselves on email.  We are more likely to escalate tensions and less likely to compromise.  

A total stranger is just as likely to recognize sarcasm in our emails as our closest friends.

When READING an opinion different from ours, we are more likely to have negative assumptions about the writer (stupid, backwards.)  When we are HEARING an opinion that is different from ours were are less likely to assume and more likely to have empathy (while still disagreeing).

University of Michigan researchers looked at 72 different studies done over the last 3 decades. They found that our capacity for empathy has dropped by 40% in the last 30 years, most of the decline has occurred since 2000.

Steven Covey (7 habits…) quote "we listen with the intent not to understand but to reply."

We talk at about 150 words/minute.  We think at about 400 words/minute.

Studies performed by Microsoft show that our attention span online is about 8 seconds.  That's one second shorter than a goldfish (NO, not a goldfish online….that's just crazy.)
Her book: https://find.zsr.wfu.edu/Record/3792930
Her Keynote: https://www.facebook.com/20530435726/videos/10160574437855727/
Her TED talk and bio: https://www.ted.com/speakers/celeste_headlee