This was my first ever ACRL, and it was one to remember. Mostly because it was also my first conference with a baby and three year old in tow, but also because I was a part of two presentations. More on that later.
What I Learned
I was really impressed by the quality of the sessions at ACRL. I attended some really great sessions on facilitating library escape rooms, teaching "fake news," gathering real-time assessment, engaging African-American students, and the relationship between information literacy and capitalism (Ian Beilin has previously published some really interesting articles on that topic).
The hands down best session I attended was on neurodiversity in the library. There were some really important takeaways, including:
Things that libraries generally assume to be best practice, like creating a loud Information Commons and having Circ/Reference "Mega-desks," can be overwhelming for students on the autism spectrum or with sensory processing disorders. 

One panelist was a librarian on the autism spectrum and he made a great point about the difficulty of the interview process, especially when it's a full day marathon of processing information. And that doesn't even begin to touch on the problematic practice of interviewing for institutional "fit"
All that is to say, the session offered a lot of food for thought, especially as we continue to strive to create an inclusive learning environment for our students and an inclusive working environment for our staff.
Presentations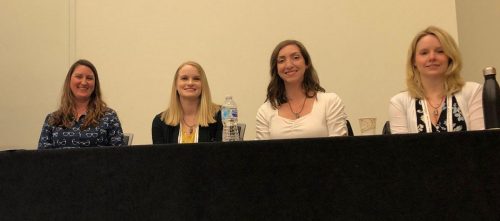 So I'm going to talk about my presentations, because prepping for these was really how I spent most of my conference time. My first presentation was a contributed paper titled, "Why We Leave: Exploring Librarian Turnover and Strategies for Employee Retention." As you can imagine, people had some thoughts on that topic, and a tweet from our presentation got a lot of attention on Twitter. (Yeah, I know, weird flex). 
Anyways, I put that one together with several former colleagues from Coastal Carolina University (most of us have since scattered elsewhere), which made it a lot of fun to prepare for. As a bonus, our presentation got written up for American Libraries. We published our preliminary results in the ACRL Conference Proceedings, and we plan to dig deeper into the demographic data we gathered this summer and hopefully publish it.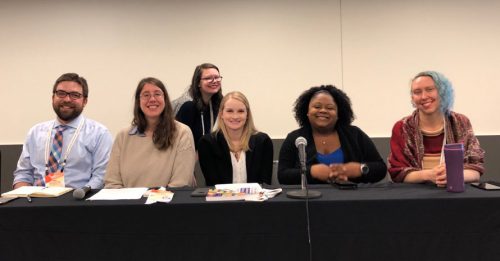 My second presentation was a panel titled, "Critical Approaches to Credit-Bearing Information Literacy Courses." This had grown out of a book chapter I wrote on the same topic — the editors of that book invited me to be on the panel, so it was nice to finally meet them in person and some of my fellow chapter authors. Many of the chapters from the book are available for free here
Cleveland
I did end up missing some of the cooler shin-digs and receptions (because babies), but I did discover that Cleveland is a really lovely, family-friendly city. During the two-hour long lunch breaks, we took the boys to the Cleveland Public Library, the Great Lakes Science Center, and the Children's Museum of Cleveland. All were wonderful.
Finally, a BIG SHOUTOUT to my husband for taking time off work and coming with me to this conference and watching the kiddos, which was really the only way it was possible for me to attend.