A year or so ago, a very generous donor provided funding to SCA for the digitizing of the David L. Smiley Papers as he was one of her favorite professors. Recent Wake Forest graduate, Julia Ough, worked on this project over the summer. She scanned 13,055 document pages, and wrote 426 metadata records for each collection folder so researchers could access the materials. We are grateful to Julia for helping us complete this project, and here is a guest post about her experience.
By Julia Ough:
I'm grateful for my experience archiving at ZSR Special Collections. Stephanie, Melde, and Tanya were invaluable instructors; they each spent time teaching me how to accurately and efficiently digitize documents, write metadata for items, and prepare files for a digital collection. They also gave me a general education on archiving and libraries, which is helpful to me as I explore this important field. This is the third archiving project I've worked on since graduating from Wake in 2018 with a B.A. in English. My interest in libraries and archives stems from my passion for education. Libraries, and especially digital collections like ZSR's, create public access to knowledge which would otherwise be siloed. I hope my work archiving the David L. Smiley Collection increases public knowledge on his various areas of expertise and contributes to future academic or layman research.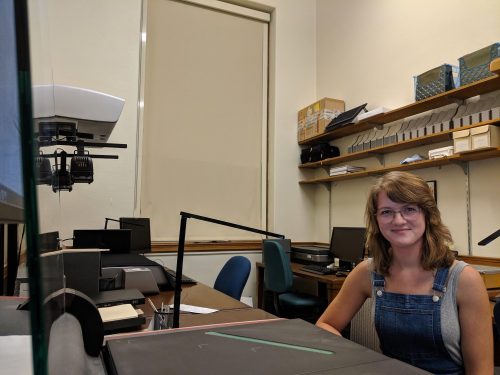 Preserving history professor David L. Smiley's collection of research, teaching materials, sermons, and personal materials has not only taught me about archiving, but also about the plural history of the American South, North Carolina, and Wake Forest. While digitizing and writing about his materials, I gleaned his professional and personal perspective on Southern history and politics. He expressed these perspectives through involvement in local political societies and through his academic research as a Wake Forest professor.
As a Wake Forest alumna, I enjoyed learning about the school's history through the materials Smiley saved while teaching there. Smiley's professorship at Wake is unique, as he taught at Wake's campuses in both Wake Forest and Winston-Salem. It is apparent through the things he chose to save that he loved evolving with Wake Forest and its community. One of my favorite items in the collection is a beautiful leather folder embossed "Wake Forest, 1927." I also enjoyed seeing a brochure for a campus talent show he hosted. Both items show his care for the school, its history, and its student body.
One item in the collection, a 1973 edition of Wake Forest Magazine, represents what I love about preserving ephemera. In this edition, there is a short write-up on the experience of freshmen matriculating at Wake Forest. Although I was a freshman at Wake 41 years after this magazine was published, the write-up still resonated with my experience. Archiving items like these remind me of what's changed, and what hasn't, about life and the experiences we share.
Thank you to the ZSR Special Collections team and to the donor for giving me another valuable learning experience on this campus.