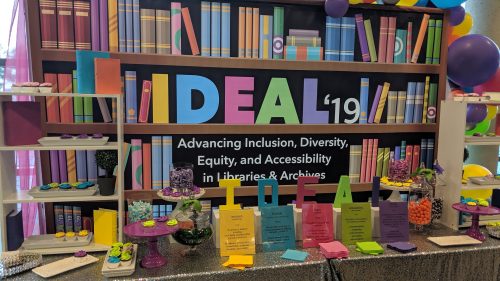 I had the opportunity to attend IDEAL '19 (Advancing Inclusion, Diversity, Equity, and Accessibility in Libraries & Archives) that was held at The Ohio State University on August 6-7.  Formerly known as the National Diversity in Libraries Conference, 652 attended came to Columbus, Ohio for two days of programming that featured several well-known figures from across the library world, libraries that have taken different approaches to ensure equity, and some of the most diverse groups of individuals I've ever encountered.
Notable Figures.  There were several individuals of note present at this conference that it seemed like a class reunion to see them at Ohio State.  Kimberlé Crenshaw, whose TED Talk on intersectionality was included in our Equity, Diversity, and Inclusion Committee's Summertime Syllabus, delivered the opening keynote about "Thirty Years of Theorizing Justice." Since the shootings in El Paso and Dayton had happened a few days before the conference, Ms. Crenshaw reminded the audience that vigilance was important for everyone to step in and contain the monsters of bigotry, intolerance, and white supremacy that are at a fever pitch in our culture.
Nikole Hannah-Jones gave the closing keynote, and she focused on the (then) upcoming report called "The 400th" in The New York Times.  Recounting the 400 years since the first Africans arrived as slaves in Virginia, she proposed that 1619 was as pivotal a year in American history as 1776.
A Range of Programing.  The program was amazingly diverse, with several sessions that focused on technical services, the work of diversity, equity, and inclusion committees, the challenge of diversifying library employees, and highlighting the diversity within library collections.  One season discussed how a book club was introduced to get one library's faculty and staff talking about these issues, which was like the events that we've held here.  Another session detailed how one library's partnership with the Human Resources Department on its campus produced positive results in terms of recruitment and retention.
The poster sessions were some of the best I've seen at a conference.  Some of the more interesting sessions detailed specific projects, such as enhancing the catalog records for the LGBTQ+ Center of Durham.  Another discussed the challenges of deadnames in the authority records for trans people.  Yet another addressed the need to develop fully accessible floor plans on library websites.  There was so much to digest that it was not possible to come away with several ideas.
The Attendees.  By far, the people who attend the conference make it worthwhile.  There were so many librarians and library workers of every description that it was amazing to witness.  Also, everyone was so friendly that it made the experience that much better.  Kindness was infectious, and there was a safe space mindset throughout the conference.
North Carolina was represented quite nicely at the conference, as UNC-Chapel Hill, NC State, UNC-Greensboro, UNC Greensboro were present.  Also, I met several people who I had followed on Twitter for several years in real life, and it was a pleasure to put an actual face to those names and not just a profile!
A few quick points:
How you chose to be photographed was determined by the color of your lanyard: green meant that you were fine to be photographed, yellow meant that you had to ask for permission, and red meant no photographs.
Two ZSR alumnae were also in attendance: Heather Cyre and Mary Horton.
Other figures included De Etta Jones and April Hathcock who were attending the conference like everyone else.
Due to the nature of the conference and the recent mass shootings, there was a heightened presence by the campus police in the Ohio Union where the conference was held. However, the police were situated in the open spaces on the ground floor of building and not in any of the meeting spaces.
This is the first conference where I ran out of business cards, including my backup supply.
The reception was held at the William Oxley Thompson Memorial Library which featured an exhibit featuring one of Ohio State's most famous alums, James Thurber.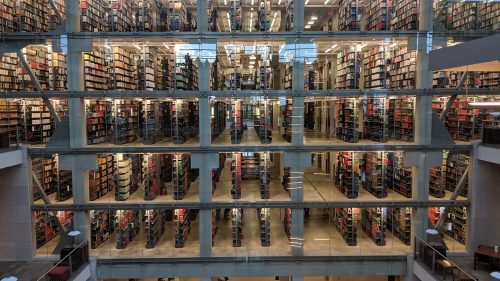 The next conference is expected to move from the Midwest to the East Coast in 2021, and a location has not yet been announced.  If it will be near Winston-Salem, I would recommend that as many people from ZSR should attend if possible.  This was one of the best conferences that I've ever attended, without question.