We hit the road for Knoxville, TN to attend the 5th Annual Gathering of The Library Collective on March 6th-8th. The Library Collective is 501(c)(3) organization committed to professional development and innovation for library and information professionals, and their Annual Gatherings (conferences) are known for hands-on, skill-building sessions that promote collaboration and active learning. This year's theme was "Stand & Deliver" (you know, the 1988 film based on the true story of Jaime Escalante) and 80s references were in full force! What follows are our take-aways from this conference, and if you're interested, session notes and many session materials are linked from the conference schedule.
Unsolved Mysteries: Does Information Literacy Need Libraries?
Dianne Brown and Ashley Petersen, two Instruction Librarians from Tufts University, presented a very interesting session on their experience with de-centering the library in a credit-bearing information literacy course. Their course, The Internet We Deserve? Questioning Our Lives Online, provided students with the opportunity to think critically about the contemporary online experience and to interrogate the real world consequences of our virtual experiences. The focus on Internet literacy and real world application was inspiring and situating the course within the present contexts of our lived experiences online (issues related to privacy, net neutrality, corporate and government mediation of online experiences, etc.) offered a greater degree of relevancy for students. Needless to say, a lot of ideas were presented that could be applied to our own instruction practices.  Dianne and Ashley have made their slides and some of their course materials available: http://bit.ly/CollectiveUnsolved19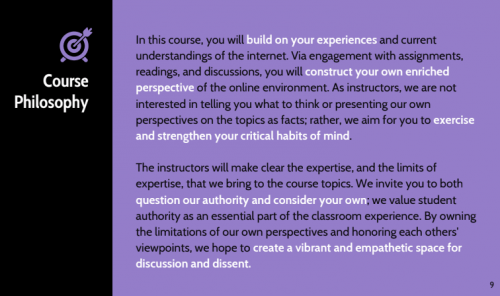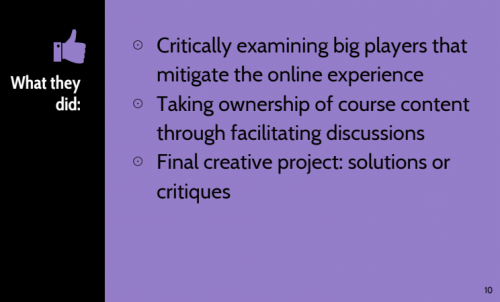 Developing Soft Skills and Gaining Hands-On Experience
Similar to past Library Collective gatherings, there were plenty of opportunities to reflect on professional soft skills and gain hands-on experience.