I recently had the opportunity to travel to Prince Edward Island (PEI) in Canada to attend the Association of Canadian Archivists Annual Meeting. It was a very intense 3-day schedule of programming and I attended sessions on indigenous community archives, oral histories, and linked data. I was most excited to hear two speakers from Australia, Dr. Nicola Laurent, U and Dr. Kirsten Wright, both from the University of Melbourne, who have written extensively on the issue of trauma in the archives. They gave an update on the 2022 survey Understanding the International Landscape of Trauma and Archives, which sought to obtain quantitative data to identify how widespread experiences of trauma in archives were, what support was available, and what education, training, and resources were needed.

I presented as part of a plenary session, "Centering Students, Creating Belonging: Building Community in Campus Archives" with speakers from Illinois State, DePauw University, the University of Kentucky, Indiana University, Connecticut College, and NYU. Our goal was to share innovative practices and programmatic changes that foster growth, inclusivity, and build community for high school, college, and graduate students in our repositories. I shared about Houck Medford Curatorial Fellow, Tsing Liu, and described our successes and challenges.

For my one tourist activity, I managed to visit Green Gables Historic Place, the inspiration for Lucy Maud Montgomery's 1908 book, Anne of Green Gables. After some rain, I managed to visit on a beautiful day: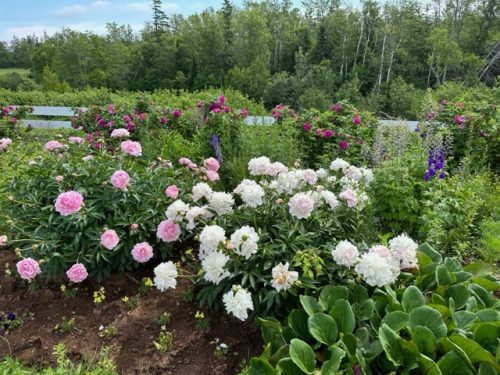 And while I have your attention, I also wanted to report on my recent May trip to Washington, D.C. where I participated in the National Historical Records and Publications Commission meeting. As an appointed member, I represent the Society of American Archivists. What is the NHPRC? The National Historical Publications and Records Commission (NHPRC), a statutory body affiliated with the National Archives and Records Administration (NARA), supports a wide range of activities to preserve, publish, and encourage the use of documentary sources, created in every medium ranging from quill pen to computer, relating to the history of the United States.
The NHPRC:
was established by Congress in 1934
is a 15-member body
is chaired by the Archivist of the United States
is composed of representatives of the three branches of the Federal Government
is composed of professional associations of archivists, historians, documentary editors, and records administrators
Our May discussions related to grant reviews (we dispersed $16.5 million dollars to historical groups and organizations), oversight of the Archives Leadership Institute, and other issues facing the archives profession. The interim Archivist of the United States, Debra Steidl Wall, was very excited about the news that the new permanent AOTUS, Dr. Colleen Shogun, has been appointed. I look forward to meeting her on my next visit to D.C. in the fall. The most recent NHPRC update appears here.