As instruction librarians, attending LOEX is a bit like going to Disney World which is "the happiest place on Earth!" After two years meeting entirely through Zoom (2022-21), and last year meeting in Ypsilanti, Michigan (the home of LOEX), it was so good to be able to explore a new city. If you want to maximize your conference travel experience, just let Joy Gambill be your guide. She is probably the most YOLO (you only live once) travel partner I've ever had, and that's saying something since I have a proclivity for creating Google maps and spreadsheets for my own trips. Joy made sure that we hit the host city's cultural highlights at this year's LOEX Annual Conference in Harrisburg, PA on May 11-13. Harrisburg features one of the most ornate state capitols in the United States as well as one of the oldest existing rivers in the world. This year's conference theme was Treat Yourself: Revitalizing Your Teaching, Research, Engagement, Advocacy, and Teamwork. We (Elizabeth Ellis and Joy Gambill) joined 320 instruction librarians from across the United States for this year's informative, energizing, and beautifully executed conference.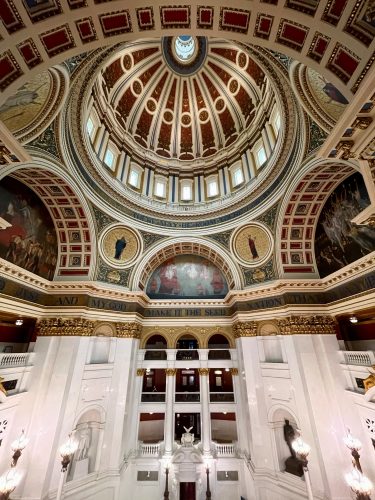 Elizabeth's Reflections
Plenary Session: "The Risks of a Restorative Informed Practice" by Ashleigh D. Coren
Ashleigh D. Coren is the Head of Education for the Smithsonian American Women's History Initiative and her talk was so helpful and informative for thinking about how we can have difficult conversations about systemic injustices, which are evident in our materials, practices, and information systems, with students and powerful stakeholders. In her work at the Smithsonian, she encounters materials that are harmful in the sense that they created or perpetuated stereotypes and disempowering narratives about individuals or groups of people. When deciding what to do with and how to talk about these materials, Coren employs a restorative justice approach, which involves identifying who's harmed, what their needs are, what obligations those in power have to meet their needs, and the root causes of harm. As indicated in the title, this is a risky practice. Coren shared that discussing the systemic issues present in our materials, practices, and information systems often involves strong feelings and even runs the risk of 're-traumatizing' people. Regardless, Coren feels it's important to have these conversations. One of the strategies she employs to mitigate the risks of a restorative justice informed practice is creating space for people's feelings and reactions when harmful materials are used in teaching, encouraging people to "feel however you want, but keep reactions respectful." Another strategy Coren employs in her work is crafting counter-narratives by incorporating materials that show peoples' resourcefulness and agency rather than only teaching with harmful materials. Coren skillfully balanced her expertise with intellectual humility, which made her so relatable and refreshing!
Breakout Session: "Presenting Research as Curiosity through Visual Thinking Strategies (VTS)" by Kayla Birt Flegal, DePauw University.
Flegal started using art and Visual Thinking Strategies (VTS) to engage students, and noticed connections between this strategy and the ACRL Framework, particularly "research as inquiry" and "scholarship is a conversation." VTS involves viewing a carefully selected work of art and responding to the questions individually and then sharing out: What's going on in this picture? What do you see that makes you say that? What further questions do you have? Our breakout group went through this exercise, which demonstrated how effective this strategy could be in teaching not only the two ACRL frames mentioned above, but also some important skills and dispositions for conducting research, such as activating prior knowledge ("What do you see that makes you say that?"), paraphrasing what others have said in the conversation to then build upon or challenge (attribution), and that research is iterative– it's okay, and even desirable, to change your mind based on the knowledge of the collective, and that it's important to focus on one thing at a time (students were asked to leave backpacks and phones when looking at the art). I am looking forward to incorporating VTS into my LIB 100 courses in the Fall!
Breakout Session: "The Discipline of Information Literacy: Changing the Conversation on Your Campus," by Clarence Maybee and Karen Kaufmann, Purdue University.
This was a really fascinating case for Information Literacy as its own academic "soft-applied" discipline. Maybee and Kaufmann are part of a group that has been making this case at conferences over the past few years, most recently including ACRL and LILAC. This session inspired a lot of discussion questions from attendees and some really interesting thoughts on how recognizing Information Literacy as a discipline would change academic librarianship, including a general belief that librarians would get more institutional respect in the form of teaching credit-bearing instruction, research support, and inclusion amongst faculty in other disciplines. The most obvious question to come out of this session was what the relationship between libraries and information literacy would be if the latter was more widely recognized as its own discipline– would this split LIS education into another 'track,' or would it be separated from librarianship altogether (as was the case with Information Science and Information Technology)?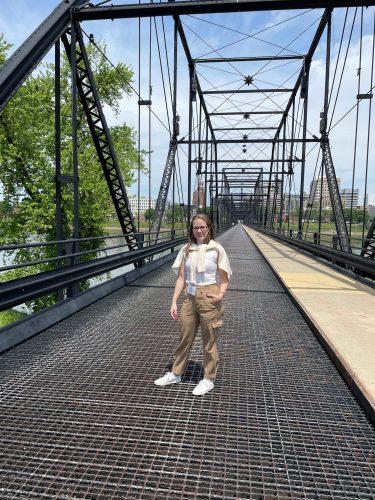 Joy's Reflections
Breakout Session: "Activating the Information Literacy Imagination with Librarian Led First-Year Seminars" by Kelly Hangauer and Jenay Dougherty, University of Iowa.
In this breakout session, Kelly Hangauer and Jenay Dougherty talked about two First-Year Seminar courses they developed and how their content lined up with the ACRL Framework. Dougherty's course, "True Crime: Society's Fascination with Crime and Murder" which used two texts for inspiration, Savage Appetites: Four True Stories of Women, Crime, and Obsession by Rachel Monroe and The Rise of True Crime: 20th Century Murder & American Popular Culture by Jean Murley. Hangauer's course, "Just Google It!" was inspired by many of the same texts that inspired our ZSR LIB290 course: Critical Information Literacy, including Shoshana Zuboff's, The Age of Surveillance Capitalism and the podcast The Land of the Giants: The Google Empire. If you're interested in seeing how their courses line up with the Framework, please take a look at their presentation slides
Breakout Session: "Don't Get Too Spicy: Effective Use of Humor in the Gen Z Classroom" by Sarah Lane and Alison Shea, Cornell University.
This was a particularly interesting breakout session that focused on how incorporating humor in the classroom is especially challenging when teaching Gen Z students. Gen Z is the generation born between 1995-2012. They are true digital natives born into a world of climate change, economic uncertainty, and global unrest. They are the last generation to remember a pre-COVID world. The Gen Z generation is considered scrappy, pragmatic and entrepreneurial. They have an aversion to "cheugyness" and they would rather expose their own flaws than be criticized. Their types of humor include nostalgic, absurd and surreal, post ironic, gallows, and referential. The presenters showed several examples of memes that strongly resonated with many attending the session, but even when asked to explain it, the people from the audience could not explain their meaning to people outside of their generation. I learned a couple of important lessons about humor in the classroom. First of all, this generation's sense of humor is different from anything we've seen in the past forty years. For this group, punching up is okay, punching down is not acceptable. Also, sarcasm rarely translates as funny for this generation, so if you have a point you would like to make, put a positive spin on it.
Breakout Session: "King Sized Content in a Fun Sized Package Developing Metaliteracy Microcourses for Campus-Wide Integration" by Amy James, Millicent Weber, and Joseph Meyer, Baylor University.
Some sessions are fun to attend just to get a picture of what is happening in other campus libraries. Baylor University created four online microcourses using Articulate Rise 360 to create ten minute interactive courses that end with a five question quiz. These courses are fully integrated with Canvas and they focus on information literacy, data literacy, maker literacy, and media literacy. It is helpful to know that Baylor Library has a makerspace and a media lab. They also have a data librarian. Even the promotion for these microcourses is impressive. They used their campus communications team to create this video. They just completed this project in April and they will be tweaking the modules over the summer.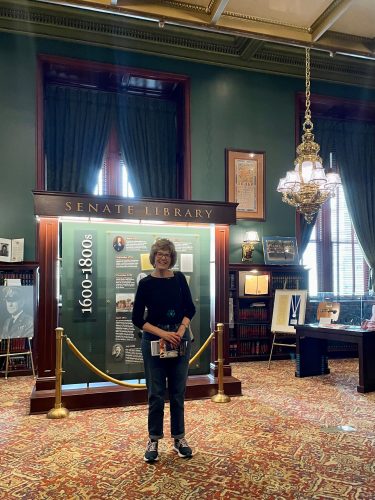 Overall, it was a fabulous conference! Our flights were on time, the weather was perfect, and the food was delicious. Friday evening, we participated in a "Dine Around" and our group included librarians from Texas, Michigan, Pennsylvania, Arizona, and California. We're already looking forward to next year's LOEX which will be in Naperville, Illinois.