The Association of College and Research Libraries biennial conference was held in Pittsburgh from March 15-18, and six librarians from ZSR attended. The core purpose of ACRL is to lead academic and research librarians and libraries in advancing learning and transforming scholarship. The theme of the conference was "Forging the Future." There were 2100 attendees (face-to-face and virtual combined), and of those attending, approximately half were first-time ACRL attendees!
Mary Beth's Highlights
Returning to an "in-person" ACRL was surprisingly refreshing and energizing. I met people for the first time that I'd previously only had virtual relationships with. I find that there are some kinds of community that just can't be matched in an online environment. In the interests of brevity, all of those attending ACRL are sharing this report, and each sharing just those biggest takeaways.
For my part, I attended sessions mostly related to staff development, addressing low morale, and organizational development. Honestly, after attending the sessions I came away with more questions than bright ideas. But they all gave food for thought, and identified things that need further attention in academic libraries. . I hope you find these summaries useful.
A win-win: developing a training program that enhances library staff and supports the library's goals, Georgia Tech.
The library's Access Services department, in a move to better utilize staff and enhance their own development, established a program to have Access Services staff assist others in the library with projects that are both short and long-term, with large and small impacts. The program started with an initial mandate from the Dean whereby library staff in Access Services were told to find ways to better utilize downtime. Partnerships were spun up with others in the library to collaborate on projects and manage the changing workload across units. Initial resistance and resentment led to increasing partnerships and expanding skill sets among the staff. The changes were initiated in 2019. COVID interrupted the expansion of the program, but supervisors, even before 2020, were seeking good results with interest increasing among staff and evidence that professional development was increasing. Access Services staff were given an opportunity to work with others in acquisitions/content management and archives. digital visualization, exhibits, media lab, Patent and Trademark Reference Center, public programming, exhibits, etc. As the program has evolved, projects are proposed to the Access Staff, and the staff are given a choice to sign up to aid in resolving backlogs or forwarding projects. This resulted in more staff taking leadership roles, more seeing opportunities to get involved, more opportunities to publish and present, and more professional development. While it was admittedly (even the presenters admitted it) an awkward start-up, it has resulted in a more committed workforce in the library.
Quenching Low Morale by Reorienting Towards a Practice of Care: A workshop companion for library leaders. Wendy Holliday and Kaetrena Davis Kendrick.
I attended a 3-hour workshop that encouraged library leaders to lead with empathy and radical care. Overwhelmed employees frequently do not ask for care because they want to show that they are self-sufficient enough to handle it. This can result from a lack of healthy models from leaders or others who don't acknowledge when they need a break, resulting in a lack of community and safety. All of these are systemic problems that need to be addressed well before the emergency that results in feeling overwhelmed. The workshop encouraged leaders to demonstrate limitations on time and boundary setting to ensure that employees know when to seek assistance. Among the tips they introduced were: employees should be encouraged to: include reminders to care for themselves (remember to eat, take a walk, take medication); share with others what helps when feeling stressed so that others know how to help, and when to step in. Also, forming a mutual aid network so that co-workers can help when a crisis hits someone on the team. Having these methods of communication to both identify when care is needed, and lending aid when called for, will break the status quo, stigma, and isolation, and mobilize people to help. It also builds solidarity and that will raise morale across the organization.
On Potential and Progress: Using OD to Transform our Organizations. Maisha Carey.
(Maisha was the Vice-Chair of ACRL's EDI Committee when I was Chair in 2020. We met for the first time in person at ACRL after having a very fruitful online partnership.) Maisha's invited paper discussed all the ways that EDI work and Organizational Development intersect. Her position was that if EDI work in an institution doesn't fundamentally change the business side of an organization, then it will never meet the institution's EDI goals. The only way that things will change is if the processes that govern decisions change first. (It was very reminiscent of our RIDE framework.) There are many avenues where EDI Committees can be influential, (programming, collections, spaces) but when paired with Organizational Development, the impacts are supercharged. Using the power of Organizational Development, and the tools at the OD officers disposal, (assessment, planning, training, communication and education arms,) suddenly the needle on EDI can really start to move. I had two big takeaways as a result of attending her talk. As EDI becomes an ever increasing target from some who seek out ways to interrupt the work of creating equity where it has historically been absent, institutions can find protection if it is reframed as Organizational Development. Meaning, if an organization finds its EDI efforts targeted, rename it as Organizational Development, and the work can still get done. And secondarily, if we agree that library "norms" were formulated with a white lens, (some say that librarianship "manifests whiteness), then can't mentoring be accused of enabling past practices and perpetuates the continuation of that white lens? In a library that does a significant amount of mentoring, this struck me hard. I'm still chewing on the lessons of her thoughtful and provoking talk. Again, it raised more questions than answers.
I'm happy to talk over coffee with anyone interested in unpacking some of these issues.
Roz's Highlights
This in-person ACRL had many, many sessions that were very focused on the people who work in libraries. How to recruit, hire, support them. How to deal with toxic work environments. How to take care of yourself and your staffs. How to manage up (and down). And more. The content around these issues was really strong and I'm so glad they had so much of this. It gave us great ideas about what we could do better, and made us happy we work where we do. In and around those sessions were also the sessions and posters about the work we do in libraries and as always those gave great ideas. Here are a few takeaways from me – ranging from the small ideas to the BIG ones.
No one has found the answer to the best navigation for LibGuides – top or side. We are struggling with this currently so it was nice to hear that we are not alone.
Lots of libraries are providing spaces and services for the wellbeing of their students. From tech-free reservable rooms, to comfy spaces with pillows and blankets (taken home once a week to wash – I asked), to checking out white noise machines, fidget devices and more, libraries are doing a lot to provide for social/emotional needs as well as academic needs.
Library analytics are EVERYWHERE. All the big players seem to be offering (for a fee) a window into your collections, your use, your users. But along with these offerings is a good deal of skepticism about them. Privacy concerns, budget concerns, and more mean that the story of how useful these systems are is still being determined.
Privacy literacy is a growing area that libraries are developing content around. From courses, to workshops, to LibGuides libraries are working to get the word out about online privacy. We are doing that, too, in some of our LIB courses and FYS courses but it was good to hear from others who are looking into it as well.
Finally – the most fascinating session I attended was about the African American SACO Funnel that is working to change Library of Congress Subject Headings around African American history. I could talk about this for hours but the work this group is doing to get new subject headings added (like 'The Great Migration') and changed (Slaves to Enslaved Persons) is so inspiring and complex. From having to prove common usage (this is where reference librarians come in), to determining which other subject headings would be impacted (i.e. 'The Fugitive Slave Act' is a heading and will not be changed) the work they do spans subject specialists, reference librarians, and catalogers. I was so fascinated that I have asked to join the funnel and have my first meeting next week.
Molly's Highlights
I love ACRL and I love Pittsburgh, so this promised to be a fun conference–and it did not disappoint! I caught up with colleagues, got my steps in (18,208 on day one alone!), and successfully presented my research on salary & additional compensation benefits to about 75 people bright and early Friday morning. Here are some session highlights:
Academic Leaders Discuss Difficult Topics: This panel featured 3 deans/university librarians sharing their perspectives on transparent communication, normalizing DEI, and leading through change. Transparent leaders solicit feedback, although there are times when leaders have to be careful that inviting more transparency doesn't get misunderstood as being part of the decision-making process. Communication works two ways, so employees also need to have transparent conversations with administration. DEI isn't just a program but is a part of daily work and ongoing conversations–infused through all we do. That said, DEI programs are valuable too! Differentiate between necessary change versus aspirational change, and get everyone moving in the same direction. And finally, good leaders cannot be made without good colleagues.
The Battle for Access, an Invited Presentation by Kyle K. Courtney "Welcome bookaneers & book weevils!" Kyle kicked off his talk on copyright, licensing, and digital access by reminding us that libraries and archives have long been the focus of censorship efforts, including in the 1930s when librarians were derogatorily referred to as bookaneers and book weevils, among other insults. He made the point that if libraries were invented today, we wouldn't be permitted to exist as we do. Thankfully, we *do* exist and the library specific exemptions in Section 108 of the copyright act give us more leeway than we perhaps realize, particularly around Controlled Digital Lending (CDL). Historically 108 is the least-litigated section in the copyright act, so we need to make the law work better not just for libraries but for our patrons. Advocating for CDL in the context of 108, Kyle noted that "the public" is society writ large yet libraries' patrons are not "the public" and rather are a controlled lending group; therefore, limitations in 108 on lending to "the public" aren't enforceable when lending to a defined patron community. He also noted that the current licensing of ebooks makes libraries more like Netflix, which is dangerous, and that perpetual access clauses need to also have permission to create local downloaded copies. [N.B. – Kyle noted that all this was being shared in advance of a hearing on March 20th in the Hachette v. Internet Archive case, centered on CDL, and the ruling will have CDL implications.]
Building Bridges into Library Leadership: This panel featured five women who are deans/university librarians sharing what they've learned on their journeys into leadership positions. Institutional fit is critical: know what you want to do and how you want to engage, and be sure university leaderships' vision and plans align. Have faith in your capacity to take on new things. Be prepared: people will be mean and say unprofessional things, so build your trusted support network to help you through rough times. If you are targeted for unjust criticism, ask why you are willing to accept criticism from someone you wouldn't take advice from. Criticism is often not about you but about the needs or gaps impacting someone. Write down concerns you expect to hear and have your answers ready. "You will face criticism, you will face scrutiny, and you will mess up–but not on an Enron level!" Beware the glass cliff: if offered an interim position, think very carefully about why this position is open; if you're there to fix something, question it–you may have been set up to fail. In light of the pandemic and the Great Resignation, quiet quitting, etc., we should also undertake what one panelist calls the Great Reflection: find value in what you do.
A final highlight came not from the conference itself, but from my Friday evening with friends from Pittsburgh. One is an architect at Perkins Eastman and she toured me around their new office space. No one has assigned desks, so there are 109 workpoints of different types and seating arrangements, with 2.1 workpoints per employee, making it unlikely that someone's preferred workpoint would be full on any given day. There are meeting rooms for different size groups, focus rooms for 1-2 people, soundproof phone rooms for Zoom/phone consultations, workshop areas, a makerspace, and various types of open or semi-private bar, table, and booth seating. So many cool ideas that could work in library spaces for both library employees and student, staff, and faculty use! We also went to a traditional Lenten supper fish fry at St. Stanislaus Catholic Church and rode the Duquesne Incline funicular to see the city all lit up green for St. Patrick's day. I left the city already wanting to return!
View of downtown Pittsburgh and the Alleghany (left) and Monongahela (right foreground) Rivers from the Duquesne Incline on the South Shore.
Amanda's Highlights
This year's ACRL trip was a whirlwind, partly due to being a presenter. My former Coastal Carolina colleagues and I presented a contributed paper late Saturday morning on the topic "Academic Librarian Turnover and Library Leadership Amidst the Great Reshuffle."
There were a lot of excellent presentations and poster sessions at this year's ACRL. The biggest highlight for me was the presentation on "The Questionable of One-Shot Instruction for First Year Students: A Scoping Review," which discussed the evidence available in the library literature around one-shot instruction for first-year courses. What the authors found is that the literature on this topic is limited. The authors recommended that librarians stop trying to link one-shots with student success metrics like GPA and retention, because it's too difficult to make those kinds of links. They also questioned the efficacy of spending vast amounts of resources on first-year one-shots.
Hu's Highlights
The keynote speaker, activist, journalist, and podcaster Rebecca Nagle, gave a moving and motivating address on the Intersection of tribal sovereignty and public policy that was at the same time both enlightening and troubling. I'll be following her podcast from now on. Following the keynote, I got a wonderful photo-op with Wanda!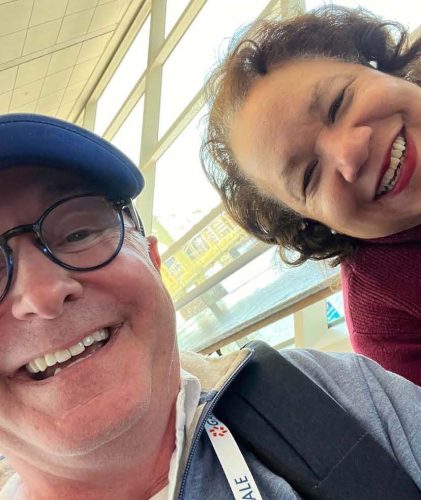 I took a different approach to this ACRL conference and, for the first time, attended two long-form workshops, one on Thursday morning called "Teaching the Right to the Future Tense: A Privacy Literacy Workshop" led by Alexandria Chisholm and Sarah Hartman-Caverly and one on Friday morning called "Play to Learn: Games for Everyone." I enjoyed both of these workshops and appreciated the opportunity to do a "deep dive" on both these topics.
I also filled in any open time with trips to the lightning talks! I particularly enjoyed Colleen's lighting talk on "Critical Health Information Literacy: A Librarian-Instructed Workshop." I was so impressed by all Colleen is working on in this area! Another presentation that stands out was "There's no Library of Congress Subject Heading for the Middle Passage or the Great Migration," where I learned about the Library Funnel that works across institutions to improve subject headings. Started in 1994 by Dorothy Washington and was formally established at mid-winter 2001 to revise headings and create new headings. The Funnel is increasingly informed by critical librarianship work on reparative descriptions that often misrepresent or include harmful language.
Colleen's Highlights (aka #firsttimer)
From the road trip to the conference content to the hotel room view, ACRL was a win for this first-timer! First, I couldn't have spent 16 hours (round trip) with a better group of librarians. Roz, Mary Beth, and Molly were great travel companions as we forged our way to Pittsburgh and back. And if y'all didn't know, Molly's summertime playlist is what's up.
Conference content satisfied both my quest for instruction technique support and exposure to diverse research projects trending in librarianship. Listed here are just a few of the great conversations shared and continued last week:
Mapping Justice – University of Michigan and University of Minnesota historians and librarians share JusticeInDeed, a crowdsourced project driven to uncovering racial covenants in historic (and current) property deed documents in their communities.
Information Literacy in Allied Health Settings – Researchers addressed information literacy as a part of experiential and practiced-based learning in health and social service student environments like clinical rotations and lab exercises. This professional relevance can make an impact beyond the classroom and directly into workplace settings.
Fatness in Libraries – This session begged library institutions several questions regarding the scope of their DEI initiatives as they relate to fatness, accessibility, and workplace climate. Research uncovered weight discrimination and bias in libraries and workforces while defining "body surveillance" and "visible otherness."
Autistic Voices and Library Hiring Procedures – Panelists on the autism spectrum shared a firsthand view on successful and detrimental interview experiences as librarian candidates. A candid conversation regarding how (quite unrealistic, inaccessible, and unfortunately accepted) interview agendas and expectations provided an informative view of and raised awareness to accessibility procedures in academic libraries.
I also had the privilege of presenting my own research in a lightning talk session: "Critical Health Information Literacy: A Librarian-Instructed Workshop."
Lastly, Pittsburgh definitely requires a return trip for me. The history, culture, food, and river views are calling to be observed again. Scarpino's, Primantis, the Heinz History Center… I need a second look!