Long ago, I heard that the worst reason to accept a position was "because a friend asked me to." Thankfully, this is not always the case because I had the privilege of serving as the Co-Chair for the Conference Planning Committee of the 38th Annual NASIG Conference in Pittsburgh, Pennsylvania. alongside our own Steve Kelley. I had served on a Conference Planning Committee for NASIG previously for the 2009 Conference in Asheville as the AV coordinator, but the scope for this one was so much wider. Steve served as an excellent mentor for this aspect of conference planning and I'm glad to have collaborated with him for nearly a year to put the "nuts and bolts" together that make a conference work effectively. We also had a fantastic committee serving with us and a wonderful conference coordinator who served as our direct liaison with the conference site, the Omni William Penn Hotel in Downtown Pittsburgh.
Since the COVID-19 emergency became part of our collective experiences, several smaller library conferences have coped with smaller attendance, and NASIG was no exception. Still, the attendees enjoyed the facility, programming, and events that had been scheduled and we had several first-timers who enjoyed their experience. Seeing moments like these make the work worthwhile and hopefully, this will bode well for the next conference.
Vision Sessions
This year's Vision Sessions included speakers who had focused on the principles of equity, diversity, and inclusion in their work, and they were all quite interesting. The first speaker was Tarida Anatachai of North Carolina State University who spoke on the topic "The Great ReVisioning". It was an examination of how The Great Resignation (also called The Great Reshuffling) led to The Great Recruitment. In the wake of the social transformation following the death of George Floyd in 2020, institutions have taken a hard look at their methods of recruiting talented workers and their retention practices to keep them engaged. This has involved a reframing of the traditional models long held in place and commitment toward their reexamination.
The second Vision Session involved a pair of speakers: Amy Phillips of the Library of Congress whose topic was "Beyond DEI," and Anthony Davis, Jr. of California State University, Fullerton who spoke about "Supporting Young Men of Color: The MSI Fullerton Men of Color Collection." Both speakers shared how the principles of DEI were put into their respective locations, with Ms. Phillips elaborating on groups and initiatives that have worked to expand equity into the library community, from the value of spaces like BCALA and the Rainbow Roundtable to HAPA and SACO funnels. Mr. Davis spoke about the Male Success Initiative (MSI) Department organized in 2016 to narrow the graduation gap between young men of color and increase graduation rates. They also developed a collection development strategy via Qualtrics survey and built a collection that circulates for students in that program.
Transformative Agreements
This year's phrase of the moment was "transformative agreements" which allow authors to publish on an open-access basis at no cost to themselves. Also known as the "read and publish model," many publishers are actively embracing it and it will have many implications in terms of pricing models, copyright, and so forth.
During conversations with several publishers, this term came up several times with different representatives. It's something to watch and see how it develops within scholarly publishing. (This post from The Scholarly Kitchen explains it in more depth.)
In closing, an unofficial tradition of NASIG is a trip to a baseball game, and this year was no exception. Many attendees went to the Pittsburgh Pirates-Texas Rangers game that was a twenty-five-minute walk from the hotel. Even though the Pirates lost, it was still a good time. The picture below was taken from the edge of PNC Park overlooking the Allegheny River with the Roberto Clemente Bridge and Downtown Pittsburgh beyond. (More pictures from the ballpark can be viewed here.)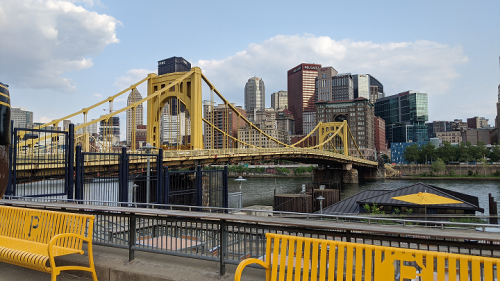 On to the next year's conference!