In Special Collections & Archives, we are happy to host interns, particularly graduate students who are earning degrees in library science or one of our affiliate fields (museum studies, public history, and the like).  In my experience, students in particular ask great questions about the daily life of archivists and the nature of our work, due at least in part to their impending entry into the daily work of libraries upon graduation.
This year, we were approached about hosting UNC at Greensboro graduate students in their Master of Library and Information Studies program, as part of a week-long practical experience during spring break. We ended up spending a week with two talented UNCG students: Sam Bardarik, a metadata whiz, and Caroljean Gavin, a writer and potential future archivist. The two, who had never met before, became fast colleagues as they tackled an inventory project. Across the week, Same and Caroljean inventoried 181 record cartons of materials, or nearly 240 linear feet. That is a lot of literal heavy lifting!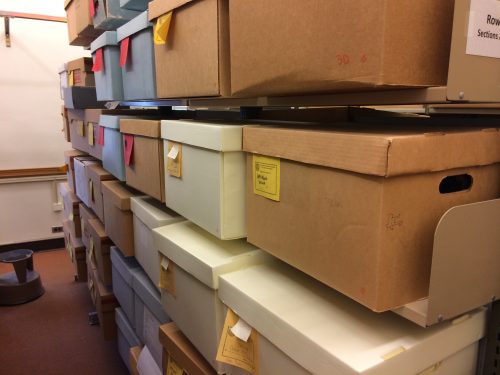 As they worked, they gleaned bits of information about Baptist artifacts and University record groups; about different media and controlled vocabularies that help us pair like with like; and about the rhythm of archival work, which does not resemble most office tasks or even other kinds of library labor. It was Ask An Archivist Day every day, with questions about intellectual homes for materials – "should this be classified as manuscript or University record materials?" – and physical management – "does this need a box?" (The answer is almost always yes!) Let's hear from Sam and Caroljean in their own words:
Sam:
I will be graduating this May. As someone who currently works full-time in another field, finding short-term library experiences I can get involved with can be difficult, so I was grateful when WFU offered this alternative spring break project. It was a whirlwind introduction to the inner workings of archives, but even in the short span of a week we were able to inventory 180 archival boxes, clean up a collections room in the process, create a finding aid for a manuscript collection, delve into over a century of institutional history, and perhaps most weirdly satisfying of all, condense boxes of materials. I very much enjoyed doing the intellectual and physical organization associated with archives and will definitely consider archival work in the future.
Caroljean:
I am in my first year of the MLIS program at UNCG. I have an MFA in fiction and have always loved everything about books, outside and in. Books teach you things, lead you to discovery, and sometimes confuse you, which pretty much sums up my experience in archival collections this week. I decided though, that I wanted to explore what other forms library work takes and came to Wake Forest to stick my toes in the waters of Archives. It has been a great week of mystery, intrigue, and detective work. One of my favorite parts is learning that no one has legible handwriting. This experience really has strengthened my interest in archives work.
I agree with Sam, putting things in order is satisfying. It's not odd at all! And as Caroljean points out, archives work is not unlike Nancy Drew's; most days in the archives, I have at least one mystery to solve, whether it's a hard-to-read signature or a case of the interesting named folder. It was a pleasure having them! Thank you for all your hardwork, librarians!