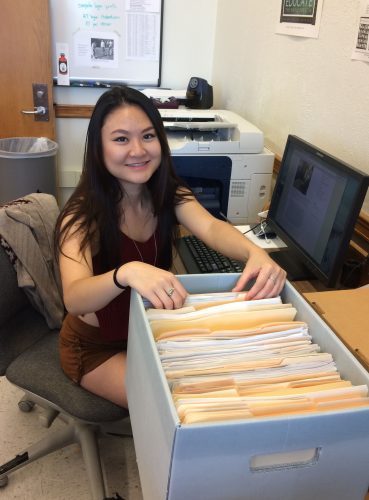 Today we're highlighting our last student assistant for this school year – our fourth graduating student assistant, Juno Zhu. Juno began working for us last summer and acclimated quickly to archival work tasks. Here is what she has to say about her work here:
My name is Juno Zhu and I am a senior majoring in Health and Exercise Science at WFU. I have been a student assistant for Special Collections & Archives since the summer of 2016. In the past, I have worked on various projects in the processing room including transcribing oral histories related to the Office of Global Programs and Studies (GPS), ensuring correct labeling on each folder and identifying contents of unnamed files. I have also worked on the Church Record Microfilm (CRMF) collection, identifing decaying microfilms from their smell of vinegar. Currently, I am working on inventorying files in the News Service Clippings collection and listing them in Archivists' Toolkit, used to create online collection finding aids. Over the course of processing this collection, I identify the dates of the contents in each folder and list the name and correct dates in the finding aid. This process requires close attention because not all materials in the same folder are from the same year or arranged chronologically. Meanwhile, I also rearrange folders in each box in alphabetical order, re-house overly-cramped folders and condense boxes whenever necessarily.
We're glad that Juno was able to join us in Special Collections. With her help, we've been able to list a lot of collections more completely, which in turn means more accurate results for researchers using our search tool. Thank you to all of our hard-working student assistants – we wish our seniors the best of luck with their pursuits and look forward to welcoming back the rest of our assistants in the fall, after a restful summer!