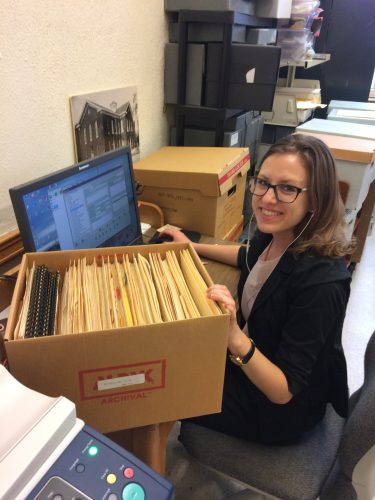 Special Collections & Archives would like to continue highlighting the extensive work that our student assistants do on a daily basis to help us provide access to the records of the University and other manuscript collections. Soon-to-graduate senior Tara Coady began working with us in Special Collections & Archives as a student assistant in 2016, after working on an archives project for the Forsyth County Department of Public Health. Here's what Tara has to say about her work in SCA:
I'm Tara Coady; I'm a senior history major and this is my third semester working in Special Collections. I've spent the majority of my time in Special Collections working on the University Photographs Collection. I helped to reorganize and retitle the extensive photographs collection, totaling more than 60 linear feet (a measurement used by archives) or more than 81 boxes of different sizes, to prepare it for digitization. I've also worked on updating and recording additions to a number of other collections, including the English Department records and the Graylyn Estate manuscript collection. I recently condensed the Wingate Baptist Church collection, and relabeled and listed folders in a collection spreadsheet that will soon be converted into a finding aid by an archivist. For my final project before graduation, I updated the finding aid for the University Club records – a faculty wives group that existed from 1944-2000. My work included relabeling files, and preparing the collection to be sent to off-site storage as Special Collections prepares for library renovations.
Tara's hard and consistent work on the photographs collection has been very important, we could not have done it without her! Thank you for all your work on behalf of Special Collections, Tara, and good luck with you future medical career!