The Philomathesian Society was one of two literary groups that began at Wake Forest in 1835 (the Euzelians being the other). For much of the 1800s, these societies challenged young farmers and ministerial students to study and debate historical, political, and philosophical questions of the day. In addition to intellectual stimulation, the societies gave the members a sense of fellowship and belonging. For a century, the societies guided students' intellectual, moral and social development, and heavily influenced campus life, from governing student behavior to selecting Commencement speakers. The societies met weekly in separate ornate halls decorated with expensive carpets and draperies and portraits of distinguished alumni members. Each society stocked its bookshelves with periodicals and history and reference books. The society libraries merged to form the College library in the 1880s.
The original Philomathesian banner (1832) was burned in a fire, and Bowser's 1857 banner, currently part of Special Collections & Archives, was given to the College by the Clio Society at the Oxford Female Seminary (a now-defunct sister institution to Wake Forest). The banner is in extremely poor condition, being painted silk. In 2015, ZSR Library funded a visit by conservator Claudia Walpole, based in Charlottesville, Virginia. She unfolded the banner, discovered the artist who had signed his work, and stabilized it as best she could. Ms. Walpole provided an in-depth report detailing what conservation work she had completed and what was still needed for its complete conservation. This same year, the North Carolina Preservation Consortium named the banner an Endangered Artifact and Kerry King completed an in-depth story for Wake Forest Magazine.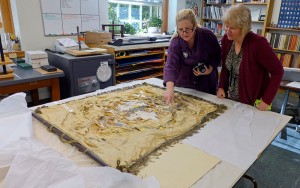 The banner is resting safely in its acid-free tissue and box housing but Special Collections & Archives and the ZSR Library are still hoping to find a donor or donors willing to fund the conservation of this key relic of both Wake Forest and American history. For further information, please contact ZSR Library's Assistant Director for College and Library Development, Mika Payden-Travers.