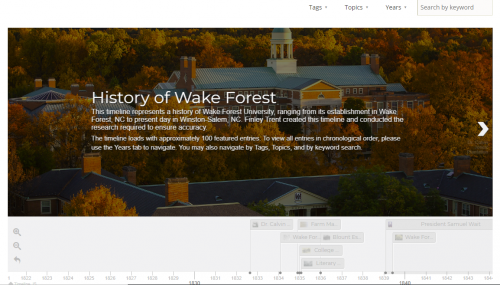 In 2017, I was tasked with creating a historical timeline of Wake Forest University for the ZSR Library Special Collections & Archives website. There are many published and unpublished sources of information about Wake Forest's history. Special Collections & Archives' goal was to make this information readily available online in a way that was easy to access and search. Additionally, we wanted to make sure to highlight key moments in Wake's history that may not have been included in previous histories, such as events involving women, enslaved peoples, and other marginalized groups.
In light of February being Black History Month and March being Women's History Month, I wanted to highlight some of the most useful features of the timeline that can allow researchers to find information pertaining to these important months. The timeline is keyword searchable and is also arranged by tags, topics, and years. Tags allow you to view specific keywords related to your research, such as Diversity, Enslaved Peoples, Firsts, and LGBTQ.
The Enslaved Peoples tag contains timeline entries discussing slave ownership by some of Wake Forest's founders and enslaved individuals who helped to build the original campus in Wake Forest, NC. The Diversity tag covers information related to all marginalized groups and includes information on some of the first women and African American students at Wake Forest. The Firsts tag is especially useful for those interested in the individuals who were pioneers for diversity at Wake Forest, such as the first black student, Ed Reynolds.
Please note that the timeline is a "living document." While I used multiple sources to verify each timeline entry, a full and unbiased history is never truly possible. We are continuing to add timeline entries to make this history more complete. If you have recommendations for an entry, please email us at archives@wfu.edu. Click here to visit the timeline: zsr.wfu.edu/timeline.