Lawton Manning has worked in ZSR's Digitization Lab since his freshman year. He has performed digitization and completed metadata on several projects, beginning with the University and N.C. Baptist Biographical Files Collection. He even remembers the name of the first person's file that he digitized.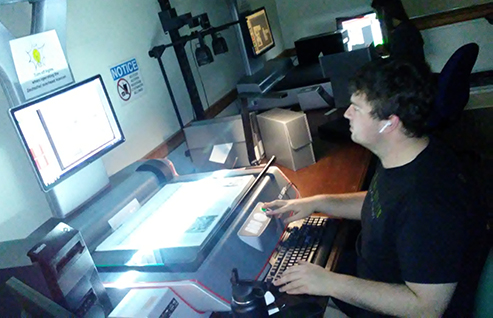 "I remember the first file I worked on was that of Stephen Pleasants," he recalls.
Fast forwarding to 2019, Lawton is now a senior and preparing to graduate this semester. Over the past year, he has digitized back issues of the Old Gold & Black student newspaper spanning approximately eight years—from 2006 to 2015. It just so happens that the year 2015 is a significant milestone for Lawton. The Fall semester of that year is when Lawton arrived as freshman.
"Up until now, the issues I've scanned have been before my time here at Wake," he said.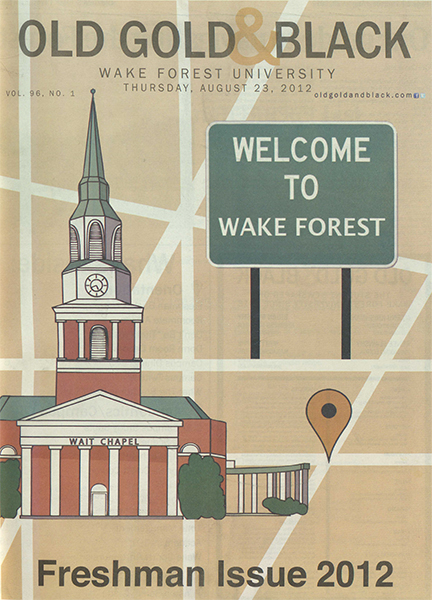 What Lawton says he likes the most about this project is being able to read so many issues of the Old Gold & Black at once during his shift. Thus far, Lawton has digitized approximately 240 issues, and has skimmed over a myriad of stories that have passed over the Zeutschel's scanner bed during digitization.
"I've also gotten to experience how certain controversies on campus have unfolded through reading about the same thing in consecutive issues," he said.
Now that Lawton is currently digitizing back issues from the time that he has been a student at Wake Forest, he enjoys the opportunity to relive the stories that he has experienced firsthand.
"I think that it will be interesting to look back on my own history here and see how everything's changed in such a short time."
Currently the Old Gold & Black digital collection makes available all the archived issues from the beginning through the year 2015. Digitization continues, with more issues to be added soon!