This ABCs blog post was written by Nancy Sullivan, Volunteer in Special Collections and Archives.
ABCs of Special Collections: M is for…
W. J. Cash and Margaret Mitchell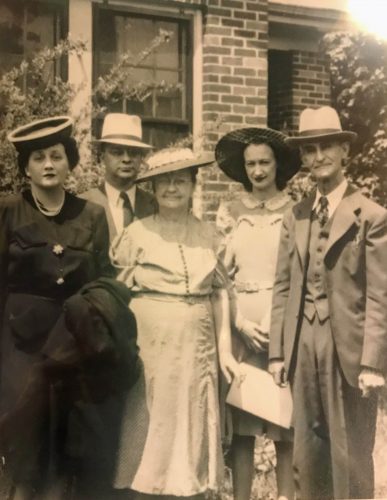 In 1900, The Mind of the South author Wilbur Joseph (W. J.) Cash was born in the small town of Gaffney, South Carolina (now home to the famous peach). Cash's first two years of college were spent at S.C.'s Wofford College, but in 1920 he entered Wake Forest College. During his Wake years, Cash served as managing editor and editor of the Old Gold and Black. Upon college graduation, Cash worked as a newspaper columnist and editor, and by 1929, he was writing articles based on his critiques on life in the South. These articles were the catalyst for Cash to write laboriously for the next decade.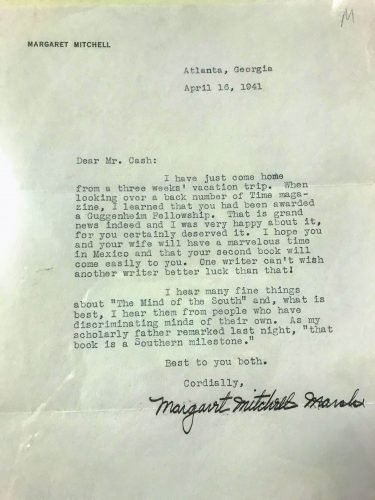 Cash was a profound thinker in regards to his Southern upbringing, the folk culture, and all the social conventions that he witnessed in the early 20th century, which culminated in the writing and publication of The Mind of the South in February 1941. The book was a personal, passionate analysis of Southern history and culture; from it, Cash garnered wide critical acclaim, including Time magazine: "Anything written about the South henceforth must start where he [Cash] leaves off."
Within the Cash papers held at Special Collections and Archives, there are two letters sent to Cash from Margaret Mitchell March, the famed author of Gone with the Wind (1936). Mitchell responded to the successful release of Cash's book by writing: "I hear many fine things about 'The Mind of the South' and, what is best, I hear them from people who have discriminating minds of their own. As my scholarly father remarked last night, 'that book is a Southern milestone.'"
Cash was awarded a Guggenheim Fellowship in March 1941, and by June, Cash and his wife Mary had traveled to Mexico City where Cash was to begin work on another novel. Within days of their arrival in Mexico City, Cash's health deteriorated and he died July 1, 1941.
John Charles McNeill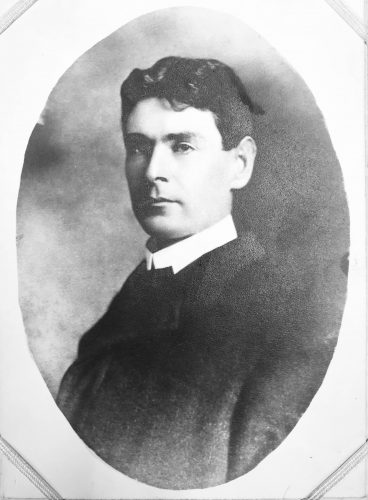 Lawyer and writer John Charles McNeill was born July, 26, 1874, the youngest child of Captain Duncan and Euphenia McNeill in present-day Richmond County, N.C. Young John Charles developed a lifelong love of the outdoors and his home state while he was a boy, spending hours along the banks of the Lumber River near his home in Wagram, N.C.; those adventures remained with McNeill throughout his life and are found in his writing. McNeill attended Richmond Academy until age 17, and then he began teaching in a one-room schoolhouse near Statesboro, Georgia.
In September 1894, McNeill entered Wake Forest College and he soon was awarded the Thomas Dixon Medal for his essay titled "Causes and Results of the Crusades." McNeill and College English professor Dr. Benjamin Sledd spent evenings together discussing poetry, which was quickly becoming a passion of McNeill's.  McNeill was an English major, but in 1897 he also passed the bar exam. Upon his graduation, he moved to Macon, Georgia, and taught English at Mercer University.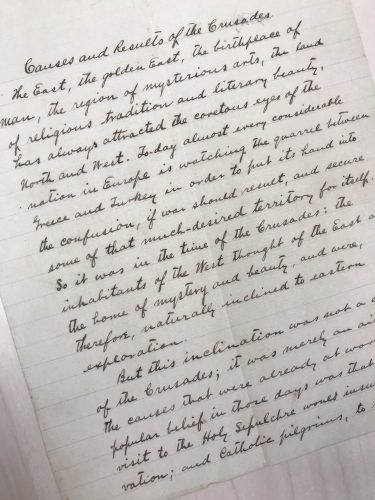 By 1900, McNeill was homesick for North Carolina, so he moved to Lumberton, where he practiced law and briefly owned a small newspaper. Soon he returned closer to home, settling in Laurinburg, N.C., where he continued practicing law and began more of a writing career. He began submitting poems to various magazines and his reputation as a writer blossomed. By 1904, the Charlotte Observer offered McNeill a job as a freelance writer, which gave McNeill complete freedom to write whatever he wished. McNeill's mind took his writings in a myriad of directions. In the NCpedia, Richard Walser states that "he wrote news stories on weddings and fires and funerals, reviews of current periodicals, and criticisms of music and dramatic performances. Often he left town as a roving reporter, covering the Baptist State Convention,… the inauguration of President Theodore Roosevelt, commencement at Chapel Hill, and political speeches anywhere and everywhere."
In 1905, McNeill was the first recipient of North Carolina's Patterson Cup, awarded to writers of the "highest literary skill and genius." Unfortunately, McNeill's health had deteriorated, and on October 17, 1907, at the age of 33, John Charles McNeill died. Brief though his life was, McNeill established himself as a foremost literary figure of North Carolina. Special Collections and Archives holds editions of published works from McNeill.