In 1941 the Bowman Gray School of Medicine hosted its first class of 75 scholars. The eponymous school was named after Bowman Gray, Sr. , son of James Alexander Gray, a co-founder of Wachovia Bank.  After briefly attending Chapel Hill, Bowman Gray Sr. worked as a bank teller at Wachovia but found more success working in the tobacco industry – Gray later served as president (1924) and then chairman (1941) of the R.J. Reynolds' Tobacco Company. His son, Bowman Gray Jr. would eventually follow in his father's footsteps serving in those exact roles years later.Upon his death in 1935, Bowman Gray Sr. bequeathed $750,000 to be used for a charitable endeavor situated in Winston-Salem. The family eventually decided the money would be used to establish a four-year medical school. Because the endowment had a geographical requirement, a stipulation for accepting the gift was to relocate an existing medical college to Winston-Salem, North Carolina. At the time, Duke University offered one of the few four-year medical programs and, as it worked out for Wake Forest, Chapel Hill rejected the money because relocation wasn't enticing.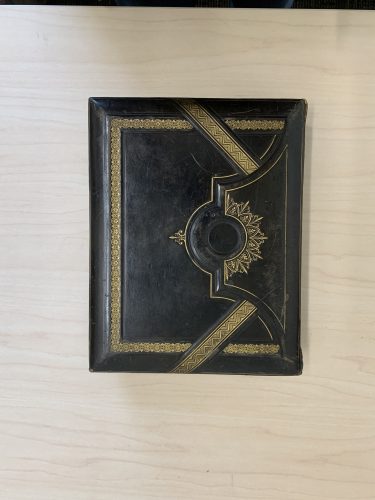 Recently, Lyons Gray, son of Bowman Gray Jr., donated a number of materials documenting the Gray Family and their extensive contributions to Wake Forest and the surrounding Winston-Salem community. Included in the accession are photo albums, family Christmas cards, and correspondence recording Lyons Gray's work as a state representative as well as documents commemorating the work of his grandfather, Bowman Gray Sr. and father, Bowman Gray Jr. as high-ranking executives at R.J. Reynolds Tobacco Co. Notably, among the photographic materials is a photo album from the mid-to-late 1800s.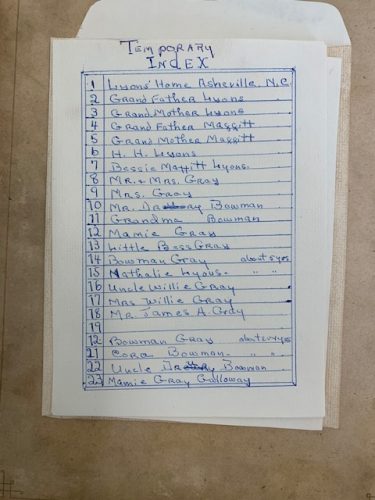 Bowman Gray Sr. married Nathalie Fontaine Lyons who was from Asheville, NC. Portraits of her relatives in addition to the Grays and Bowmans can be found in the photo album. Family photo albums are not uncommon, however, there was something of additional interest in this photo album. Tucked behind a photograph of an 18 year-old Bowman Gray Sr. is a hollowed out portion of the album that holds a tiny cylinder music box that can still play music when it is wound up.
The compartment contains all of the miniature mechanical components for the music box and a removable key used to wind up the music box.
Look below for more photos of this interesting piece of family history.