Before stay-at-home orders were issued, special collections and archives received a large donation of materials from the University Athletics Department. The donation itself was no surprise, however, it came roughly one month before the campus had to be cleared of all non-essential personnel due to COVID-19 safety measures. Before the actual drop-off SCA was expecting around 70 boxes of athletic films and recordings from the past several years but it ended up being double that number – we received a trove of athletics records that included files, sporting event programs, and a variety of artifacts – of which I would be remiss not to mention the box of neck-ties. There were old issues of the Gold Rush and game day programs – some of which documented the school's first football games since relocating to Winston-Salem, and there were also photos from the basketball and swim teams that date as far back as the early 20th century.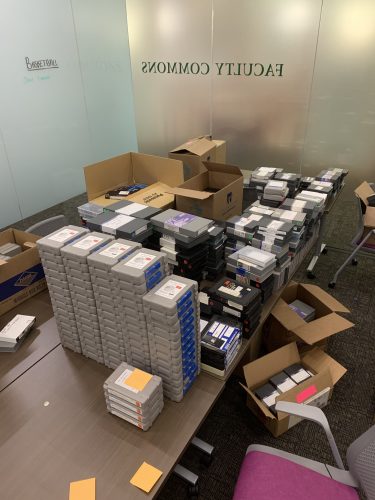 Developing a plan to sort and rehouse many of the materials seemed easy enough at first, but this is the largest accession I've had to physically go through, and even within the A/V materials that were expected, there are several formats that need identification, many of which have been obsolete since before I was even born [but what's a VHS to a 'Zoomer' now?]. I made it through an initial sort where I separated the A/V materials from everything else, but that was mid-March and then time came to say good-bye to campus.  
At least 75% of my tasks at work involve handling physical materials, so it was quite a disruption to not be able to actually go to work for nearly 6 months. The bulk of what I had completed pre-COVID (P.C.?) was sorting and rehousing smaller BETA-SP tapes that covered football from the mid-nineties to early aughts in addition to a few Men's and Women's Basketball games, mainly tournament coverage.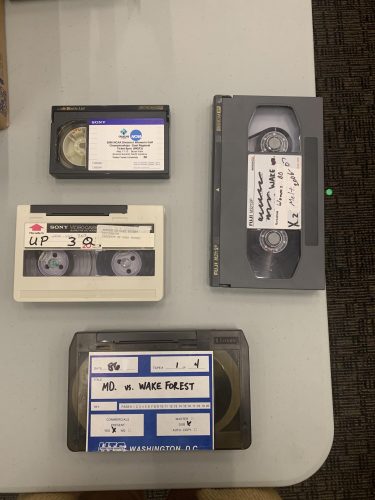 The equipment for viewing formats such as BETA-SP and Umatic tapes is not readily available for me so I'm relying on sufficient labeling done by the creators to determine the content; this means I have to decipher Sports language that's layered with a bit of communications and production jargon to determine the content of the A/V materials. It would also take a lot of time to identify every tape by viewing it. Not having the proper viewing equipment is also a potential barrier to access for users along with ownership; some of the games were recorded from television broadcasts or filmed by production companies, so the copyright will also impact how, or if, these recordings and footage can be accessed by users. 
This project continues to be a learning experience for me: not only am I working on a trial and error approach to [large] project management, I'm also familiarizing myself with a variety of material formats through hands-on experience.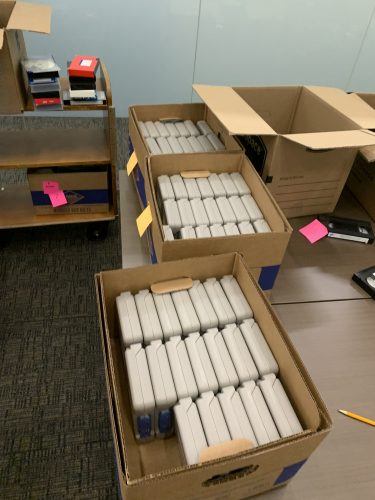 At this point, I'm still sorting through the remaining A/V materials and there are a number of boxes containing files and other printed materials in the stacks that I anticipate will take less time than sorting and arranging the hundreds of DVD's, film reels, and a host of video cassettes still needing to be arranged and compiled into a final inventory. This project has been a stark reminder of how COVID-19 has greatly impacted how we experience public sporting events, however, I look forward to continuing and sharing this work with everyone.