This blog post was written by Nancy Sullivan, Volunteer in Special Collections and Archives.
In the 1940s, radio was a crucial source of news and entertainment in a country coming out of economic depression with war on the horizon. Radio could bring news from the front lines of a second world war into the homes of millions of Americans. Families could join around their beloved radio to listen to world news, dramas, variety shows, comedies, sports, pop music and game shows.  The radio brought a pop culture explosion to all of America.
In the fall of 1946, two young Wake Forest men, Alva "Al" Parris and Henry "Randy" Randall, both class of 1949 and from Charlotte, N.C.,  began illegal radio broadcasts from their rooming house on the the College campus in Wake Forest, N.C.  Broadcasting from a room in the home of Mrs. Kent Barbee, college librarian, Parris and Randall had a five-watt broadcast capability that covered about 300 feet in all directions.
Over the next two years, students pushed for better broadcast range and in 1948, with the help of College president Dr. Thurman D. Kitchin and professor of religion Dr. Marc Lovelace, WAKE became the official campus radio station for Wake Forest College.  Students helped raise $200 for startup costs. By using diagrams in an electronics book and garnering help from a Raleigh, N.C. radio engineer, the station's first 50 watt transmitter was built by brothers David and Ralph Herring, Jr., class of 1949. A Federal Communications Commission license was secured and on April 19, 1948, at 7 pm, WAKE was official. The "Voice of Wake Forest" hit the airwaves with chief announcer Roland C. "Woody" Woodward, class of 1950, President Kitchin, and student body president, Horace "Dagwood" Kornegay, a 1947 graduate who became a Double Deac with a law degree in 1949, at the helm for the station's inaugural airing.  A month after starting, WAKE had to change its call letters since another station used the same call letters, and that marked the beginning of WFDD – for Wake Forest Demon Deacons, of course.
The student producers' programming for the daily broadcast consisted of popular and classical music, an hour-long devotional program once a week, some campus sports, faculty members programs, and the very popular Deaconlight Serenade, with an unforgettable tagline: "beaming musical good cheer to you and yours, styled Wake Forest way." In 1956, Wake Forest College brought along WFDD when both relocated to Winston-Salem, NC., with WFDD broadcasting from the newly built Reynolda Hall.
WFDD was a student-run radio station from 1948-1958. In 1958,  Dr. Julian Burroughs, class of 1951 and a professor of speech communication and theatre arts, became the first non-student station manager for WFDD. He had served previously as a student station manager, from 1950-1951.  Dr. Burroughs made extraordinary contributions to WFDD, serving as station manager and faculty advisor until his retirement in 1981. Under Dr. Burroughs' watch, WFDD became a non-commercial education FM station operating off a ten watt antenna on top of Reynolda Hall (1961). The station began operating from a 36,000 watt transmitter, making it the first and only FM stereo station in Winston-Salem in 1967. And in 1971, WFDD became the only charter member of National Public Radio in NC, the first such station in the state and the only NPR station between Richmond, Virginia, and Tallahassee, Florida. Broadcasts expanded to 18 hours per day and station's personnel expanded to 5 full-time employees (1976).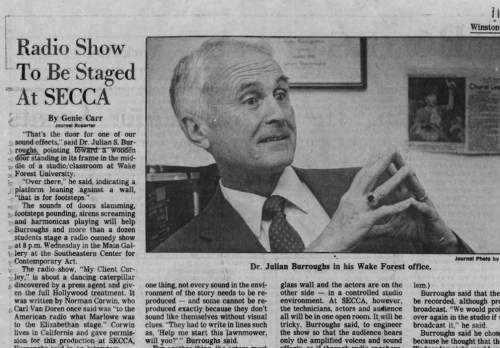 After Dr. Burroughs' retirement in 1981, WFDD hired its first full-time general manager, Pat Crawford. He left after a year, and Cleve Callison became the next general manager; in 1982, the station's transmission power increased to 100,000 watts. Eight years later, in 1989, transmission power was boosted to 200,000 watts, and WFDD was outgrowing its station space in Reynolda Hall.  A new and enlarged station was created in the renovated Weatherly House, a home original to the campus property that had formerly served as the German House.
In more recent days, programming also changed and grown. WFDD began broadcasting more nationally distributed programs in 2005 and, more recently, began to focus on local news in listener communities.  Broadcasts have expanded to include digital High Definition transmissions that meant the station could broadcast news programming every day and hour of the year.  In 2016, WFDD greatly increased their listener area by placing a new transmission tower in the North Carolina mountains allowing their signal to now reach from Wilkesboro, N.C., to eastern Tennessee.  In 2018, the station won a National Edward R. Murrow award for Excellence in Innovation. During the pandemic, WFDD shifted to remote broadcasting but has been, as always, on air 24/7.
Thanks to WFDD.org and Wake Forest Magazine for your information on station history! The WFDD records finding aid is available online, and Special Collections and Archives, through our Digital Collections, provides access to some shows aired on WFDD, including the Reid Staton Bible Class and one-off lectures. Congratulations on 75 years of broadcasts, WFDD, and here's to many more!