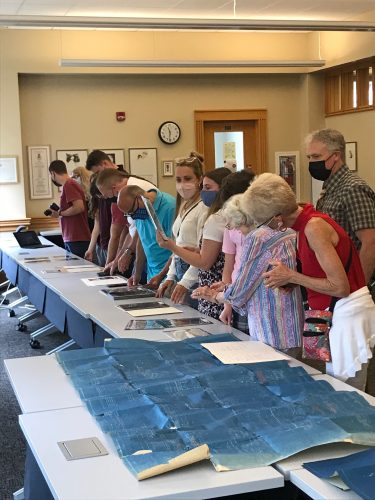 Earlier this summer, Special Collections and Archives was contacted by Kathleen Hutton, Coordinator of House Experience, at The Graylyn Estate. Kathleen is a frequent user of The Graylyn Estate Collection, but this request was a little more in depth. She explained that the family of J. Barton Benson, master ironworker for the Graylyn Estate, would be having a family reunion at Graylyn this summer, and might we be able to host them to look through the materials of Benson himself? The group would include the daughter of Benson, grandchildren and spouses, and multiple great grandchildren, ages ranging from 13 to 89. After not hosting any in-person researchers for over a year, we were excited at the idea, if not a little rusty on the logistics of having so many people in our space.
The Graylyn Estate Collection contains many large blueprints of Benson's wrought iron designs, so we knew we would need a lot of table space to lay out the materials. We also had to consider the social distancing and room capacity policies, so we started exploring where we could host this large group of people. We landed on the Mandelbaum Room as the destination for our (masked) visitors because of accessibility, amount of space, and availability of many tables. 
Our guests were delivered to the front of ZSR Library and Finley Turner and I worked to get everyone to the fourth floor. One of the guests uses a walker, so it was helpful for the two of us to split up between the elevator and stairs to get everyone to the right place. We had already pulled out all of the J. Barton Benson materials and had them displayed around the Mandelbaum Room for the family to view. The materials included blueprints, photographs, correspondence, and a VHS tape labelled "J. Barton Benson Family Visit Graylyn Circa 1935." In anticipation of their visit, Barry Davis digitized the VHS tape so that we could play the footage of the visit for the family.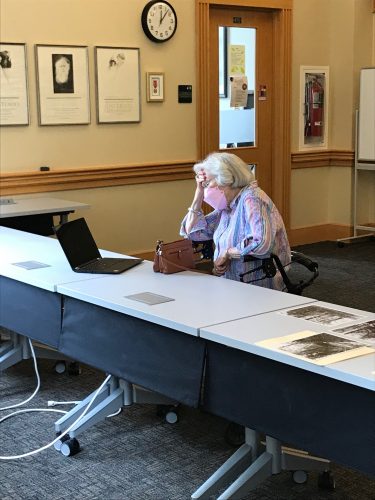 The family spent about two hours looking through the materials, talking about their family, but the most exciting part was that the little girl in the digitized footage from the 1930s was the woman/matriarch of the group. She remembered visiting the house in her youth and spent time watching the footage. Besides seeing the little girl from the video, the video is remarkable in its views from the house and how little was around it at the time, considering how the view looks now. We had such a wonderful time hosting the three generations of Benson's family. It was a great way to get back into hosting researchers after a long time without them.