We are featuring another blog post from Immanuel Eggers (class of 2021); he spent much of the fall working with materials related to the Cuala Press and its founders, members of the Yeats family. A finding aid for the Cuala Press Prints Collection is available online now.
In 1903, the Dun Emer Press was established by female craftsmen Elizabeth Gleeson and sisters Elizabeth (Lolly) Corbet and Susan Mary (Lily) Yeats. These women supported the Celtic and Irish Literary Revivals, resurgences of Gaelic nationalism that brought demand for traditional poetry, artwork, and handiwork. In 1908, Lolly and Lily separated from Dun Emer Press and Gleeson to become full proprietors of Cuala Industries. The Yeats were a Renaissance family: children of famous artist John Butler Yeats, each sibling had a unique yet complimentary creative trade that animated the operations of Cuala. William (W. B.), was the chief editor; John (Jack) was a painter and printmaker; Jack's wife Mary "Cottie" Cottenham Yeats contributed art; and of course, Lolly, who headed print operations and creative design. Lily led the needlework decor and commissions branch of Cuala Industries.
Although the Yeats family filled the upper ranks of Cuala Industries, the Press was motivated at a foundational level to elevate working-class women in turn-of-the-century Ireland. The print shop was staffed nearly entirely by women, apprentices with varying artistic and craftsman backgrounds. Despite the immense labor that these women put into their Celtic art and prose, their creative male counterparts tend to receive far more credit for this time period, even within praises of the Yeats' family legacy. Here, we briefly spotlight these multi-talented women, and honor their influence on the Irish arts-and-crafts tradition and the Celtic Revival.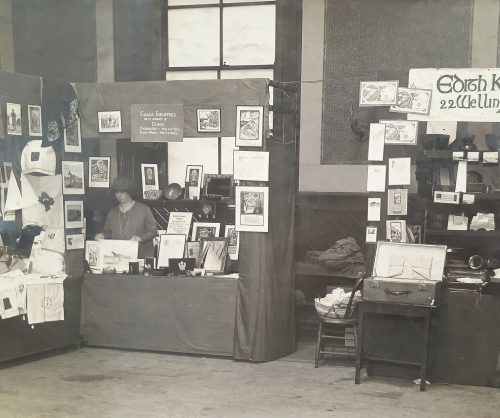 Elizabeth (Lolly) Corbet Yeats, 1868-1940
Elizabeth (Lolly) was born March 11, 1868, in London, England. She moved frequently with family between London and Dublin, Ireland, from 1874-1900. During that period, Lolly studied at Dublin's Metropolitan School of Art with sister Lily, wrote fiction and published a self-made magazine called The Pleiades, trained as a kindergarten teacher, taught art as a resident instructor at several children's institutions, authored, published, an  d earned money from four painting manuals, and studied at the Women's Printing Society in London. Many of her educational breaks were due to father John Butler's debts, and she worked as an interim housekeeper, doing creative endeavors on the side, as necessary. One of her gigs was teaching the children of designer William Morris, where she became connected with Morris & Co.'s printmaker Emery Walker. Walker encouraged her pursuit into printmaking. Lolly settled in Dublin in 1902 with Lily after the death of their mother, and the two founded the Dun Emer Press with Elizabeth Gleeson the next year.
Lolly's diverse educational and practical experiences in the arts undoubtedly served her well at both Presses. She wanted to share the privileges of her education and talent to other women by training them in "the making of beautiful things." Print advertisements from the Cuala Press Prints Collection boast use of unbleached, Irish-sourced paper and stationery and emphasize the intimate small-batch printing and publishing style. Although Lolly predominantly taught and maintained printmaking operations during her Cuala days, she had her hand in many types of fine arts, print illustration to ornamental fan making. She was an assertive leader, which caused a noted rivalry with her brother W. B. as the Press' co-editor. Their father, John Butler, frequently dissipated family tensions that were exacerbated from running a business together.
John Butler's creative success undoubtedly influenced his children's aspirational pursuit in the Irish artistic tradition, though he couldn't afford to train as an artist until the year before Elizabeth was born. Some accounts suggest the family's financial hardships caused his older children to become independent and managerial. Elizabeth was a subject of some of John Butler's portraits when she was younger and the two maintained close correspondence. When John died in 1923, Lolly grieved so deeply that she moved the press into W. B.'s basement for three years. In the 1930s, she struggled with misdiagnosed health complications, eventually diagnosed as a terminal heart condition. She passed away from cardiovascular failure in 1940.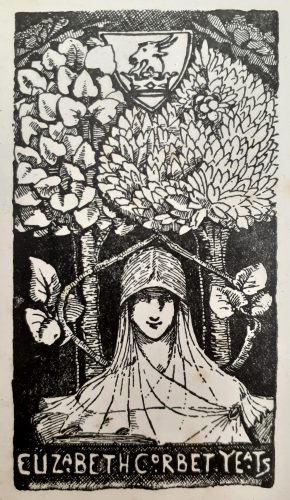 Susan Mary (Lily) Yeats, 1866-1949
Lily Yeats, like her sister Lolly, was relatively well-traveled in her late-teen and young adult life between London and Dublin. She suffered frequently from health conditions starting at a young age, causing impediments to her early education and work prospects. After studying briefly at Dublin's Metropolitan School of Art, Lily worked for six years in the Morris & Co. textile factory in London as a needleworker, then as head embroiderer under May Morris. She left Morris Co. to help co-found the Dun Emer Press in 1902, where she headed the needlework.
Lily's predominant creative endeavor was embroidery. Under Cuala Industries, she mostly produced stitched designs for frames, pillows, linens, and tables. Lily had learned first-hand from Moss, the top textile company of her time, and used this experience to innovate and create revered handiwork of the Celtic Revival. In her most prestigious commission, Lily crafted banners for the new Loughrea Cathedral in 1903 – with considerable design collaboration with Jack and Mary (Cottie) Yeats. According to a Cuala Press advertisement, Lily wrote a book, though its title, content, and publication date is unknown.
Due to her terminal ailments, Lily retired in 1931, and with her retirement Cuala's embroidery operations ended. She embroidered on the side for the rest of her life, though never to the scale of her working life. During this period, she focused on landscape-type stitched artwork, which are sold in collector circles or in museum collections like the National Gallery of Ireland, Dublin. She passed away in 1949 and is buried alongside Lolly.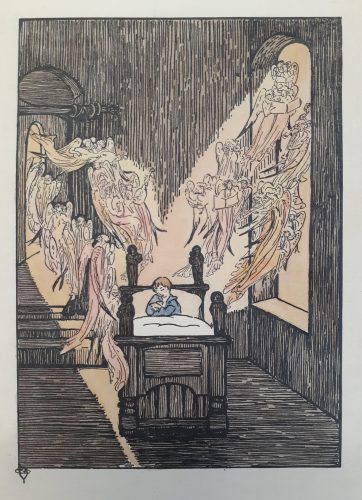 Mary (Cottie) Cottenham Yeats, 1869-1947
There is little biographical information about Mary (Cottie) Cottenham Yeats, born Mary Cottenham White, especially before she met Jack Yeats. She was a talented artist from Gunnersbury, Middlesex, England, now part of London. She studied at the Chiswick School of Art at the same time as Jack, in the late 1880s. He was not yet an established artist and heavily admired her talent; he worked as an illustrator to raise funds for their marriage in 1894. They moved to Devon, Ireland, after marrying and around 1902, moved to Dublin to assist with the Dun Emer Press and help design the Loughrea Cathedral banners.
Cottie's artistic talent was greatly overshadowed by her husband's marketable success in diverse media, and her notable and often concurrent contributions to the Celtic Revival are underappreciated. She was one of the few approved artists to produce print illustrations for the Cuala Press. Cottie also heavily contributed to The Broad Sheets starting in 1903. On the side, she hand-painted ornamental houseware and other creative output. She was one of many creative women who influenced and contributed to the Irish arts and literary revival for decades, through both her labor and design. She passed away on April 28, 1947. Jack is buried beside her at the Mount Jerome Cemetery and Crematorium in Dublin.
The Next Generation of Cuala's Creative Women
Cuala Press nearly always boasted a majority-female proprietorship and employee base. After Elizabeth Yeats passed away in 1940, W. B. Yeats' wife Georgiana Hyde-Lees and Lolly's assistants Mollie Gill and Esther Ryan managed the Press. Book printing operations ceased six years later: Stranger in Aran by Elizabeth Rivers was Cuala's final book publication. The Press reopened in 1969 under the leadership of W. B.'s two children, Anne and Michael, and Liam Miller. The press reproduced iconic Celtic prints for nearly a decade before closing down its operations in the late 1970s.
The Press' contributions to Old Irish aesthetics and traditional handiwork reached great scale over its roughly 75 years of operations. Come check out these Cuala Press small-batch, hand-printed, and colored prints at Special Collections and Archives!