The following post was written by longtime Special Collections and Archives volunteer Nancy Sullivan.
We all take divergent routes along our life's journey, but there are some life stories that warrant a slam on the brakes, an in-depth conversation or examination.  The life story of Louise Payton Heims Beck is one of those "wait a minute – what?" kind stories for me.
Born in Osceola Mills, Pennsylvania, population approximately 1,700, to Charles William Heims and Margaret Patchen, Louise Payton Heims joined a family of three brothers and two sisters on February 23, 1889.  The family moved to Philadelphia by the time Louise was eleven years old (per the 1900 census), and she finished high school at Chelton Hills School, Philadelphia, in 1906. Most women of the time had two choices regarding their future: they could become a house maid for a wealthy family, or they could marry. Louise, thanks to her family's means, was able to expand to other choices by pursuing a higher education.
She enrolled at Drexel Institute of Art, Science, and Industry (now Drexel University), still in Philadelphia, and studied in Drexel's Library program, which was one of the earliest such programs in the U.S. Heims worked as an assistant in the Drexel Institute Library (1906-1910) and a Special Student and Assistant in the University of Pennsylvania Library (1910-1911). She was then hired as the first female "trained librarian" at Wake Forest College, still in Wake Forest, in 1911.  The College's library, called the Heck-William Library and housed in a building by the same name, contained approximately 15,000 books; a large library back then, but for comparison, ZSR Library has around 1.2 million volumes. A handwritten card catalog system had been completed at the library (1901-1904), but according to The History of Wake Forest College, Volume III, 1905-1943, Heims "greatly improved the catalog adding many cards and making it a dictionary catalog." It goes on, "she did all that was humanly possible in improving the library; she made corrections in the classifications and cataloging, adding title cards of many volumes and introduced a new charging system; she gave users of the library prompt and intelligent service and she knew how to make the resources of the library immediately available."
In 1914, feeling her time at Wake Forest College had come to a close, Louise Heims accepted a position at New York City's New York Public Library. Leaving the sleepy village of Wake Forest, which in 1916 had about 1,425 residents, and going to New York City, with a 1916 population of more than 5.5 million people, was surely quite a change, but this relocation to the Big Apple placed Louise at the epi-center of America's Vaudeville culture. Vaudeville's two-hour variety shows featured 10-20 different acts including acrobatics, jugglers, comedy, dancers, singers, and magicians, among others, spoke loudly to Louise's lifelong passion for music and stage performance.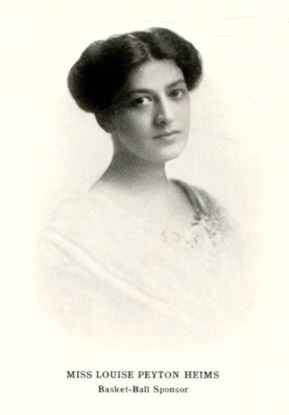 Louise auditioned as a singer for Marcus Loew, a businessman and owner of People's Vaudeville Company, and he offered her a role in his vaudeville circuit for three performances a day. So she left her librarian job to begin her career as a vaudeville performer!
Through her vaudeville work, Louise met Martin Beck, a prominent theater owner, theatrical manager, and booking agent. Beck had immigrated from Hungary to the U.S. in the 1880s, founded the famous Orpheum Circuit, a chain of vaudeville and movie theaters, and built The Palace and Martin Beck theaters in New York. You may have heard of an Orpheum theater – many are still in operation today. Louise Heims and Martin Beck married in 1920, and the two worked as close partners in operating theaters, as well as parenting two daughters. Louise was a close advisor of her husband, helping with production selection and script reviews, but by the late 1920s, vaudeville was challenged by the fast-growing silent film industry. The Becks closed The Palace, considered "the last of the great vaudeville theaters," in 1934. Martin Beck, considered "one of the most powerful men on Broadway," died in 1940 at age 72, leaving Louise, then 52 to manage their remaining theater enterprise, the Martin Beck Theater, now the Al Hirschfield Theater, located at 302 West 45th Street, NYC.
Louise, together with her friend, Antoinette Perry and other women in the performing arts community, revived the American Theater Wing (ATW) beginning in 1939, and she served as the organization's first Vice President and Director from 1940 to 1946. At the outset of World War Two, the ATW raised funds to support the war effort, and then opened the Stage Door Canteen in 1942 at 216 West 44th Street in Manhattan. Seven nights a week throughout the entirety of the war, volunteer entertainers performed for U.S. and Allied service men and women.  Antoinette Perry died in 1946 and Louise was a supporter of the Tony Awards for Excellence in Live Broadway Theater, named in memory of Perry, nicknamed Tony. The first presentation of these awards was April 6, 1947, arranged in part by Louise; 2022 marks their 75th anniversary.
In 1958, Louise was granted a special citation Tony Award for her years of "distinguished services in the theater."  She was dedicated to the non-profit organization Actors Fund of America, where she served as trustee and chairwoman of its governing executive committee (1960-1978). She also served as Director of the Percy G. Williams Home, the first Actors Fund Home that still operates facilities for aging and indigent people who worked in performing arts. Louise Heims Beck's alma mater, Drexel University, bestowed an honorary Doctor of Letters on her in 1977, for her work as "a distinguished patron of the arts,"  noting her humanitarian and philanthropic efforts to theater. On her 88th birthday, the Actor's Fund of America awarded her a gold medal for "untiring services to the theatrical profession."
Louise Payton Heims Beck's intriguing and accomplished life ended on March 16, 1978, in New York City. She was buried at Umbria Cemetery in Osceola Mills, Clearfield County, Pennsylvania, and at the time of her passing she was survived by two grandsons, a granddaughter, and one of her sisters. What an interesting life Louise led for those many years, and to think Wake Forest College's Heck-Williams Library was a part of it!
Sources:
"Beck, Louise Payton Heims, 1889-1978." University and N.C. Baptist Biographical Files Collection, Z. Smith Reynolds Library Special Collections and Archives, Wake Forest University, Winston-Salem, N.C. Available online.
Clark, Alfred E. "Louise Helms Beck, Widow of the Producer And a Founder of American Theater Wing." New York Times, 1978 March 17.
Paschal, George Washington. The History of Wake Forest College, Volume III, 1905-1943. Available online.
Wake Forest University. "Commencement: Honorary Degrees." Available online.