Special Collections & Archives recently welcomed Alayna Veasey, Collections Assistant, who joined us during the first week of January. Alayna is based in SCA with responsibilities for reshelving and shifting our collections, picking up donations from donors, and transferring SCA materials back and forth from the ZSR Off-Site Facility. Alayna also has responsibilities at Off-Site as part of the Public Services Team, where she assists James B. with inventory management and fulfilling requests for off-site materials from patrons, faculty, and staff. And now I will turn this over to Alayna for her to share a little about herself and what she is enjoying most about working at ZSR.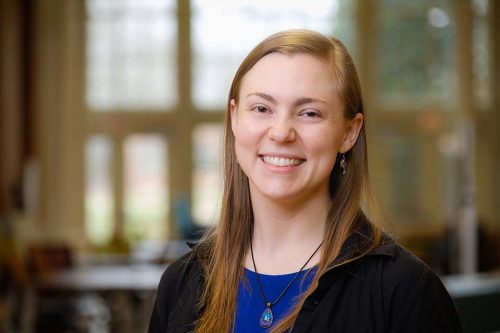 Hello everyone! I have to say, with all the snow, fire, and rabid raccoons, this semester has been an exciting introduction to WFU. Wake Forest is my hometown, so I grew up exploring the grounds of the original campus and wondering when I would get to see the current one. I'm so grateful to have that opportunity as part of the Special Collections & Archives team.
My career journey up to this point has been a wild one. As an undergraduate at NC State, I majored in Communication with a concentration in media, working several jobs in customer service and providing a variety of technical support for live performances across the main campus and the engineering campus. After graduation, I transitioned to various positions within the financial sector and the state parks system. At this point, it's safe to say I am a jack of all trades. That's what first attracted me to the Collections Assistant position – the opportunity to use all of my skills and wear many different hats. Every day is different, and I love it!
I already had experience with maintaining older records in the financial sector, but I must admit that rare books and artifacts are much more exciting. Whenever I pull materials for incoming classes or researchers, I always have the chance to learn something new. I minored in History at NC State, so being able to hold history in my hands is a dream come true.
What do I like most about being a Collections Assistant? The variety of work involved is a plus, but I would say my most favorite part of the job is the way it keeps me active. As much as I love to read and learn new things, I have a lot of energy and need a way to expend it. Luckily, this job provides many opportunities to do just that! Delivering requested materials, picking up new donations, managing the books and boxes at off-site…all of these things require me to be on my feet and moving. If you hear the rattle of a cart echoing throughout ZSR, chances are it's me moving materials around. Please excuse the noise!
As we transition back to in-person events, I look forward to meeting everyone in the flesh instead of behind a screen. If you happen to see me power walking through the halls of ZSR, feel free to say hello!