This article is more than 5 years old.
ALA Midwinter 2009, Denver,Lauren Corbett
CONTENTS
Committee work for Association of Library Collections and Technical Services (ALCTS) division of ALA :
oContinuing Resources Section (CRS)
oBudget & Finance Committee (B&F)
oAcquisitions Section (AS)
Time in the exhibits to meet with vendors, foreign in particular
Forum on WorldCat Records Transfer Policy and Guidelines
Fulfilling CRS and B&F Committee Responsibilities
For those who aren't familiar, ALA has Divisions such as Association of Library Collections and Technical Services (ALCTS) and Association of College and Research Libraries (ACRL).Then within the ALCTS Division are numerous sections, including Continuing Resources Section (CRS) and Acquisitions Section (AS).Some committees operate on behalf of the entire division and members of such committees are designated from each section.I'm working with the Budget & Finance Committee (B&F), at the ALCTS Division level, liaising from and to the CRS.This work took the majority of my time.
The CRS meeting was information sharing about association activities and goals, supportingthe ALCTS Strategic Plan, and program/preconference planning for ALA Annual in 2010.Program planning for conferences begins 18 months in advance and includes the vetting of the program topics, coordination between different sections to eliminate overlapping content in programs and to make agreements to co-plan programs.
B&F meets two different times during the weekend in order to review the fiscal year that just closed (FY 2008), to examine the first quarter reports from the current fiscal year, and to vet and approve a budget plan for the next fiscal year (FY2010) to be presented to the ALCTS Board at their Monday meeting. We squint at lots of spreadsheets with tiny print since the level of access by the Executive Director of ALCTS doesn't let him manipulate them.
Acquisitions Section and Becoming Chair
I also attended the All Committee meeting of the ALCTS Acquisitions Section, since I learned that I'm running unopposed for Chair of the section in the spring election.All committees of a section meet at the same time in a single room, allowing the section leaders to talk with each committee by moving from table to table.I took the opportunity to get acquainted with each committee in Acquisitions Section, since I have primarily worked with the CRS in the past.I learned that Bill Kane is the new Chair of the Policy and Planning Committee of the Acquisitions Section.
Unless a write-in campaign defeats me, I'll serve as Vice Chair of ALCTS Acquisitions Section starting in July of 2009, which means in the fall I'll be reviewing large numbers (I hope) of volunteer forms and try to make the best possible appointments to committees, replacing members who are rotating out.Then in July of 2010, I will become Chair and will plan and lead meetings of the Executive Committee of the section at Midwinter and Annual Conferences as well as attending ALCTS Board meetings.Being an ALCTS Board member and Chair of a section usually eliminates time for visiting vendors in the exhibits.
Meeting Foreign Vendors
Since I'm not yet on the ALCTS Board, I did schedule meetings with two vendors in direct response to inquiries from our faculty.First, Latin American Studies would benefit from a steady source of reliable information regarding new scholarly publications in Spanish that would be of interest to us.I met with a vendor to discuss starting an electronic notification service. Second, Romance Languages would benefit from an approval plan, which has been of interest to Spanish in particular for many years. I met with a European vendor to discuss parameters to start a notification plan.After refinement we may be able to arrange some automatic shipments for new academic publications and give firm order attention to more specialized items.The trick is to set very narrow parameters when working with a small amount of money.This is why it became very important to use the opportunity to discuss back and forth with the vendors in person.
Policy for Use and Transfer of WorldCat Records
I attended a forum early on Monday morning, which was advertised like this:
ALCTS Forum: Creating and Sustaining Communities Around Shared Library Data: the OCLC Record Use Policy and Libraries
In November, OCLC announced OCLC's proposed "Policy for Use and Transfer of WorldCat Records." This announcement was greeted with criticism and concern from the cataloguing and library communities. The main issue, among others, has been the "reasonable use" clause, seen as restricting the rights to use records, including ones libraries added. Karen Calhoun of OCLC, Brian Schottlaender, Peter Murray and John Mark Ockerbloom will discuss the background and implications of the change in relations to shared library data.
Library Journal.com has already published a good summary ( http://www.libraryjournal.com/article/CA6632413.html ) but the three presenters have all posted content online and you can go to the primary sources, all linked from the last paragraph of the blog from Murray (aka the Disruptive Library Technology Jester) at http://dltj.org/article/oclc-records-use-policy-2/.
Briefly, Karen Calhoun of OCLC made a presentation clarifying the need and intent of the update to the Policy, the first update in 21 years, followed by presentations by two librarians who were concerned that the updated guidelines would stifle creative use.One primary impetus for the updated guidelines, protecting the WorldCat records as a financial asset of the Cooperative (OCLC members), was briefly touched upon in multiple presentations.Brian Schottlaender was not actually a presenter, but a facilitator and summarized the main points of the three speakers with some commentary and then facilitated questions and answers.Most of the librarians present, speakers and audience members alike, had a lot of questions about who really owns the records.
If you really want to pursue one more perspective on this later, eventually there should be a post-conference report from an attendee in the ALCTS Online Newsletter (ANO) http://www.ala.org/ala/mgrps/divs/alcts/resources/ano/index.cfm .
Denver airport around lunchtime on 1/26/09 — see how short the visibility range is?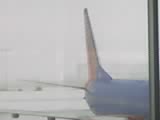 Cincinnati airport midmorning on 1/27/09 — see how the snow followed me eastward?