This article has been reproduced in a new format and may be missing content or contain faulty links. Contact zsrweb@wfu.edu to report an issue.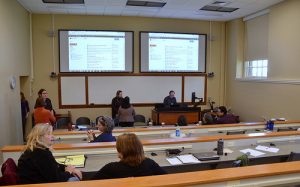 On Friday we were fortunate to have the pleasure to host the semi-annual NC-LITe event. NC-Library Instruction TEchnology is a group that has been steadily growing and evolving since it's beginnings in March 2008, when Steve Cramer reached out to us so that UNCG and WFU could share the interesting work we were doing with instructional technology.
Each time we meet we add a few more people and institutions, and the event gets a little more formalized. You can read the detailed information about this winter's event on the wiki.
We started the day with a general mix and mingle in Starbucks and moved to 204 once it was time to get started. In 204 Lynn gave the group a warm welcome (and I think the first from someone outside of an instructional unit with a library, so a big thank you for that!), and we proceeded with updates from each institution there. As you might guess, with a diverse group of schools (App, Duke, ECU, Greensboro, High Point, NCSU, Salem, UNC-G, and WFU), there were very different reports. However, in general it seems like most of us are thinking about transitioning to online, accreditation, teaching more classes with less librarians, and learning objects.
Next up NCSU gave a presentation about a scavenger hunt that sounds absolutely engaging, and educational in a number of ways. Students use iPods to take pictures and get text answers along a scavenger hunt, sending answers back to a librarian team in a classroom, as they complete the challenges on the scavenger hunt they learn about the library, learn that librarians are friendly, and also learn how to use cloud computing tools to record information. Great project, and one I'd love to experiment with here.
Next up was a WFU panel, organized by Giz, on Embedded Librarianship. Sarah, Bobbie, Roz, Susan, and Giz all gave examples of embedded experiences, showing that embeddedness can take on many forms and explained what it looked like on the librarian end of the project. This was well received and there were many questions from the audience.
After the panel we broke up in small discussion groups to discuss online learning, face-to-face learning, and teaching and technology project workflows, and then returned back to the group to discuss our overall themes. We concluded with a lunch at Deacon Tower where the conversation continued.
A big thanks to Giz who really did as much of the planning as I did, Lynn for her introduction, Kaeley for posting signs, Roz, Bobbie, Susan, Sarah, and Giz for their panel, and Roz for giving folks who wanted a tour an understanding of our space. I've heard from several people that they really got a lot out of the event and that folks are already looking forward to the next one. Let's hope we find the next host soon! 🙂