This article has been reproduced in a new format and may be missing content or contain faulty links. Contact zsrweb@wfu.edu to report an issue.
I am writing this now from North Carolina, following our triumphant return from China. Recounting the last day:
On Sunday, we traveled back out to the Dulwich Shanghai campus to watch Peter Kairoff give a Master class in piano. The format of a Master class is that promising students are invited to play for the Master, who then gives them advice on technical components and interpretation, and sometimes demonstrates how to play certain passages. The students who played were two Wake Forest students from China who came in from their summer vacation to play for him. About 20 of us gathered in a circle onstage to watch the proceedings. It was fascinating! Peter offered kind, but strong and constructive critique and explained a lot about the composer's original intentions as well as alternate ways to interpret and express those intentions. Perhaps the person who loved it the most was a five year old girl who came with her mother and grandmother. She paid close attention to everything, moving her fingers on her legs as she followed along. At the end of the class, Peter asked if she would like to play something on the piano. She jumped up and immediately played a simple, lovely selection to our great delight.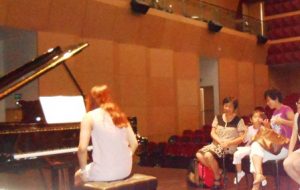 Our concluding banquet was originally intended as a simple get-together where we could all say good-bye, but the father of one of our WFU interns made arrangements to dine at his private club on the river and it proved to be spectacularly elegant and sumptuous. So we had another traditional night of ganbei and toasting.
Our final group activity was a night cruise on the Huangpu River, with brilliantly lit buildings on both sides of the river. It looked a lot like Vegas!
Looking back, I think the trip was very successful. We learned a lot about our present and future Chinese students and how to ensure their success in the future. We learned a lot about the culture and economic, political, and educational systems that make them want to come to American universities like Wake Forest. We established relationships that are likely to grow into fruitful partnerships for the university. We made new friends, both on and off campus. And we had a wonderfully good time doing it.
Ganbei!