This article is more than 5 years old.
2015 is a significant milestone for NASIG in two distinct areas: the organization celebrates its thirtieth anniversary, and the name of the organization changes from "North American Serials Interest Group" to simply "NASIG". Both events were commemorated at this year's conference that was held outside of Washington, D.C. with ZSR's own Steve Kelley serving as president. On a personal level, this conference expanded my understanding of the internal workings of the organization while still challenging my own growth in the changing nature of continuing resources.
Programming
This year's conference was one of the best in recent years in terms of programing. In addition to sessions about e-books and RDA, one of the strongest concepts represented was preservation. As electronic resources have become more commonplace, questions about their permanence have become even more of a concern. The questions regarding access remain at the center of this discussion, and digital repositories have begun to enter this dialogue as another option to house a growing array materials associated with faculty research.
Beyond that, however, are the questions of accessing those materials not just a century from now but ten years from now. Linked data represents the next generation in terms of cataloging resources, particularly those that aren't considered traditional library materials, and it's definitely on the way. Presentations by NASIG's excellent vision speakers challenged their audiences to consider the larger picture around the issues that face everyone working in and beside libraries. Concepts presented were equally provocative in terms of privacy, open access and the power of collective action.
Mentorship
This year, I volunteered for the first time to serve as a mentor to a new attendee of the conference. After speaking by telephone and through several e-mails and text messages, we connected during a reception on the first day of the conference. She is a new librarian in the continuing resources area, who is getting started with the management of journal packages such as ScienceDirect.
I checked in with my mentee several times during the conference, and she said that she was enjoying each session and getting good notes to take back to her institution. When we met again toward the end of the conference, she was still enthusiastic about the experience as well as everything she had learned. She even expressed her desire to attend the next conference; in any case, we will remain in touch during the following year and especially during autumn's renewal period. Overall, this was a rewarding opportunity!
Board
This past spring, I was elected to NASIG's Executive Board as a member at large. I'm joining the board with two other incoming members at large as well as a new president, vice president/president elect, and secretary. Three members at large left the board at the conclusion of the conference, and Steve Kelley will stay on for one more year as the immediate past president.
My term as member at large began at the end of this year's conference and will end at the conclusion of the 2017 conference in Indianapolis. During this time, I'll serve as the board's liaison to NASIG's Communications and Marketing Committee which manages the organization's website and listservs while disseminating information to the membership and coordinating with other committees when necessary. I'm looking forward to the next two years and serving the organization in this way.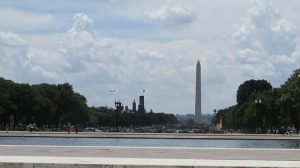 As always, no NASIG would be complete for me without a round of sightseeing. I was able to get into Washington with a colleague following the board meeting on Sunday morning, and we spent the next six hours around the National Mall near the U.S. Capitol before I had to catch my flight home. You can see the pictures from that excursion here.