This article is more than 5 years old.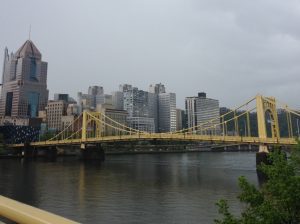 This was my first LOEX experience, but I am certain it won't be my last. Overall, I was very impressed with the amount of practical implementations that I took away from each session and the level of creativity, innovation and collegial support at this conference!
There was strong representation from first time attendees at LOEX (which once stood for 'Library Orientation Exchange', but is now a stand-alone title since library instruction has moved well-beyond the basic 'orientation' phase), and at the Thursday evening orientation session, I learned that every year approximately 20% of LOEX conference participants are first-time attendees.
What follows is a brief summary of the sessions I attended and some of my take-away thoughts.
Friday, May 6th
ReModeling the Library Tour: Active Learning through Active Spaces
(Matthew Pickens, Missour University of Science & Technoloy)
Inspired by the tableau set-up frequently used in haunted house attractions, the Curtis Laws Wilson Library (Missouri University of Science and Technology) re-designed their library tour to include short presentations that engage a variety of learning styles and integrate physical activity between each station. The re-design allowed them to incorporate kinesthetic elements to their tour and highlight some of the more entertaining aspects of library services, spaces, and collections. Using this tableau-style for tours and orientations seems to be a creative and fun way to engage students in a more holistic introduction to the library as space, resources and services. Something I hope to incorporate in future tours/orientations that I lead at ZSR!
Engaging Diverse Learners: Creating Accessible IL Instruction with Universal Design for Instruction
(Emilie Vrbancic, University of Colorado at Colorado Springs)
Universal design (coined by architect and designer Ronald L. Mace) describes the concept of "designing all products and the built environment to be aesthetic and usable to the greatest extent possible by everyone, regardless of their age, ability, or status in life". During this session, Emilie Vrbancic demonstrated how integrating universal design into information literacy instruction anticipates the needs of diverse learners. What does instruction with universal design elements look like? Content and lesson plans that integrate equitable use (accessible, vocalized actions, use of sans-serif font), flexibility of use (varied instruction methods, appeal to variety of learning styles), simplistic and intuitive instruction (no jargon, draw of previous knowledge/use student-centered topics for demos), perceptible information (present info in multiple formats, shorten task instructions, use icons/images), tolerance for error (allocate time for individual work, encourage students to seek help), etc.
Engaging Students through IL Based Service Learning Assignments for Community Benefits and Academic Success
(Leah Galka, SUNY Buffalo State and Theresa McDevitt, Indiana University of Pennsylvania)
I was very excited to attend this session and learn about integrating service projects into IL based instruction– especially given the pro humanitate spirit here at Wake. Leah and Theresa shared their experiences with using service learning projects– "a form of experiential education in which students engage in activities that address human and community needs, together with structured opportunities for reflection designed to achieve desired learning outcomes"– in their IL instruction. Overall, the program offered benefits to students (real world problem solving, personal growth, deeper understanding of complexity of social issues), librarians/instructors (engage and motivate students, demonstrate that IL skills are essential to complimentary real world tasks), and the university at large (experiential = high impact learning, opportunity to give back and improve community). Leah and Theresa acknowledged that working with the community partner to direct a clear understanding of what will be accomplished is key.
Recycling the First-Year One Shot Workshop: Using Interactive Technology to Flip the Classroom
(Crystal Goldman and Tamara Rhodes, UC San Diego)
Using technology to facilitate, library instructors developed online tutorials and activities for students to complete outside of the class in advance of library instruction session. This model worked well for the providing a in-depth one-shot instruction with limited resources. In addition to the online tutorial, the one shot workshop also included a research workshop and drop-in research consultation component to further develop research assignments and familiarize students with library services and resources.
Rework, Reuse, Reflect on Your Research: Writing Center and Library Collaborations
(Holly Jackson, and Jill Tussing, Wright State University)
This session focused on collaborative instruction and joint service offerings from librarians and tutors with the Writing Center at Wright State University. Both teams utilized the peer-to-peer model and trained student assistants to respond to initial drop-in appointments– student research assistants were embedded at the Writing Center to assist with research-specific inquiries, which helped greatly to bridge the physical space between both service points (Writing Center located in different building than library's information desk). Location, timing and individuals involved were important factors in the strategies that were employed for this collaborative effort.
Saturday, May 7th
Everything We Do Is Pedagogy: Critical Pedagogy, the Framework and Library Practice
(Jeremy McGinniss, Summit University)
I really enjoyed Jeremy McGinniss' application of critical pedagogy to our work in libraries — his discussion was refreshing and demonstrated incredible depth. Jeremy introduced the concept of critical pedagogy using a definition from Giroux's On Critical Pedagogy: "Critical pedagogy . . . affords students the opportunity to read, write and learn from a position of agency- to engage in a culture of questions . . . imagining literacy as a mode of intervention, a way of learning about the word as a basis for intervening in the world." I absolutely loved his conversation around the recognition of library space and library staff (specifically student labor) as pedagogical opportunities. The stories he shared of his engagement with student assistants in his work (meeting at the beginning and end of each semester, setting goals, encouraging students to self-identify with [and even challenge] staff processes) was inspiring. A powerful session that demonstrated how in libraries, critical pedagogy can be dug up, unpacked and provide a place for flourishing, justice and modes of opportunity.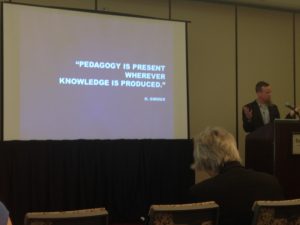 Into the Gauntlet: Letting Students Teach One Another
(Jessica Crossfield and Amy Parsons, Otterbein University)
Building on the idea that nothing clarifies ideas better than explaining them to others, Jessica and Amy presented on efforts to integrate peer to peer instruction in their IL sessions. They set up a structured process that divided the classes into groups of 3 (in case you didn't know, more than 3 is a party), led small groups to Google Doc assignment linked from online guide and gave them time to complete assignment before reporting back to the whole class. The think-pair-share model of cooperative learning strategies was primarily used, but other attendees recommended incorporating competitive elements (judging or multi-evaluative) could also work as both assessment measures and peer learning tools in the classroom.
A Sample Is a Tactic: Hip Hop Pedagogy in the Library Classroom
(Craig Arthur and Alyssa Archer, Radford University)
This was one of my favorite sessions at LOEX. Craig Arthur and Alyssa Archer demonstrated how integrating hip hop pedagogy in library instruction can help students grasp concepts related to the academic research process and the ACRL Framework- such as research as inquiry, scholarship as conversation, information has value. Craig spun samples from Beyonce's Lemonade, "Kool Aid and Frozen Pizza" by Mac Miller, "Work" by Rihanna (ft. Drake) to point out how sampling was handled by each artist and how this process of borrowing and re-use in MC/DJing conventions can be used as a comparison to academic and scholarly conventions. The session also touched on issues related to cultural appropriation, the differences between copyright in music vs print formats, and how personal interests are worthy of academic study. I thought this was an exceptionally creative way to instruct IL frames and share concepts related to academic research that are unfamiliar to most students.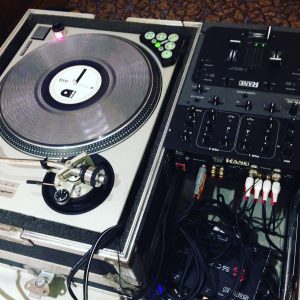 Amanda, Joy and I were able to squeeze in visits to the Phipps Conservatory and Botanical Gardens and the Andy Warhol Museum. If you're ever in Pittsburgh, I would recommend visiting both attractions! Do yourself a favor and make sure to stop by the Archives Dept. at the Andy Warhol Museum to see the "time capsule" collection. Incredible!