On May 30th-31st, I attended the ASERL (Association of Southeastern Research Libraries) Spring Membership Meeting, serving as the "student success" representative for ZSR Library. The two day meeting was a great opportunity to connect with colleagues from across the southeast and consider the role of academic libraries as it relates to student success. What follows are some of my reflections from the break-out sessions and other activites from this meeting.
Ideas for Marketing & Branding of Library Programs/Content/Services
For this session, we broke up into small groups and responded to the following questions: "what do libraries consistently get wrong about libraries?" and "what is the best example of library branding that you've seen?". In my small group we discussed:
the importance of knowing your audience and purposeful marketing to external audiences,
using simple/user-focused language (limit the library jargon!)
integrating strategic planning in marketing efforts; recognizing that the message changes with the medium
continued assessment of marketing and communication efforts; how do you know what works for your audiences?
As far as best examples of library branding/marketing, I shared the work of the Harold B. Lee Library (BYU). They created a library promo that went viral back in 2010 —"Study like a scholar, scholar" and ever since then, they have created fresh, fun marketing videos that share an authentic voice and showcase useful services, resources, and spaces for their students. For more examples, see Start Here, Fire, Le Skeleton, and their library-themed rendition of Stranger Things:
Activities & Collaborations that Enhance Student Engagement
In our discussion of collaborations for student engagement, some participants encouraged the use of MOUs (Memorandum of Understanding) with their residential campus partners (other campus dept. that are housed in the library). They work with each of their campus partners to create an MOU to help direct their collaborations and outline how the partnership benefits each organization. It was suggested that MOUs be evaluated annually and can be adjusted as needed.
In small groups, we shared examples of student engagement activities and collaborations at each of our individual institutions. Attendees were very interested in learning about our Library Ambassador program, a handful of librarians approached me at the end of the session with additional questions.
Tour of John C. Hodges Library, UT Knoxville
On Wednesday evening before the reception, the University of Tennessee Librarians hosted a tour of the Hodges Library.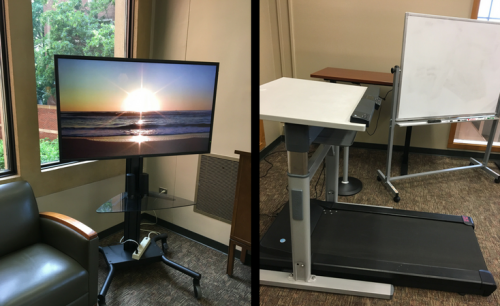 During finals week, the library hosts a De-Stress for Success event in a multi-use event/study space called "the Living Room". The end-of-semester program features a revolving schedule of academic support services (research consultations, etc.), chair massages, therapy dogs, games/stress relievers, and refreshments.
The Active Learning Area in Hodges Library features stationary bike desks, treadmill desks, balance ball chairs, standing desks– a variety of work stations for students that don't want to sit for long periods of time.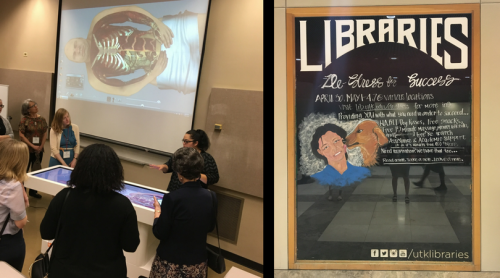 Hodges Library recently acquired a 3D Anatomy Table with a grant from the Gladys Brooks Foundation. This interactive simulation technology is equipped with digital cadavers that allow students to perform virtual dissections as they would on a real cadaver.
In collaboration with the UT Division of Enrollment Management, Hodges Library has a One Stop Student Services area that offers consultations for students that need assistance with enrollment, academic records, and financial aid.