"Building Bridges" was the theme of the 2019 NASIG Annual Conference, and it was held- appropriately- in Pittsburgh, Pennsylvania, the "City of Bridges."  This theme extended deeply into the conference program, as many sessions focused on changing trends, embracing new concepts, and how libraries can respond to them.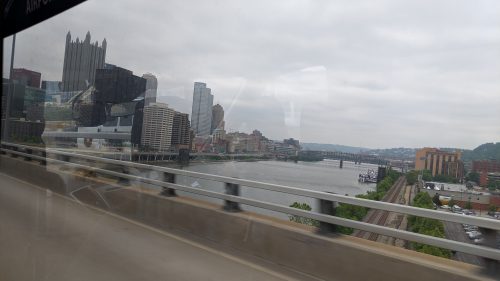 Diversity in the Spotlight
This year's conference featured the concepts of diversity, equity, and inclusion in several places.  This began with the first Vision Speaker, DeEtta Jones, who spoke about Courageous Leadership: Walking Your Talk from Wherever You Are and reminded the audience that we are all leaders in diversity, equity and inclusion regardless of our position in the library's hierarchical structure.  As she said, "equity lives in the process" if it ideally leads to a more equitable result in the end.
There was also a Town Hall about What Does Diversity and Inclusion in NASIG Look Like? and it was a moment of self- reflection for the organization.  Members were engaged throughout, and there was a demonstration of trust that none of the ideas that were discussed would go down a dark hole.  I was glad to see NASIG take this step forward, and I also shared some of what ZSR has been doing on its own accord. (As expected, the potlucks attracted a lot of attention!)
Program Files
The amount of programming was as rich as ever at this conference, with some cutting-edge topics presented for good measure.  I served as a liaison for two programs this year, and the first was Connecting the Dots: Reader Ratings, Bibliographic Data, and Machine-Learning Algorithms for Monograph Selection, detailing how algorithms like those used by Amazon and the New York Times Best Seller List can be used by libraries in their collection development processes.  The latest generation of library systems are taking advantage of this, but homegrown applications are also being created.  Through algorithms, users can be directed to recommended books and articles based on their search criteria; however, the technology is developing in a slower context in academic libraries compared to public libraries due to a limited amount of data available for comparison.
The second was Pushing the Paywalls: Extending Licensed Resource Access to External Partners to Enhance Collaborative Research which outlined the collaboration between three libraries in Colorado to develop best practices around resource sharing.  The co-authorship of scholarly research can be a challenge for researchers across institutions in terms of access to subscribed content, but the impact in terms of overall usage can be a consideration.  This can be a "sticky wicket" for libraries, particularly neighboring institutions, as the confusing nature of access will only become more complex.
Remaining Sessions
Some of the other sessions I attended were:
An Accessibility Study of Libraries: Results, Best Practices, and Next Steps, a session by our colleagues at NC State's Hunt Library about how they have developed a process to accommodate users with disabilities in the ever-expanding digital era.
Bridging the Worlds of MARC and Linked Data: Transition, Transformation, and Accountability, the second Vision Session presented by Philip Schreur. In it, Dr. Schreur shared his impressions about how libraries are preparing to make the move away from MARC to a linked data environment and whether this would have the feel of "disruptive innovation" in our midst
Out with the Old, in with the New: Revising ERM Workflows in a Time of Change, where a Voyager Library in Ontario prepares for its migration to Alma and what they learned along the way. This session was extremely valuable for obvious reasons.
Usability Beyond the Home Page, about the role that a technical services unit has in the overall user experience besides the library website itself.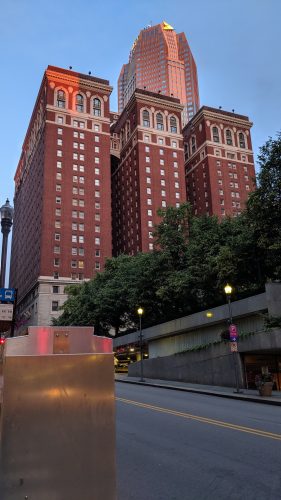 The conference was located at the historic Omni William Penn Hotel in the downtown area.  Opened in 1916, the hotel currently has 600 guest rooms and is an excellent example of the period in its exterior architecture and stylish interiors.  This is also the first conference I've attended where the conference facilities and ballrooms were not located on the bottom floors, instead, they were located on the 17th Floor and one had to go "Up" in order to reach them.  There were also rumors that the hotel was haunted, although the staff said that it was only on the top floors.  Still, I thought I would see Slimer floating in a corner at any moment.