Last week, I attended the 63rd Biennial Conference for the North Carolina Library Association here in Winston-Salem, and it was an excellent conference as always.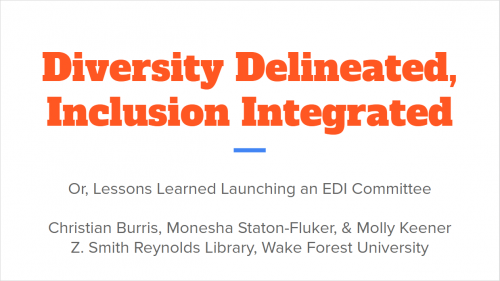 A prime highlight was the privilege to give a presentation on our library's Equity, Diversity and Inclusion Committee with Molly Keener and Monesha Staton-Fluker.  Being one of the first sessions on the first day of the conference, we didn't know how many people would be present or how responsive they would be at that hour.  Thankfully, we had an audience of more than thirty people and they were engaged throughout the presentation and afterward.  On a personal note, I'm also glad that we were able to participate in the growing discussions around such an important topic.
I also served on the Local Arrangements Committee for the conference, and everything went smoothly in that regard.  Decca Riedel Slaughter, a former student assistant in Resource Services, served as the chair of the committee and did an excellent job in coordinating with the facilities and food in the Benton Convention Center as well as the Central Library, the site of the All-Conference Reception.  Steve Cramer (whom you may know) was also a part of the committee and it was a pleasure to work with him again.
Other highlights included:
During her Opening Keynote "Library as Studio," Melanie Huggins of the Richland Library in Columbia, South Carolina talked about how her library used the design thinking approach in terms of library spaces and services.
The session "Library: Spaces to Teach and Troubleshoot Technology," discussed how one public library used technology training to enhance the lives of its senior users, but it was also a reminder about how all libraries are involved in technical support in some form or fashion via "whole person librarianship."
ZSR was well represented at the conference.  For starters, Kathy Shields did an outstanding job as chair of the Program Committee. Sessions that I attended with ZSR folk speaking included "Alienated Superheroes, Feminist Dystopias, and Graphic Memoirs: Comics in the Academic Library" (presented by Steve Kelley and Meghan Webb) and "Recognizing an Avoiding Implicit Bias in Health Sciences Collections and Services" (moderated by Sarah Jeong).
There were several sessions supporting library advocacy, including "Orchestrating Change through Professional Development" and "Libraries: Spaces to Unite and Empower Communities." These were libraries sharing their stories about making an impact both internally and externally.
I've seen #critlib, short for critical librarianship, used in several conversations on Twitter during the past year, and there was a session about it at this year's conference. It was great to see a session about an emerging topic that included its theory as well as practical applications.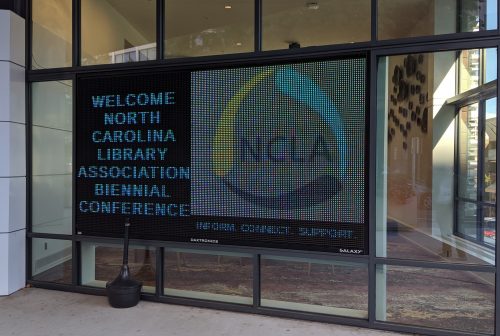 I've attended NCLA for several years, and it always feels like a homecoming for the state's library community.  It's a pleasure to see so many colleagues, classmates, professors, and friends again, and the closing keynote speaker Jaki Shelton-Green talked about the overall collegiality.  But the most exciting moment was to reconnect with a fellow Wake Forest alum who is completing her MLIS degree at East Carolina University and was attending her first NCLA.  Now there's another one in the family!