I attended the 2019 Library Diversity and Residency Studies Conference In Greensboro on August 26-27, and it was an amazing experience.  Coming on the heels of the IDEAL '19 earlier in the month, this conference was about library residency programs across the country and the role they play in attracting diverse librarians into the profession.  Keynotes given by Deena Hayes-Green (Racial Equity Institute), DeEtta Jones (DeEtta Jones & Associates), and Jon Cawthorne (President-Elect of ACRL) were all inspiring, encouraging the audience to stay engaged in this important work while not giving up in the face of resistance.  Panel discussions outlined how programs functioned at several universities as well as best practices to keep these programs running both efficiently and effectively.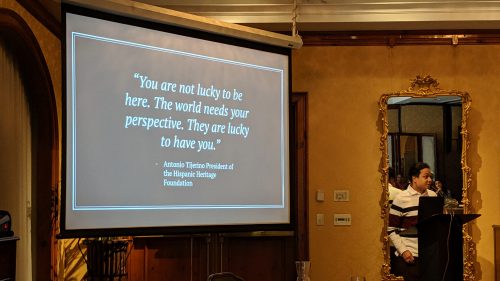 Other takeaways included: 
Undergraduate Intern Programs.  For several years, the Earl Gregg Swem Library at The College of William & Mary has supported a residency program for library school students.  In addition, they have supported an internship program for undergraduates, preparing them potentially preparing for future careers in librarianship.   Similar to the Wake Forest Fellows program, the internships keep students engaged during their undergraduate careers (including summers); in fact, several current students in this program attended the conference.
Investment strategies.  Onboarding a resident should be a collective experience for a library, beyond the exclusive auspices of an equity, diversity, and inclusion committee.  The best practices should include hands-on experience for residents as well as opportunities for mentorship and professional development.  The important thing to remember is that residents are up and coming professionals and not interns; building in the sense of collegiality is a necessity at the beginning. 
Building a Network. The community of library residents is a growing one, with current and past residents coming together to share experiences and insights alike.  Private Facebook groups have been created for residents across the country to converse. In addition to conferences like this one, ACRL has launched a Diversity Alliance with more than 50 libraries. A new journal, Library Equity, Diversity, Inclusion and Residency Studies will launch in the fall of 2019 as a resource for this growing area.   
I feel that this conference can only grow in the years to come, and it was good to attend during its early stages.  The amount of expertise and scholarship is growing as well, and I look forward to the opportunity that ZSR can contribute to the discussion at a future date.