Attending the NCLA 2019 Biennial Conference, along with a host of ZSR colleagues plus hundreds of library staff from across the state and region, makes for a fun, insightful three days. This year's conference is the best NCLA I've attended to date. As with any conference, there are sessions affirming what you know, sessions generating furious note-taking, and sessions sparking incredulous venting with colleagues over a speaker's horrifying comments (thankfully just one session, but it was a doozy!). My highlights are below; happy to expound upon request.
Open Educational Resources: How North Carolina Academic Libraries are Increasing Textbook Affordability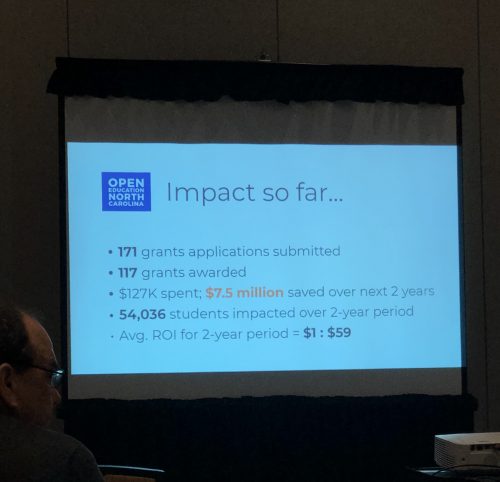 Sponsored by NC LIVE, Rob Ross (NC LIVE), Catherine Lee (Cape Fear Community College) and Jeanne Hoover (ECU) spoke about their current OER initiatives.
Textbook costs have risen 900% since 1980 [I knew it was high but DANG—or as Kyle says, "It's BANANAS!"]
Faculty usually equate free with poor quality [yep]
Research shows that students in courses with open textbooks do well: 50% get the same grades, 35% get better grades, 15% get poorer grades
Academic freedom pushback on librarians' OER outreach [not surprising]
More success with faculty designing new courses starting with OER than converting existing
Space to Define Purpose: Strategies for Creating Mission, Vision, and Values with Your Team
One of my top two sessions, Shelly Hypes and Ryan Harris, librarians from UNCC, shared insights from their teams' respective experiences creating team-specific Mission, Vision, and Values statements.
Common goals are characteristic of high performing teams: clarity, commitment, professionalism, synergy, trust
Mission: what you do & why you do it

No more than 4 sentences
Must truly believe it
It is your purpose

Values: foundational building blocks of your culture
Vision: where your team is going & what it is striving to become

Pie-in-the-sky
May never reach it but don't hold back

Take several drafts to get to Mission
Can be hard to get team to dream big enough—get out of restrictive service mode
What have we been doing that works well?
Strive for consensus, not unanimity
Group Think: if everyone's thinking alike, then someone isn't thinking

Unique knowledge doesn't rise to the surface in group think
Silent brainstorming helps combat

Post MVV on website, create graphic design poster to put in offices & common areas
Get different teams together to identify commonalities
Stay in like it or love it land—if meh, toss it out!
Align values to existing & future projects
Data, Video, Coding, Making: Libraries are Spaces to Create
The other top session of my conference closed it out on a high note with Kathryn Webb's talk on library creative spaces. Webb (ECU) is a Fulbright Specialist consulting with a European university to aide their creative space creation. Webb is researching creative spaces across libraries, going in depth with 35. Lots for me to ruminate and process—and pursue!
Library creative space is space set aside for creation of non-textual content
Not just makerspaces; also scholar's labs, DH labs, data visualization labs, digital media labs, hybrid spaces, Knowledge Markets [will research that last one]
Scholar's labs more likely to have multiple spaces than DH labs (usually just a single room)
Most showing how to do, focused on research
Of the 35…

100% offering workshops
42% offering fellowships
8 of 35 offer mini grants
22 of 25 showcased projects on website
13 of 25 have blogs

Funding information not always on website, but should be if possible (e.g., Mellon, etc.)
Emerging trends:

Augmented/virtual reality
Working groups
Conferences & meetups

Digital Dialogs
Tech Breakfast
Endangered Data Week

Diversity & inclusion statements on websites

Types of collections & projects the lab seeks
Other random bits from multiple sessions and keynotes along the way…
Design with outcomes, not enablers (i.e., books, furniture, tech, etc.)
Create experiences, not products
Library collection development shouldn't be like shopping at Costco: cheap & in bulk isn't better
Set aside time on your calendar for deeper thought time: short daily meditation, planning & reflection, and professional development are examples
Marie Kondo your work environment—digital too!

Create a place where there are no unnecessary things

Serendipitous outreach: campus engagements that aren't formal, just happen (e.g., walking across campus, at events, in the food court, etc.)
"Personal power lodged in the DNA of our stories"—Jaki Shelton Green, NC Poet Laureate
Closing Thoughts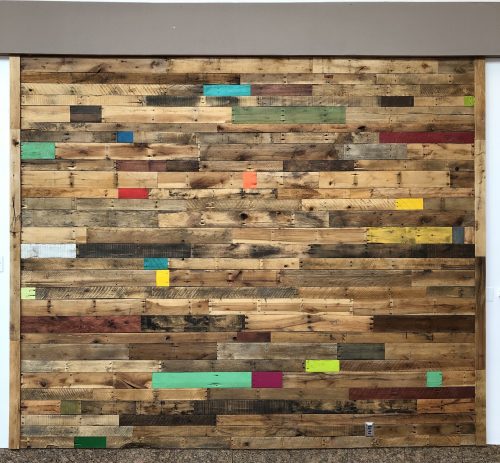 Finally, NCLA provides time to connect with colleagues from ZSR and across NC. Chris, Monesha, and I presented about ZSR's EDI committee to a surprisingly large crowd (33!) at 9am on the first full conference day. Hallway hellos and hugs throughout the three days were fun. Lunch with my aunt (public library director), dinner with my college roommate (academic library staff), and breakfast with my grad school friend (public library director) were soul-satisfying. Benton Convention Center provided interesting public art to enjoy between sessions. And I got to treat downtown WSNC as I do other conference cities: dining out at various restaurants; strolling around during breaks; treating myself to souvenir jewelry (earrings from Visual Index, my fav gallery on Trade Street—check it out!). NCLA is a great conference and I look forward to 2021!