Carolyn's and Lauren's "Digital Experience" of ALA Annual has juicy news like Hoopla controversy, augmented reality with archival materials, attention to indigenous groups, comics librarianship, and equitable ebook access. EDI was a theme throughout the conference. Numerous last minute panelist substitutions took place due to COVID-19.
On Saturday June 25th, in the update from the Digital Public Library of America (DPLA), what caught Lauren's attention was work on improving metadata and a focus on bringing e-books to everyone by negotiating the best price points and access model options for libraries (press release). They have now signed all of the "Big 5" trade publishers and they have the entire Amazon backlist plus some Audible titles in their marketplace. This is branded under the Palace Project, in which Lyrasis has a role, and which uses a platform for e-books that the New York Public Library developed. A library can have books from various sources (e.g. Overdrive, open access, etc.) all on the single platform, which is a simplification for the patron. There is an app so the books can be read from a phone. (BTW, for those who are new, ZSR has contributed content to DPLA via Digital Forsyth.) Columbia, NYU, and UC-Davis are academic libraries in a pilot with the Palace Project. DPLA is working with ProQuest now as they try to get more platforms into the Palace Project. An academic library music cataloger in the onsite audience mentioned during Q&A that part of the fun of it "not being a normal conference, without all the usual offerings," was that it provided the opportunity to attend things like this that he wouldn't normally attend.
At Top Tech Trends (tweets at #corettt) most of the panel had been asked to speak in the last 24 hours because originally scheduled panelists were not able to be there. Top of mind for panelists were: cybersecurity; telemedicine (public library panelist); the disempowerment of libraries as leaders with technology (starting in the 90s); moral entrepreneurism (à la Frances Haugen, the Facebook whistleblower); co-creation and design and people of color (example of hair texture in Pinterest); and better serving everyone in their communities and considering library/vendor relationships. As an example of libraries having lost agency, Hoopla was cited as a source (NC LIVE provides it) that contains controversial content such as disinformation about COVID-19. Attendees said the company stated it is not willing to remove this information and "censor." There was attendee outrage over some abortion content too. There is not a mechanism for librarians to do collection management within the Hoopla product. 
Carolyn attended a panel session titled Libraries as a Part of the Revitalization of Indigenous Languages and Cultures in which speakers discussed collection building, metadata challenges, supporting indigenous knowledge and research, and outreach efforts at their individual institutions. At the University of Colorado Boulder, books and films for the library's Latin American Indigenous Languages Collection are often purchased from alternative publishing houses as well as directly from indigenous authors and film producers. Locating vendors and indigenous content producers is time consuming but worthwhile as so often these materials are not available through traditional publishing channels. Print materials purchased (including children's literature) are written and created by indigenous authors in their individual languages with translations. A librarian from the Xwi7xwa Library, a branch library at the University of British Columbia dedicated to indigenous authors and collections, discussed metadata challenges in her library's ILS and in general regarding indigenous languages. Challenges include:
Names of languages change over time and vary by different groups and academic disciplines

Variation in naming of dialects

Variations in punctuation and spelling

Changes to text—Visual display of indigenous languages inaccurately represented in catalog. Technology changes how words are displayed without the librarian knowing.
A University of California Berkeley librarian reported that her library invited indigenous community members to a SNAC editathon (Social Networks and Archival Content Project) to contribute content to assist in the unification of distributed indigenous and colonial records. The Director of Labriola National American Indian Data Center (LNAIDC) at Arizona State University spoke about how the LNAIDC supports research and instruction on indigenous knowledge to all ASU academic departments but also does outreach to the greater Phoenix indigenous community via programming and providing archival support services.  
Danica White, Student Engagement Librarian at Penn State University, gave the presentation Investigating the Library Experiences of Black Undergraduate Students. They interviewed via Zoom 20 Black students and inquired about their experiences with Pattee/Paterno Library's services, personnel, and space. Feedback and recommendations received from the interviewees included:
The libraries were "not not inclusive."

Black representation in employees and collections were lacking—

Student recommendation #1

: making representation a priority.

A feeling of hyper-visibility on campus—An individual may be the only person of color (POC) in a class.

The campus' Paul Robeson Cultural Center was an important counter space to them.

Students were hesitant to collaborate in a quiet library environment.

Confusion with navigating the library itself and lack of awareness of library services and resources available to students—

Student recommendation #2

: increase student awareness of library resources.

Student recommendation #3

—create connections.
Findings from the research will be discussed with Diversity Deans and a report will be delivered to Library Administration and various library departments. Additionally, follow-up meetings with interviewees will be scheduled. Small steps toward larger changes have been initiated (e.g., planned events with diverse student organizations; emailed library news directly to student groups; co-created a diversity intern position to begin Fall 2023).
Conference attendees' made suggestions on what libraries can do to provide the services and environment that black students need:
Predominantly White institutions (PWIs) can't create welcoming and comfortable environments for Black students. Institutions need to give Black students agency to create spaces for themselves.

Students of color need mentors in higher education. They need to see themselves as professors.

Changes in reference service (i.e., not having a librarian present at reference desk) may prevent students of color opportunities to interact with and obtain library services from someone like them.

One attendee reported on microaggressions towards students of color at her institution (e.g., White students not approaching library sanctioned student workers of color who worked at the reference desk.)

Take library services to places where students of color feel comfortable.

Have culturally relevant displays and exhibits.

Have library staff always wear name tags so students know who to go to for assistance.

Hire students of color and give them meaningful jobs. Ask faculty members of color who they would recommend as library student workers.

Mentor library student workers of color.
On Sunday, the coolest thing Lauren saw at the Tech Showcase was a project using Spark AR (augmented reality) to help students, presented by Miyo Sandlin, Research and Instructional Services Librarian, at the Fashion Institute of Technology in New York. fitnyclibrary is on Facebook and Instagram if you want to see more.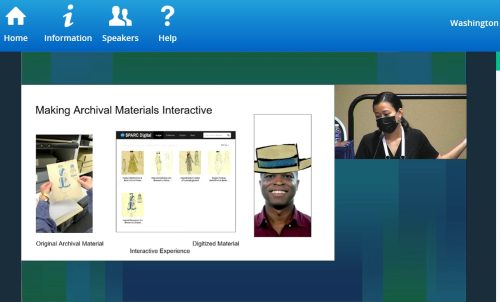 At the Update on the ACRL Academic Library Trends and Statistics Survey, the presentation compared 2019 to 2020 data and also showed the new benchmark tool (librarybenchmark.org). Lauren is hoping that the Assessment Committee can play with the benchmark tool to see if it is useful to us. Of note, the number of doctoral institutions submitting stats went from just under 50% to over 70% in 2020. Expect 2021 data to be released in July. 
Evaluating Partnership Opportunities in Comics Librarianship: What's In It for 'We' was one of the sessions that Carolyn attended on Sunday. The 4 panelists along with the moderator shared their insights/responses to the opening question of "What is comics librarianship?" Responses naturally varied:
Anyone who selects graphic novels, comics, or manga; a person who uses/expresses oneself with comics.

A labor of love; passion of library workers for a specific thing (i.e., comics).

An avenue for increasing literacy.

Began in academic libraries. In the past comics were viewed as disposable, but now it has become recognized as a valid form of literature and is worthy of archival curation.
There is no precedent for comics people (i.e., shop owners, publishers) and librarians working together. A clear understanding of the needs of all parties along with clear communication and/or signed contracts between parties are essential. Partnerships between libraries and comic book shops have increased, and retailers are communicating that is now becoming standard practice. Additional observations and suggested tips from panelists during the session include:
Progress, although slow and incremental, in the areas of diversity and marginalized stories featured in comics is being made. Diverse art styles can be seen in the illustrations.

Library workers, who serve on advisory boards of comics publishers, can assist in making comics become a more visible part of the library marketplace. The panel's moderator currently serves on the advisory board of Graphic Mundi.

Hosting comics related programming may bring in underserved/untapped markets to a library (e.g., dads who are male caregivers, cosplayers). One panelist hosted a Dads and Donuts program at their public library. Library partnered with a local comic book shop who brought a box of free comics to be distributed at the event. The comic book shop received publicity from the event and potentially gained new customers.

With the publication of comics manuals for librarians, libraries can learn how to better organize and select for their comics/graphic novels collections which will in turn make browsing and discovery easier and get these materials into the hands of patrons who enjoy reading them. 

Spotlight in library newsletters how individuals are using comics creatively. Any feedback received gives insight to libraries in collection building and programming.  

Nonfiction graphic novels and comics can be used to get kids interested in learning about history.

For school or library book clubs, the creation of book boxes that contain copies of the comics and reading guides with discussion point tips are valuable tools. Adult hosts may not have experience interacting with this specific material, and the guides can demonstrate relevance to the curriculum and communicate value to teachers and parents. The guides may be able to assist with book challenges by helping one to engage with a willing objector about the value of comics.

During the pandemic, virtual partnerships with comics publishers in programming was a boon for the community and creators. Virtual programming with individual branch libraries allowed creators to promote their new books, and it also attracted community members who were physically unable or unwilling to visit libraries during this time. 
The Library Leaders: How to be a Rainbow Ally featured 3 speakers from the Rainbow Round Table who discussed how libraries and their staff can support LGBTQIA+ library staff as well as marginalized members of the community who they serve. The importance of pronouns was covered, and the Ouch-Oops technique was shared as a method of correction when an individual is misgendered. For example, when an individual is misgendered, they respond by saying "Ouch", and the individual who did the misgendering corrects themselves by saying "Oops" and then uses the correct pronoun of the individual they misgendered and moves on. Don't continue to apologize which ends up making the situation about you. Having pronoun pins or staff badges that denote one's preferred pronouns is another mechanism to assist in reducing the misgendering of library staff.  Libraries should look at their forms (e.g., applications for library cards or student/volunteer workers) to ensure that the language used is inclusive.
Suggestions on ways to support library personnel when they are being mistreated by patrons and creating and enforcing inclusive environments are listed below:
Attempt to de-escalate situations by calmly explaining to the patron with an issue why the library does x, y, and z. Having facts and stats can be helpful. Make clear that the berating of library staff will not be tolerated. Full stop. The ACT technique (affirm—counter (embed counter ideas patiently)—transform) was mentioned.

Educating law enforcement/library security on what is and what is not acceptable in library culture.

Allowing staff to shift and swap spaces with other staff members (this was mentioned by a panelist who worked in a public library).

The expectation of neutrality in libraries is a myth we're living under. One panelist stated library services can be viewed/offered from a trauma informed perspective.

Educate new personnel about what is important in the current library staff's culture.

Ensure diversity is represented in library displays and exhibits (one panelist referred to them as sprinkle displays). 
On Monday, at Advocacy for Digital Books: Where are We and Where are We Going?, advocacy was recommended at state levels with resource support from ALA. Maryland's just-failed attempt at legislation forcing fair ebook pricing and the topic of controlled digital lending were both discussed. Maryland's legislation was ruled unconstitutional on June 14, 2022. CDL is not illegal, but is uncertain territory. During his presentation, Michael L. Blackwell, Director at St. Mary's County (Maryland) Library/ReadersFirst, showed $14 vs $44.85 vs $275 as the ten year cost of offering The No. 1 Ladies' Detective Agency, a title that continues to get enough use to keep available: purchase price in print was $14 in 2010; the cost of the e-book if purchased with perpetual ownership when first available was $44.85 in 2013 ("congratulations"); and a pricing model limited to a 2-year term with "relicensing" adds up to $275 for a 10 year period as of 2022.
Demographics and EDI featured at Pathways to Change: Proposing and Approving Revisions to Library of Congress Authority Files. Adam Schiff, Principal Cataloger, Cataloging and Metadata Services Division at the University of Washington Libraries explained how to use Library of Congress Demographic Genre Terms (LCDGT) and how to submit proposals for adding new terms. LCDGT can help with cataloging with EDI in mind and with linked data. Demonyms (e.g. Parisians), named religious parties and indigenous groups that are not in the Library of Congress Subject Headings (LCSH) were just a couple of many examples given. Identifying movie directors and the target audience for content were more examples. There is a Demographic Group Terms Manual online. Since we have Cataloger's Desktop and Classweb (see Main Menu), access to the manual and other info via those would be the most convenient for us. Here are Adam's samples for first, a bibliographic record of creator and audience characteristics and second, a name authority record for an indigenous person with demonym of Seattleites and movie director identification: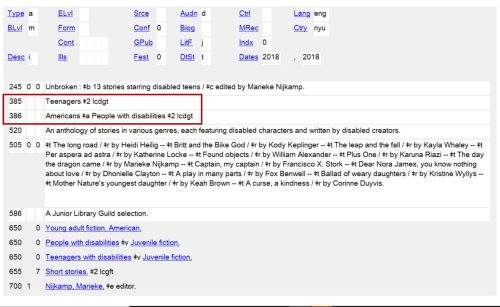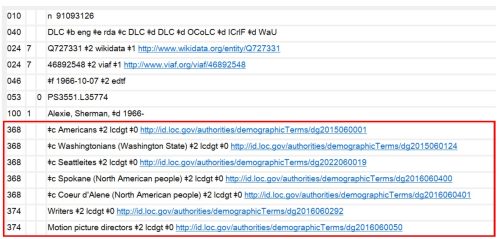 Judith Cannan, Chief of the Policy, Training and Cooperative Programs Division at the Library of Congress discussed LCSH updating and how to propose changes. They are working on removing offensive terms and are working tribe by tribe for updating LCSH and name authority files too for indigenous American groups. The work is slow because they want to get it right and include the file maintenance in addition to the change to the headings. Judith put in a plug for Faceted Subject Headings: Exploring the Topic Library of Congress Panel Discussions July 18-19, 2022 11:00 AM – 1:00 PM EDT and a Zoom meeting link can be obtained from Lauren or Carolyn.
In the panel presentation Ethnographic Design: Creating Culturally Centered Library Spaces, NYU Marketing Professor David Vinjamuri, who also conducts space audits for libraries, made some interesting points and observations to consider when contemplating about designing and renovating library space.
Buildings are about people first and building design should respond to basic human behavioral patterns.

Video ethnography is a technique used by anthropologists to study various peoples and their cultures. Libraries should consider using this technique as a way of learning how patrons interact within the library space during different times of the day. Observing and mapping dayparts (i.e., times when the library changes during the day) and zone/space conflicts provide a more accurate picture of how library space is being utilized. Libraries serve different patron groups throughout the day so flexible spaces are a must have.

Just asking people what they want is not the most effective way to determine what their actual needs are. People don't anticipate their needs from moment to moment, day to day.

Hand produced library signage is ineffective and sometimes passive aggressive.

We're looking at our collections the wrong way. Intermingling new and old materials together in displays (themed or not) has the potential to increase circulation. Older materials sitting in the stacks are basically storage—display these items so patrons will check them out. Patrons who check out library materials may not be our community members who have the greatest needs. 
We agreed that the amount of programming suitable for academic librarians in technical services was quite limited, but we managed to find these good nuggets! We have access to recordings and any uploaded handouts and slides if anyone wants more information.