The traditional use of catalog cards has been phased out of most modern libraries. However, catalog cards associated with The Wake Forest Student have been given new life—in digital form. This will benefit researchers who are trying to unearth the hidden works tucked away within the university's historic literary magazine.
We began uploading these digitized catalog cards to our Digital Collections in late January. The cards cover a span of over 100 years. When complete, the digital collection will total over 13,000 cards, and be fully searchable. These digitized cards can be used to uncover works by author or title, as well as the particular issue the work was published.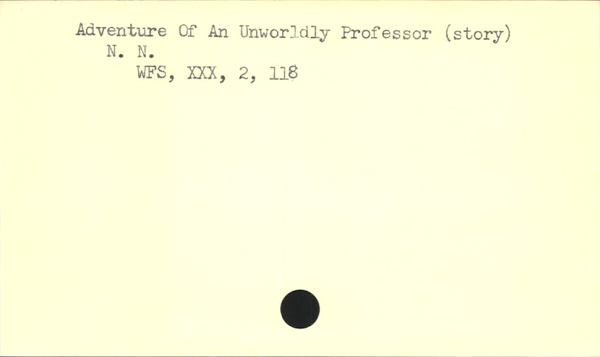 The Wake Forest Student began publication in 1882 by the Euzelian Society, addressing relevant topics of the day regarding the Wake Forest campus and abroad. The Student's contents include essays by local authors, reprints of well-known stories and poems, an editorial section that includes both traditional editorials as well as college and state news, and a section for alumni to provide updates on their activities and lives.
The Wake Forest Student title ran until 1995. It was renamed to "Three to four ounces" that year, and remains in publication today.
The catalog cards of The Wake Forest Student were digitized by the North Carolina Digital Heritage Center last year. The metadata was prepared in-house at ZSR. Optical character recognition (OCR) was applied during digitization to extract the text from the physical cards, which allows the cards to be searchable online. During batch ingest to our Digital Collections, the extracted text file (.txt) for each card is bundled with the card's .jpg images and its metadata.
New uploads to our Digital Collections are occurring at least once a week, consisting of roughly 400 cards per ingest. As of today there are just over 1,100 digitized catalog cards online.
A collection of fully digitized issues of The Wake Forest Student (from 1892-1906) are available online via DigitalNC.org. Special Collections and Archives are working with DigitalNC.org towards having all the issues of The Wake Forest Student available online.