Connections & Conversations
Connections & Conversations started with a suggestion from an alumnus and member of the Board of Visitors. He said that not all Wake Forest alums come back for Homecoming and other events centered on sports. He wondered if the University could offer a weekend back on campus around intellectual topics, where they could engage with faculty on ideas, just like the old days. That sounded so worthwhile that Dean Sutton offered to work with the Alumni Office to make it happen. We wanted it to take place in ZSR so that alumni who had not seen the library in a while could witness the changes that had happened over the years. We chose the theme of "well-being" because of its central importance to the university. We recruited six faculty and staff speakers around the 8 dimensions of well-being. Provost Kersh, Vice President for Campus Life Penny Rue, and Student Government President Jacqueline Sutherland were the keynote speakers.
An Alumni Weekend Focused on Wellbeing
April 4 & 5, 2014
Connections & Conversations is a chance for alumni to reconnect and engage with their fellow Wake Foresters in current topics and events relevant to our University. Hosted by the Z. Smith Reynolds Library and the Office of Alumni Services, this intimate alumni weekend was designed as a relaxed and informal way to extend the exciting conversations taking place at reunions, Homecoming and Wake Forest club events.
The inaugural Connections & Conversations will be a series of discussions regarding wellbeing, a major priority for Wake Forest. It is also your chance to exchange ideas with Provost Emeritus Edwin Wilson, current Provost Rogan Kersh, Vice President Penny Rue and many other talented teacher-scholars in a beautiful campus setting. We hope you can join us.
Schedule
Friday, April 4
7:00 p.m. – Welcome Reception, Graylyn
Special Guest: Ed Wilson, Provost Emeritus
Saturday, April 5
9:00 a.m. – Welcome and Continental Breakfast, ZSR 401
10:00 a.m. – Session I
11:00 a.m. – Session II
12:00 p.m. – Lunch, Magnolia Room, Reynolda Hall
1:30 p.m. – Tours of Campus with Wake Forest Fellow Curtis Bloomer and Tours of Reynolda House
3:00 p.m. – Session III
Class One: Jack Rejeski – The Embodied and Relational Mind: Optimizing Brain Health and Wellbeing across the Life Span
Class Two: Kate Brooks, Executive Director, OPCD – Finding Meaning in Your Career
4:00 p.m. – Closing: Lightning and General Discussion, ZSR 401
6:00 p.m. – Dinner, Graylyn
Speaker: Jacqueline Sutherland, Student Body President, Wellbeing Translated: A Student's Perspective
Also, check out the photos from the event!
Speaker Bios
Tim Auman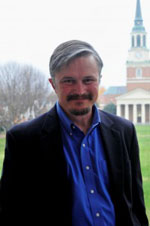 The Reverend Tim Auman became the University Chaplain to Wake Forest in July of 2001. He has two decades of experience in ministry in higher education, multi-faith programming, pastoral care, and spiritual formation.
Tim has degrees from Wofford College, Duke University, and Mahidol University. He is an ordained elder in the Western North Carolina Annual Conference of the United Methodist Church. Tim is also a certified spiritual director who enjoys the holy curiosity that is at the heart of the major questions common to people throughout the ages. Why are we here? How shall we live our lives? Where are we going? He is particularly eager to help students accept that they are worthy of love just as they are. In an increasingly busy world, Tim believes that students should be grounded by a deep sense of belonging and guided by a resilient spirit.
When not working, Tim enjoys hiking, reading, hanging out with friends at local coffee shops, and remaining open, ready to receive new gifts of wisdom, connection, and depth of soul.
Katharine Brooks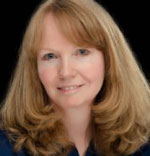 Katharine Brooks, Ed.D. is the Executive Director of the OPCD for Wake Forest University. Previously she was the Director of Liberal Arts Career Services for The University of Texas at Austin, and Director of Career Services for Dickinson College in Pennsylvania. A certified coach and counselor, she is the author of the book, You Majored in What? Mapping Your Path from Chaos to Career (Plume/Penguin,2010). Brooks provides career coaching training and consulting for career services professionals through "Career Coaching Intensives" she created for the National Association of Colleges & Employers. She also writes a blog on "Career Transitions" for Psychology Today.
Eranda Jayawickreme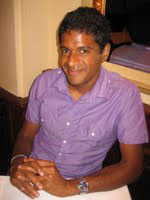 I received my Ph.D. in positive and social/personality psychology from the University of Pennsylvania in October 2010. I'm broadly interested in questions related to moral psychology, adversarial growth and the study of wellbeing. My interest in the scientific study of character has its origins in my undergraduate research, which explored moral behavior from the perspective of ecological psychology. My other research interests include thinking about adversarial growth in terms of permanent positive personality change, wellbeing and post-traumatic growth among war-affected populations in Rwanda and Sri Lanka, the philosophical and theoretical underpinnings of positive psychology, and the effect of monetary incentives on judgments of moral offenses.
Trained in both psychology and moral philosophy, I graduated with summa cum laude honors from Franklin & Marshall College in 2005, and was awarded the Henry S. Williamson Medal, the college's highest student award presented annually to the outstanding senior of the graduating class. My awards include grants from the John Templeton Foundation, the Asia Foundation/ USAID, the Penn Program on Democracy, Citizenship, and Constitutionalism, and the Positive Psychology Center of the University of Pennsylvania; a Mellon Refugee Initiative Fund Fellowship, and numerous academic awards from Franklin & Marshall College.
Rogan Kersh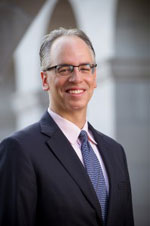 Rogan Kersh received his B.A. from Wake Forest in 1986, and returned as provost and professor of political science in July 2012. In this role he oversees the University's academic mission and programs on the Reynolda Campus, working closely with President Hatch, the deans, and faculty and administrative colleagues to support and enhance research, teaching, and graduate and undergraduate programs of the College of Arts and Sciences as well as Wake Forest's Schools of Business, Divinity and Law. He also coordinates academic programming with the administration of the School of Medicine. Prior to arriving at WFU, Kersh was associate dean of NYU's Wagner School of Public Service, where he was professor of public policy.
Kersh has published three books, on American political history and on health policy; his By the People: Debating American Government (with James Morone) was published in 2013 by Oxford University Press. He has published over 50 academic articles, and does frequent media commentary on U.S. politics. He has been a Mellon Fellow in the Humanities, a Luce Scholar, a Robert Wood Johnson Fellow, and is an elected Fellow of the National Academy of Public Administration. In 15 years' teaching at Yale, Syracuse, and NYU he won four university-wide teaching awards. Kersh received his Ph.D. in political science from Yale in 1996, and has professional experience in the U.S. Congress, the British Parliament, and at think tanks in Tokyo and Washington, DC.
Shannon Mihalko
Dr. Shannon Mihalko is an Associate Professor in the Health and Exercise Science Department and teaches Health Psychology to both undergraduate and graduate students, as well as Health Statistics to undergraduate majors. She received her undergraduate degree from Wake Forest University and her MS and PhD degrees from the University of Illinois at Champaign-Urbana. Dr. Mihalko holds a joint appointment in the Department of Social Sciences and Health Policy within the Division of Public Health Sciences at Wake Forest University School of Medicine.
Dr. Mihalko is involved in a number of clinical trials examining both social cognitive and behavioral determinants and consequences of behavior change and adherence. Specifically, Dr. Mihalko is the principle investigator on two independent projects examining the influence of participation in a physical activity intervention on both physical and psychological function among women recently diagnosed with breast cancer. She is an investigator on several DOD and NIH-funded RCTs examining exercise and psychological health in older adults with chronic diseases, including acute leukemia, diabetes, cancer, and knee osteoarthritis. Dr. Mihalko also works in the assisted living setting to promote active living and quality of life among older adults.
Jack Rejeski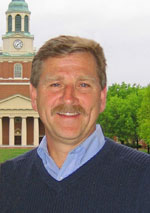 Dr. Jack Rejeski is the Thurman D. Kitchin professor of Health and Exercise Science, Associate Director of the Translational Science Center on the Reynolda Campus, and adjunct professor in the Department of Geriatric Medicine. He has been actively involved as a behavioral scientist in research on lifestyle behavior change and health-related quality of life for the past 30 years, has over 200 refereed publications, and serves as a standing member of the NIH study section on community level health promotion. His recent research activities include serving as a senior behavioral scientist on Look AHEAD, a 20-site multi-center study sponsored by NIH that is examining the role of an intensive lifestyle intervention on cardiovascular events in obese persons with type-2 diabetes. In addition, Dr. Rejeski is principal investigator on an NIH funded community-based project with the YMCA that involves changing lifestyle behaviors in older, obese adults who are at risk for cardiovascular disease. He is an active collaborating investigator with the Laboratory of Complex Brain Networks at Wake Forest School of Medicine and has served as a consultant to the Robert Wood Johnson Foundation, the National Institute on Aging, and the International Longevity Center.
Penny Rue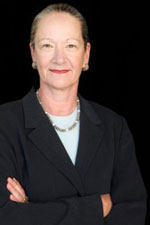 Penny Rue joined Wake Forest University as Vice President for Campus Life and Professor of Counseling in July 2013, with broad responsibility for the safety and wellbeing of students and their education outside the classroom. She served as Vice Chancellor-Student Affairs at the University of California, San Diego for six years. She previously served for eight years as Dean of Students at the University of Virginia. She served for five years as Senior Associate Dean of Students at Georgetown University and for seven years as Georgetown's Director of Student Programs.
Earlier in her career she held posts at The University of Maryland and the University of North Carolina at Chapel Hill. Her doctorate is in Counseling and Personnel Services from the University of Maryland, where her dissertation research focused on a conceptual study of community on the college campus. Rue has taught the Capstone class in the San Diego State University Master's Program in Student Affairs and College Student Development in the Higher Education doctoral program at the University of Virginia. She has a Master's degree in Student Personnel Services from The Ohio State University, from which she received the Maude Stewart Outstanding Alumna Award in 2011, and an A.B. magna cum laude in English and Religion from Duke University. In 2011 she was named a Pillar of the Profession by the NASPA Foundation.
Jacqueline Sutherland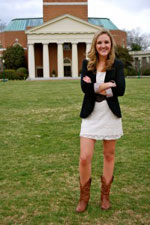 Jacqueline Sutherland is currently a senior and the Student Body President of Wake Forest University. Originally from Chicago, Illinois, she is pursuing a major in Politics and International Affairs and a minor in Middle East and South Asian Studies. As the President of Student Government, Jacqueline instituted and chairs a premiere committee dedicated to stimulating campus culture with more diversity, inclusion and social cohesion. She also spearheaded the effort to revamp the WFU freshman roommate matching process to make it more effective by incorporating the use of the Myers-Briggs Personality Test and she helped to design and implement the Interdisciplinary Major Program, allowing students to create their own, unique major to best serve their intellectual and career aspirations. In addition to her work in Student Government, Jacqueline piloted a new program to study abroad in Istanbul, Turkey during the fall semester of her junior year, she serves as a tour guide, reports and anchors for WakeTV News, sings in the Concert Choir, and is an active member of Alpha Delta Pi sorority. Jacqueline is planning to pursue a career in political reporting when she graduates in May.
José Villalba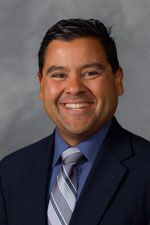 José A. Villalba, Associate Professor of Counseling and Associate Dean for Faculty Recruitment, Diversity, and Inclusion, has been at Wake Forest since 2011. Until 2013, he served as a faculty member in the Department of Counseling and also served as coordinator of the Minor in Health and Human Services. He teaches courses in multicultural counseling, career counseling, health and human services, and supervises counseling interns. His research interests included health disparities in Latina/o youth, as well as Latina/o access to and completion of higher education options. As Associate Dean of Faculty Recruitment, Diversity, and Inclusion, José facilitates the faculty recruitment process with Departments and Chairs in the College, as well as initiatives and resources that support diversity and inclusion efforts within the College.