On Friday, August 7th, TALA held an assessment meeting sponsored by Guilford College. This was the perfect time of year to re-focus on assessment, so five librarians from ZSR took advantage of the opportunity to hear campus updates, hear colleagues from  GTCC, UNCG, NC A&T, Guilford and Elon give lightning talks on recent projects, and hear Amy Harris Houk present "Reclaiming Assessment: Finally Finding Meaning in a Pauly Shore Movie", all in the beautiful surroundings of the updated Hege Library on the beautiful Guilford College campus. Here are a few highlights from some of those attending!
[Kathy] It's always such a pleasure to catch up with friends from TALA libraries all over the area, many of whom I only see at NCLA every two years! Often, the best part of these conferences are the informal conversations you have around ideas and shared projects. However, I really enjoyed Nina Exner's (NC A&T) lightning talk on Logic Models. Logic models are diagrams that break down whatever you're trying to assess into three components – Inputs, Outputs, and Outcomes. For example, for a particular program, the Input may be faculty time, money, etc. The Output is whatever you're measuring, either the activity itself, or components of the activity. The Outcomes address the question of "Who cares?" and help you demonstrate the value of the program to a particular group (such as a Dean, Provost, etc.) I have visual things on the brain recently, and I found this a really effective way to create a visual representation of what you do and why it matters. And of course, I enjoyed our delicious lunch at Taqueria Azteca!
[Hu] I had two favorite moments of the day at Guilford. When Roz mentioned in our campus update that we would be hosting a Thesis Boot Camp over Fall break, there was much interest in the room. At the break we were approach by several attendees after who wanted to talk with us about the project. It really increased my resolve that this is just the kind of thing we need to be doing to better serve our graduate students. My second highlight was the tour! The Hege Library has been undergoing dramatic updates in the past four years and it was wonderful to see the updated space and get a tour of the on-site storage in their sub-basement. Seeing how they have transformed spaces and leveraged new furnishing to make spaces more productive for students (Brody WorkLounges by Steelcase) reminds me of our renovations at ZSR!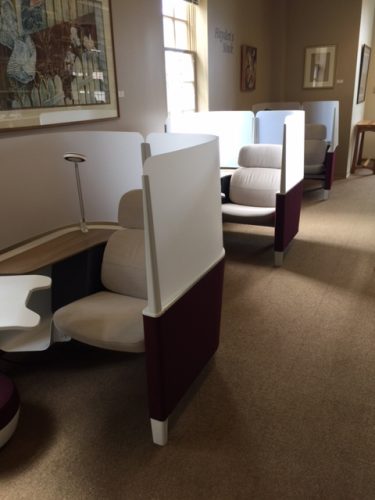 [Rebecca] I am new to TALA and find the discussion interesting but not always relevant to my particular instruction. It was great to have a few archivists in the group to help me frame the discussion around primary source materials. Kathelene Smith lightning talk on "expanding Instructional Outreach from the Campus to the Community" gave me some great ideas for working with K-12 groups engaging with primary and secondary sources. In the afternoon activity session, I was at a table with Libby Coyner, a new collections archivist at Elon. We had a great discussion about archival gaps and silences, connecting with faculty and students, and other challenges to working at a University Archives. All in all, it was a great day with some interesting and impactful discussions.
[Meghan] I always enjoy meeting and catching up with the TALA cohort! One of my main takeaways from this past meeting was integrating more formative assessment procedures in my instruction (and thinking strategically about ongoing/summative assessment measures that I incorporate). Padlet was one tool that I learned about at this meeting to help pull quick, informal feedback from my students during instruction sessions. Amy Harris Houk's keynote presentation (Reclaiming Assessment: Finally Finding Meaning in a Pauly Shore Movie) also provided some motivation and considerations towards improving my current assessment practices.
As we wrapped up for the day with a tour of the Library, we were reminded that TALA will be sponsoring a morning of reflection in December, similar to the one hosted by UNCG last December. We are already looking forward to that event and have no doubt it will be useful and productive, just like last year. Thanks, TALA!