Within two weeks in late May and early June, I attended an alphabet soup of two meetings: CUP NALAB in NYC and UIPO in ATL. I promise that we did not conduct all of our business in acronyms and initialisms, although as librarians, we did rely on our insider jargon. Below are highlights from both meetings; always happy to chat with you in greater detail over beverages!
Cambridge University Press North American Library Advisory Board
Convened in 2017, this was my second time attending the CUP NALAB meeting at Cambridge's North American headquarters in New York City. Librarians from across the U.S. and Canada attended (not everyone came, but our board is now 28 members strong!), as well as Cambridge representatives from both the New York and Cambridge, England offices. Over the course of two days, we learned about new products and market directions (which I cannot speak about openly), and discussed Cambridge's intentional focus on open access. Key points:
Plan S is sharpening Cambridge's existing focus on OA, but is not the driving force; Cambridge had made a commitment to OA prior to Plan S

Currently has 43 OA monographs; 3 of their bestselling books in 2018 available OA, so clear that OA doesn't harm sales

Sees gold OA as a sustainable business model, with read-and-publish agreements and transitional green OA as stages to reach fully open – relies on the acknowledgement of publishers adding value

Read-and-publish agreements are not one-size-fits-all; complex to negotiate, set-up, administer – not the final future of publishing, but a step in the right direction
University Information Policy Officers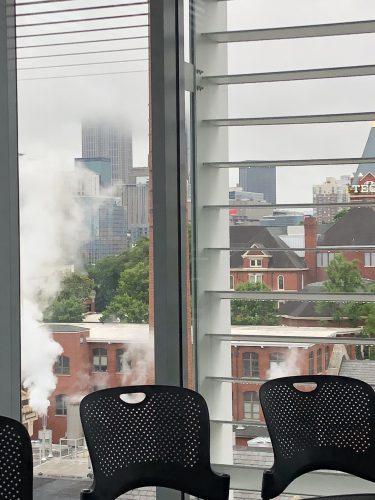 Nominally affiliated with ARL – although we had a long discussion about becoming an independent group – UIPO is my primary cohort of copyright professionals. We meet annually, sometime spring-ish, at different institutions; this year at Georgia Tech's recently-renovated library. If you've ever been to the GaTech campus and heard the famous steam whistle blow to announce class changes, then you can imagine just how loud it was when meeting across the street from it! Key points:
Court rulings with implications for universities and libraries:

Marvix Photographs, LLC v LiveJournal, Inc.: moderation of comments strips ISP immunity

BMG v Cox: repeat infringer not established by adjudication but by mere known red flag to ISP

DMCA repeat infringer issue sticky for universities because of potential First Amendment rights violation

Georgia State case – STILL ONGOING 11 YEARS LATER: back in District Court for 3rd time; down to 31 works, GSU conceded on two; limited to looking at what was available for licensing in 2009, not now

Capitol Records, LLC v ReDigi, Inc. – zombie case lives again!: Redigi filed an appeal post-bankruptcy after cash infusion, court rejected both first sale and fair use arguments; potential implications for feasibility of controlled digital lending

Court rulings that clarified copyright [NB: failed to note cases – sorry!]:

Plaintiffs do not have to choose between actual damages or statutory damages when bringing infringement suit

Copyright registration occurs when the Copyright Office registers the work, not when the owner files registration, so infringement suits cannot be brought until after registration date

TOME (Toward an Open Monograph Ecosystem) experiences shared by Emory, Ohio State, UCLA, Penn State; something for us to just watch at this point

Lively discussion around video streaming, closed-captioning, DRM circumvention allowances, license limitations of Netflix et al., streaming vendors vs. collection building and the balance of archiving for historical retention, and how DMCA and terms of service are presenting new preservation challenges for media

Exploration of need for different approach in contracts-overrule-copyright assumption when addressing software preservation, as many software licensing contracts for older software were literal shrink-wrap agreements; balance risk of breach-of-contract (low? probably…) with benefit of exercising fair use to prevent loss of software, data, etc.

Thoughtful conversation on applying RightsStatements.org statements at collection level vs. item level; the limitations of the Traditional Knowledge labels and whether stolen TK collections even have copyright; when working with difficult collections, the necessity of engaging with the community represented and acknowledging the trauma and emotions represented in the collection in balance with preservation responsibilities; and the need for universities and libraries to examine their obligation for repatriation of collections and restitution to support restoration
There is much from both of these meetings that I will continue to process in the coming weeks and months. And to reiterate my invitation above, let me know if you want to talk about anything in greater detail.