Digitizing our collections and making them available via our online Digital Collections is a great way to broaden access to our unique collections physically housed in our Special Collections and Archives. Taking a step further to share our materials on other platforms helps expand access and discoverability even more.
There are several organizations that partner with other institutions to harvest metadata from these institutions' digital collections. This essentially makes the item searchable and accessible on their own platform.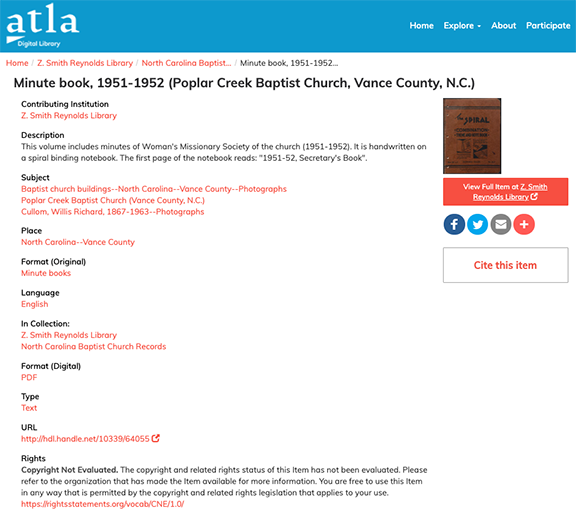 The process of harvesting metadata includes providing the receiving organization information such as the title, description, date, subjects, and link to the item's original page.
Harvested metadata of digital collections on other platforms can serve as a one-stop hub for distinctive research themes, such as the agriculturally focused Deeply Rooted, a shared digital collection organized by the Association of Southeastern Research Libraries (ASERL). Other platforms like the Digital Public Library of America (DPLA) cover a broader spectrum of subjects to unearth. ZSR contributes to all of the abovementioned organizations, and continues to create new partnerships.
Our newest collaboration occurred this summer when we contributed to JSTOR's Open Community Collections, with the inclusion of our WWI Poster Collection. Earlier this year we also became a contributing institution for the American Theological Library Association's (ATLA) Digital Library with the addition of two of our collections—David L. Smiley Papers and North Carolina Baptist Church Records.
Researchers who access ZSR's items from these external sites, such as DPLA, may not have been privy to our collections at ZSR otherwise. Also, because the harvested metadata leads viewers back to our own digital collections site, the potential for more usage of additional digital collections that we have on our site increases.
Overall, ZSR currently contributes metadata of our library's digital collections to five different platforms, and looks forward to more partnerships in the future.